United Future World Currency
The sample of the first "test" currency from the international project for a new virtual global currency, given the draft name, "United Future World Currency – Eurodollar," was presented as the exclusive gift to Heads of State and Government at the G8 Summit: Barack H. Obama, Dmitij Anatolyevich Medvedev, Gordon Brown, Nicolas Sarkozy, Angela Merkel, Silvio Berlusconi, Taro Aso, Stephen Harper, Josè Mauel Barroso, Fredrik Reinfeldt.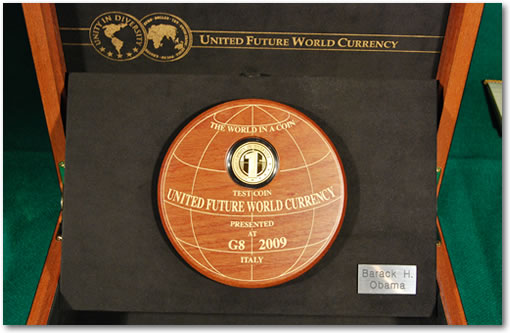 The final name and symbol for the new currency will be decided in a competition for children in 1000 schools throughout the world, organised by the Museo del Tempo.
The initiative began in Italy and enjoys the patronage of the Italian Prime Minister's Office and the Italian Treasury. Although the initial aim is to unite the United States of America with the United States of Europe, it will also be open to other Countries.