An 1899 Twenty Dollar, PR67 Ultra Cameo NGC sold for $468,000 to lead Heritage Auctions' Long Beach Expo US Coins Signature® Auction September 14-17, and a Fr. 2231-A $10,000 1934 Federal Reserve Note. PMG Choice Uncirculated 64 EPQ soared to a record $480,000 to lead Heritage's September 13-15 Long Beach Expo US Currency Signature® Auction.
By the time the hammer had fallen for the final time in each event, the coins event broke several records and totaled $8,232,232, while the currency event reached $7,313,357, for a combined total of $15,545,589.
"It takes an extraordinary coin to rise to the top of an auction with such consistent high quality, and this 1899 double eagle is that kind of coin," said Todd Imhof, Executive Vice President at Heritage Auctions. "It is such an exceptional rarity — the recorded original mintage was just 84 proofs — and over time, that total is dwindled, to somewhere around 30. Of the survivors, this example carries the highest grade, and that includes the one that is in the Smithsonian Institution. The winning bidder acquired an exceptional trophy-level coin that immediately becomes a collection centerpiece."
The $468,000 result for the 1899 double eagle at the top of the coins auction results set a new record, surpassing the previous mark of $218,500 that has held up since 2008.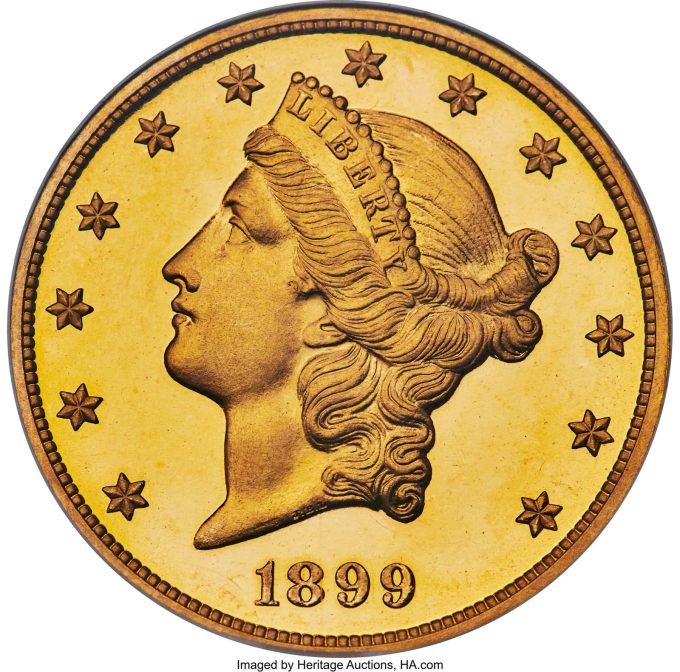 This example stands atop a list of rarefied numismatic prizes: PCGS Coinfacts lists just 32 surviving examples in all grades, with only 10 in Gem condition or finer. This example, one of 11 lots in the auction's Premier Session from the Mercury Rising Collection, is one of just three that NGC has graded PR67 Ultra Cameo; none carries a higher NGC grade.
Pushing hard for the top result in the event was an 1870 Type Two Double Eagle PR65 Ultra Cameo NGC. CAC. JD-1, Low R.7, which ended at $456,000. It is one of five or six survivors confirmed in private hands from an original mintage of just 35 examples struck, CAC-approved.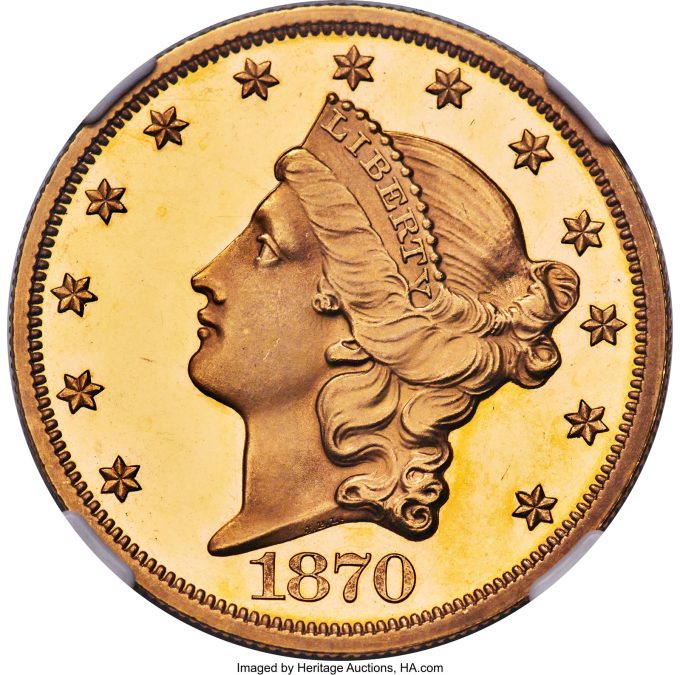 An 1879 Flowing Hair Stella, PR65 drew 25 bids before it brought $216,000. One of the most popular of all U.S. gold coins, the 1879 Flowing Hair stella always has been elusive to even the most serious collectors, thanks to its original mintage of just 425 pieces.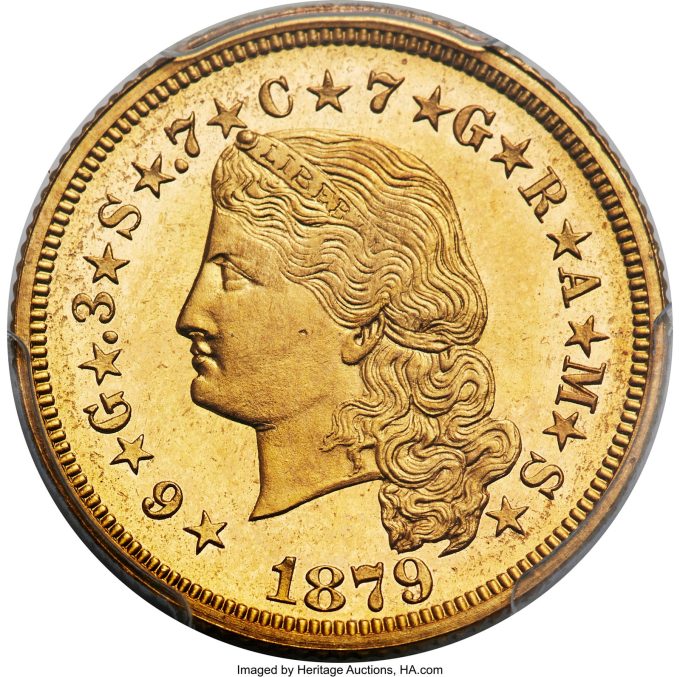 Close behind was a 1907 Liberty Double Eagle, PR66 Cameo that reached $210,000. The Philadelphia Mint struck only 78 proof Liberty double eagles in 1907, the smallest regular proof production since 1898; this marvelous example is one of what John Dannreuther estimates is a surviving population at 45 to 60 examples in all grades. It is one of just eight in 66 Cameo (there is one in 66+), with only one graded finer.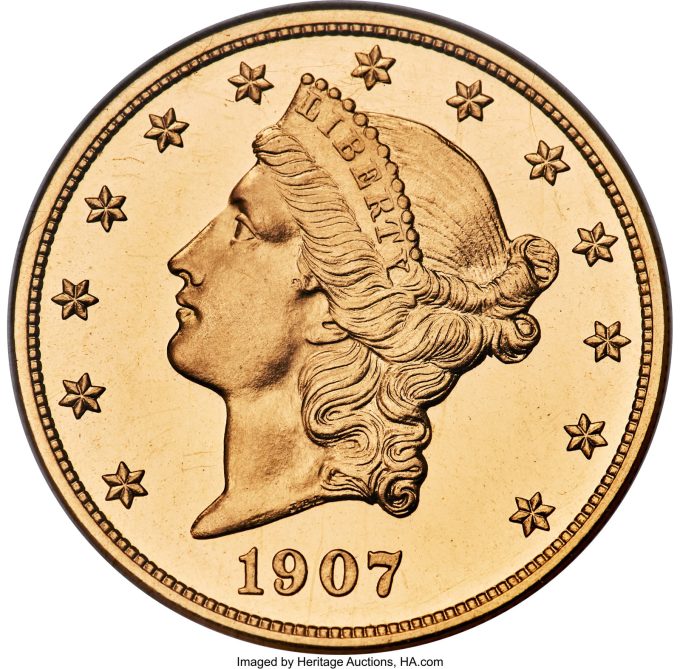 Another Flowing Hair stella from the Mercury Rising Collection, this time an 1879 PR64 Cameo example, drew nearly three dozen bids, before it closed at $198,000, while a 1907 High Relief Twenty, MS67 climbed to $180,000.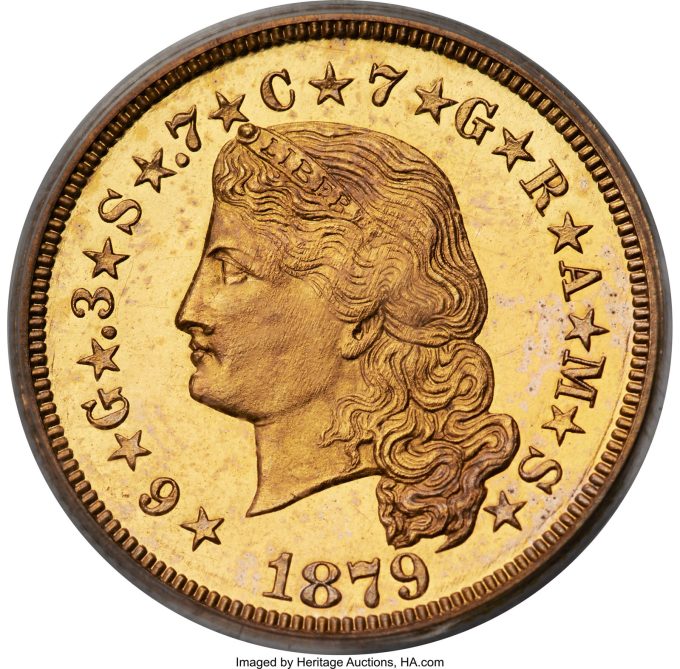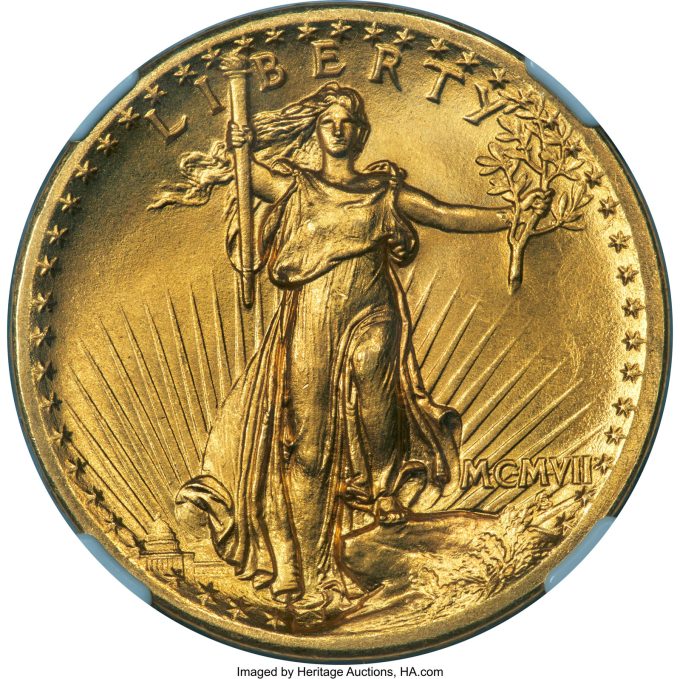 Other top lots included, but were not limited to:
Complete results for the US Coins event can be found at HA.com/1365.
That the 1934 $10,000 finished atop the Currency auction is not a huge surprise, given the consistent interest shown in banknotes with the largest denominations.
"Large-denomination notes always have drawn the interest of collectors of all levels," says Dustin Johnston, Vice President of Currency at Heritage Auctions. "The $10,000 trails only the $100,000 gold certificate issued in 1934, and of the 18 examples graded by PMG, this example is tied for the highest-graded. Among all small-size $10,000 FRNs, PMG has graded only four equal and five higher, so this is an absolute prize that will command a share of the spotlight in its new collection home."
A Fr. 2221-G $5,000 1934 Federal Reserve Note. PCGS Banknote Choice Unc 64 serial number G00000998A that had not reached the auction market since Heritages September 2007 Long Beach auction drew a winning bid of $300,000 — a record for the assigned grade.
A Fr. 1133-D $1,000 1918 Federal Reserve Note PMG Gem Uncirculated 66 EPQ from the Thomas Collup Collection kept climbing until it reached $228,000. Tied for the finest-graded of all large-size thousands, regardless of type, this note represents the first time Heritage ever has offered a 1918 $1,000 at this grade level.
A beautiful Fr. 187j $1,000 1880 Legal Tender PMG Very Fine 30 Net brought in a winning bid of $192,000. It features a vignette of Columbus in His Study and a portrait of DeWitt Clinton, who was governor of New York during the years of 1825-28 and had earlier served three stints as the mayor of New York City. Track & Price lists 15 different serial numbers for this Friedberg number with only one piece part of an institutional collection, but only half of those 14 Fr. 187j notes have appeared at auction in the past 25 years.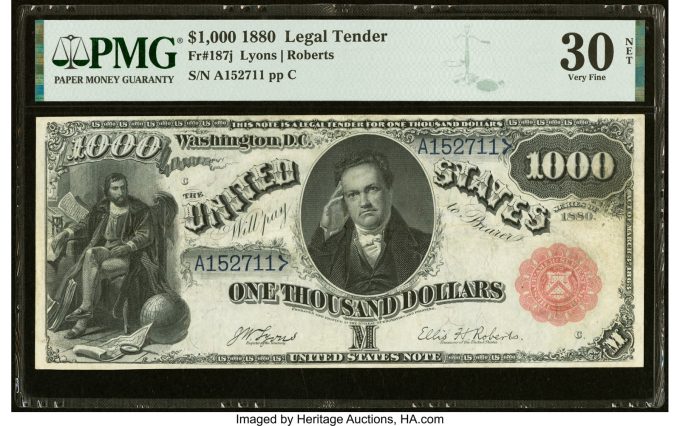 A Fr. 302 $10 1908 Silver Certificate PMG Gem Uncirculated 66 EPQ, tied for the finest graded and also from The Thomas Collup Collection, sold for $78,000. Featuring a Blue Seal Tombstone, it made its first appearance in any auction since Heritage's 2008 Long Beach auction.
One of just two known examples of a Fr. 167b $100 1863 Legal Tender PCGS Banknote Choice Fine 15 Details closed at $72,000. One of the most popular type notes, it features the heraldic Spread Eagle vignette, engraved by Joseph P. Ourdan on the left — hence the note's "Spread Eagle" nickname. "Spread Eagle" $100s are quintessentially American and have been coveted by numismatists for decades, with only a meager two examples known for this Friedberg number and fewer than five dozen reported across all varieties for the type.
Other top lots from the Currency event include, but are not limited to:
Complete results for the Currency event can be found at HA.com/3593.
About Heritage Auctions
Heritage Auctions is the largest fine art and collectibles auction house founded in the United States, and the world's largest collectibles auctioneer. Heritage maintains offices in New York, Dallas, Beverly Hills, Chicago, Palm Beach, London, Paris, Geneva, Amsterdam, Brussels and Hong Kong.
Heritage also enjoys the highest Online traffic and dollar volume of any auction house on earth (source: SimilarWeb and Hiscox Report). The Internet's most popular auction-house website, HA.com, has more than 1,750,000 registered bidder-members and searchable free archives of more than 6,000,000 past auction records with prices realized, descriptions and enlargeable photos. Reproduction rights routinely granted to media for photo credit.