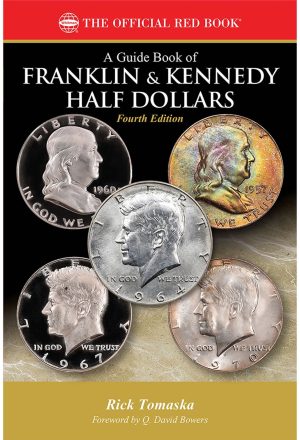 Four superb-quality Franklin and Kennedy silver half dollars featured on the front cover of a new reference book will be offered in a live television auction by Rare Collectibles TV (www.RareCollectiblesTV.com) on September 21, 2023.
The illustrated, 248-page A Guide Book of Franklin and Kennedy Half Dollars Fourth Edition by long-time professional numismatist and award-winning author Rick Tomaska, and with a foreword by the esteemed Q. David Bowers, is now available. Tomaska is a co-founder of Rare Collectibles TV.
Produced by Whitman Publishing, it contains updated pricing information for premium quality and Rick Tomaska Signature Series coins as well as new research, including a chapter about one of the rarest United States coins of the 20th century, the 1964-P Specimen Kennedy half-dollar.
The specimen 1964 Kennedy half, graded NGC SP67+, depicted on the book's cover was recently sold by Rare Collectibles TV to a collector for more than $100,000.
"We are delighted to now offer the four other book cover coins as well as about two dozen additional, outstanding rarities in a live television public auction," he declared. "It will be conducted on Thursday, September 21, at 5 pm Pacific, 8 pm Eastern, on DIRECTV 222, Dish channels 85 and 224, Shop Zeal 1, YouTube, and at RareCollectiblesTV.com. RCTV is the only place where you can buy my exclusive Tomaska Signed Label Franklin and Kennedy rare and stunning coins."
The reference book's cover coins in the auction are:
A Guide Book of Franklin and Kennedy Half Dollars Fourth Edition is available from Rare Collectibles TV for $29.
For additional information about the auction, visit www.RareCollectiblesTV.com. For additional information about the book and to purchase a copy, visit https://www.rarecollectiblestv.com/rick-tomaska-s-guide-book-of-franklin-kennedy-half-dollars-4th-edition-soft-cover.html.