The first West Coast public display of the finest of only three "Master" sets of United States Mint 1845 proof gold coins will be at the Long Beach Expo (www.LongBeachExpo.com), September 7-9, 2023.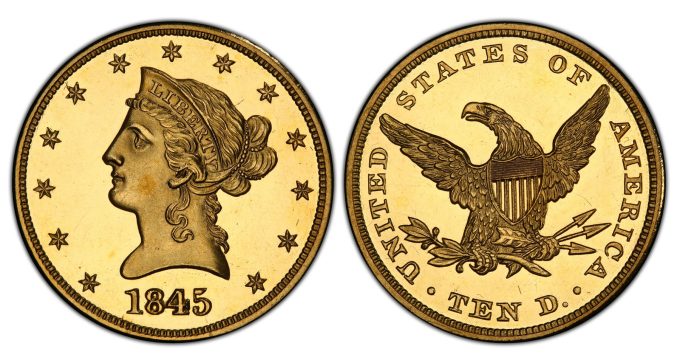 On behalf of the historic coin's anonymous owner, Tangible Investments, Inc. (www.TangibleInvestmentsInc.com) of Laguna Beach, California will display the three-coin set at its booth, #402, along with the United States Mint leather case that originally contained the coins 178 years ago. The set is listed as the Current Finest in the Professional Coin Grading Service Set Registry (https://www.pcgs.com/setregistry/u-s-coins/proof-sets/1845-proof-set-gold/publishedset/334668).
In addition, the cross-country exhibit tour of the All-Time Finest 1880 U.S. proof set with gold (https://www.pcgs.com/setregistry/u-s-coins/proof-sets/1880-proof-set-gold/1241) will also be at the show, courtesy of Tangible Investments and the collector who also owns the 1845 proof coins.
"The early, specially-struck U.S. proof coins are sometimes known as 'Master Coins,' and in 1845 there were only a few collectors who could afford to acquire them. This set has the finest known examples of that year: Quarter Eagle ($2.50 denomination gold) graded PCGS PR66+ CAM; Half Eagle ($5) PCGS PR66 DCAM; and Eagle ($10) PCGS PR65 CAM," said Tangible Investments Founder and President Silvano DiGenova.

"These coins have an impressive pedigree of famous numismatists including John Jay Pittman, Waldo G. Newcomer, William H. Woodin, Lorin G. Parmelee," stated DiGenova.
The magnificent 16-coin 1880 proof set was one of the highlights of the recent American Numismatic Association 2023 Pittsburgh World's Fair of Money®.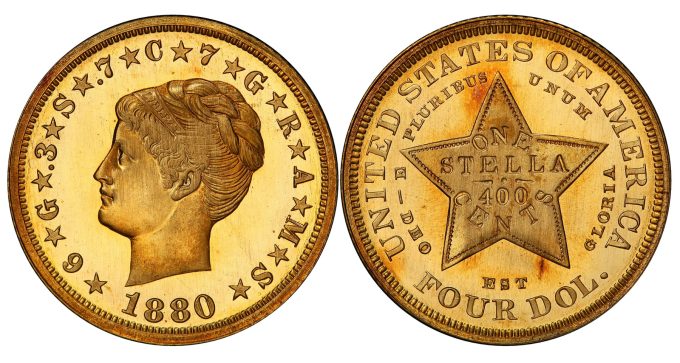 Assembled by Tangible Investments on behalf of the same client who owns the 1845 Master set, the 1880 proof set will be displayed at the PCGS booth, #404, during the September Long Beach show.
"It took patience and decades to complete the 16 proof coins in the 1880 set. Each one had to meet the requirements of eye appeal and the best condition we could find," explained Mike Bonham, Executive Vice President of Tangible Investments.

"The owner began collecting coins in 1994. Eventually, he started building the 1880 proof set starting with silver coins, and then began acquiring the low mintage proof gold pieces. It is now insured for $9 million," said Bonham.
The set includes examples of both the 1880 Flowing Hair and Coiled Hair Stellas ($4 denomination gold coins) as well as superb examples of 14 other 1880-dated proof coins from cent through Double Eagle ($20 denomination gold coin). United States Mint records indicate only 10 Coiled Hair proof Stellas were struck in 1880 and only 35 Flowing Hair variety were made that year.
The owner also has examples of both the 1879 Flowing Hair and Coiled Hair Stellas in his collection.
Highlights of the 1880 proof set include: $3 gold PCGS PR66+ CAM, finest numerically; $4 gold Coiled Hair PCGS PR65+ CAM, finest graded in cameo; $5 gold PCGS PR66 DCAM; and $10 gold PCGS PR64 CAM, tied for finest numerically graded.
"There was a tremendous response from collectors and dealers who saw the set on display in Pittsburgh. We are delighted that the proud owner now will give people a chance to see it on the West Coast at the September Long Beach Expo along with the first public display of his 1845 gold proof coins," said DiGenova.
The September 7-9, 2023 Long Beach Expo will be held in Hall C of the Long Beach Convention Center at 300 E. Ocean Blvd. in Long Beach, California.
For additional information about Tangible Investments or to obtain a copy of the PCGS Market Report articles on the 1880 or 1845 proof sets, contact Mike Bonham at 949-878-0393, visit www.TangibleInvestmentsInc.com, or email info@tii1.com.
For additional information about the Long Beach Expo, visit www.LongBeachExpo.com or email info@LongBeachExpo.com.