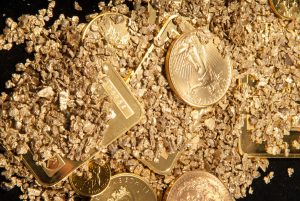 On Friday, prices of most precious metals experienced a decline, but over the course of the week, they mostly recorded gains. Gold and silver were among the weekly gainers, marking their second consecutive week of increases.
Gold for August delivery dipped $1.40, or 0.07%, to settle at $1,977.20 an ounce on the Comex division of the New York Mercantile Exchange.
"Gold is oscillating in a $1,940-$1,990 range and is likely to remain so until inflation data and the Fed result next week," Reuters quoted Tai Wong, a New York-based independent metals trader, adding that bullion remains "more sensitive to weak or dovish economic data."
Gold prices climbed by 0.4% for the week, following a 1.3% increase last week. Year to date, the value of the yellow metal has risen by 8.3%.
Looking forward to the upcoming week, Kitco News offers the following forecasts via their Wall Street & Main Street surveys:
"This week, 21 Wall Street analysts participated in the Kitco News Gold Survey. Among the participants, nine analysts, or 43%, were bullish on gold in the near term. At the same time, two analysts, or 10%, were bearish for next week, and ten analysts, or 48%, saw prices trading sideways.

Meanwhile, 692 votes were cast in online polls. Of these, 435 respondents, or 63%, looked for gold to rise next week. Another 159, or 23%, said it would be lower, while 98 voters, or 14%, were neutral in the near term."
In other news, silver for July delivery increased by 6.2 cents, or 0.3%, to settle at $24.41 an ounce, extending its weekly gain to 2.8% following a 1.7% increase last week. Silver prices have risen by 1.5% since the beginning of the year.
When examining other precious metals, both on Friday and throughout the week:
July platinum fell by $1.10, or 0.1%, to end at $1,012.80 an ounce, trimming its weekly gain to 0.9%

Palladium for September delivery tumbled by $53.50, or 3.9%, to finish at $1,304.80 an ounce, expanding its weekly loss to 7%.
Analyzing the performance since the beginning of the year, platinum has shown a decline of 6.5%, whereas palladium has experienced a substantial loss of 27.4%.
US Mint Bullion Sales in 2023
U.S. Mint published bullion sales have been unchanged so far this month. The table below presents a breakdown of U.S. Mint bullion products sold, with columns indicating the number of coins sold (not total ounces) during different time periods.
US Mint Bullion Sales (# of coins)
Friday / Week / June
Last Week
February
March
April
May
2023 Sales
$50 American Eagle 1 Oz Gold Coin
0
8,000
41,500
211,000
159,000
60,500
590,000
$25 American Eagle 1/2 Oz Gold Coin
0
18,000
8,000
1,000
8,000
18,000
72,000
$10 American Eagle 1/4 Oz Gold Coin
0
14,000
12,000
10,000
12,000
32,000
146,000
$5 American Eagle 1/10 Oz Gold Coin
0
80,000
85,000
10,000
35,000
80,000
325,000
$50 American Buffalo 1 Oz Gold Coin
0
8,500
19,500
73,000
61,000
47,000
259,500
$1 American Eagle 1 Oz Silver Coin
0
693,000
900,000
900,000
900,000
1,593,000
8,242,000
$100 American Eagle 1 Oz Platinum Coin
0
1,200
N/A
7,500
500
1,200
9,200