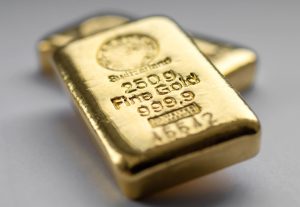 On Friday, prices for precious metals advanced, albeit modestly for gold, platinum, and palladium. Notably, all metals experienced significant weekly declines. Gold and silver, in particular, suffered their third straight week of losses, although both of them rebounded from over nine-week lows.
Gold for June delivery inched up 60 cents, or 0.03%, to settle at $1,944.30 an ounce on the Comex division of the New York Mercantile Exchange.
Gold prices registered a weekly decline of 1.9% for a second week in a row, following a dip of 0.3% in the week ending May 12. On Thursday, gold reached its lowest price since March 21. However, for the year to date, the yellow metal is still showing a gain of 6.5%.
As we look ahead to next week, Kitco News offers the following forecasts via their Wall Street & Main Street surveys:
"After turning bearish on gold last week, Wall Street is split on whether gold will keep falling or head higher. Out of 14 analysts on the Wall Street side, 43% were bullish when asked about their gold price expectations for next week. The same amount was bearish, projecting lower prices. And only 14% were neutral.

The Main Street side remained bullish. Of the 762 participating retail investors, 49% expected higher prices, 36% estimated a move lower, and 15% were neutral, Kitco's survey showed. Based on previous surveys, the bearish percentage remained elevated for the retail sector."
In other news, silver for July delivery logged a significant increase of 45 cents, equal to a 2% jump, ending at $23.36 an ounce. Still, silver prices suffered a decline of 2.9% this week, following losses of 0.4% the previous week and 6.9% in the week ending May 12. On Thursday, silver reached its lowest settlement since March 22. Year to date, silver has decreased by 2.8%.
Exploring other precious metals, during Friday and throughout the week:
July platinum rose $1.80, or 0.2%, to finish at $1,028.10 an ounce, trimming its weekly decline to 4.4%.

Palladium for June delivery gained $7.90, representing a 0.6% increase, reaching $1,423.50 an ounce. However, it experienced a 6.6% decline compared to its value from a week ago.
Analyzing the year-to-date results, platinum has witnessed a decline of 5.1%, while palladium has sustained a significant loss of 20.8%.
US Mint Bullion Sales in 2023
Sales of U.S. Mint bullion products slowed over this week versus the previous one. When comparing sales on a week-over-week basis:
American Gold Eagles: 18,000 ounces against 26,000 ounces
American Gold Buffalos: 6,000 ounces compared to 9,500 ounces
American Silver Eagles: 47,000 ounces against 403,000 ounces
The table below presents a breakdown of U.S. Mint bullion products sold, with columns indicating the number of coins sold (not total ounces) during different time periods.
US Mint Bullion Sales (# of coins)
Friday
Last Week
This Week
February
March
April
May
2023 Sales
$50 American Eagle 1 Oz Gold Coin
0
21,500
18,000
41,500
211,000
159,000
52,500
582,000
$25 American Eagle 1/2 Oz Gold Coin
0
0
0
8,000
1,000
8,000
0
54,000
$10 American Eagle 1/4 Oz Gold Coin
0
18,000
0
12,000
10,000
12,000
18,000
132,000
$5 American Eagle 1/10 Oz Gold Coin
0
0
0
85,000
10,000
35,000
0
245,000
$50 American Buffalo 1 Oz Gold Coin
0
9,500
6,000
19,500
73,000
61,000
38,500
251,000
$1 American Eagle 1 Oz Silver Coin
0
403,000
47,000
900,000
900,000
900,000
900,000
7,549,000
$100 American Eagle 1 Oz Platinum Coin
0
0
0
N/A
7,500
500
0
8,000