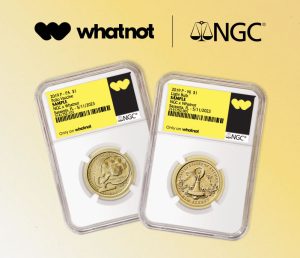 Numismatic Guaranty Company (NGC) has joined forces with Whatnot, a prominent livestream shopping platform, to provide coin collectors with more engaging and enjoyable opportunities to interact with their communities, discover more about the hobby, and expand their collections and commercial ventures.
Starting at 4 p.m. EST on May 11, NGC and Whatnot will commence a sequence of live shows highlighting the coin hobby and collecting. NGC will broadcast live from its base in Sarasota, FL, on the Whatnot platform.
During the show, NGC will take viewers on a behind-the-scenes tour of its facilities, which will include a visit to the grading room and exclusive interviews with key members of the team. Viewers can also expect to witness a selection of fascinating coins on display.
Additionally, the live broadcast will feature giveaways, and viewers will have the opportunity to purchase Innovation Dollars in limited edition Whatnot sample holders, specially made to commemorate the event.
To catch the action live, download the Whatnot app or visit and sign up for an account. Collectors can sign up for a Whatnot account using this link to receive $10 off their first purchase (no minimum purchase required).
About Numismatic Guaranty Company® (NGC®)
NGC is the world's largest and most trusted third-party grading service for coins, tokens and medals, with more than 55 million collectibles certified. Founded in 1987, NGC provides an accurate, consistent and impartial assessment of authenticity and grade. Every coin that NGC certifies is backed by the comprehensive NGC Guarantee of authenticity and grade, which gives buyers greater confidence. This results in higher prices realized and greater liquidity for NGC-certified coins. To learn more, visit NGCcoin.com.
About Whatnot
Whatnot is the largest livestream shopping platform in the U.S., connecting buyers and sellers in real-time across any category – from collectibles like trading cards to comics, fashion, sneakers, and more. The platform couples rigorous seller vetting with a focus on community to create a welcoming space for people to share their passions with others. Today, Whatnot's top sellers earn up to eight figures annually using the platform. Backed by Andreessen Horowitz, YC Continuity, and CapitalG, Whatnot's valuation is $3.7B. For more information, please visit www.whatnot.com or download the Whatnot app on Android or iOS.