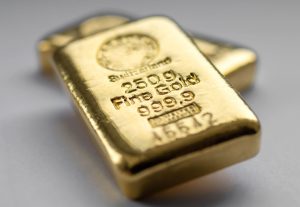 Gold and silver rallied Friday, padding exceptional weekly gains and lifting their settlements to the highest in 11 months and 1.5 months, respectively.
On Friday, gold for April delivery tacked on $50.50, or 2.6%, to close at $1,973.50 an ounce on the Comex division of the New York Mercantile Exchange. The settlement was gold's best since April 18.
"Gold is surging on fears that more bad banking news could appear over the weekend and hopes that the Fed will pause its rate hikes next week," Reuters quoted Tai Wong, an independent metals trader based in New York.
Gold prices soared 5.7% on the week after gains of 0.7% last week and 2.1% in the week ending March 3. They are 8.1% higher on the year to date.
In looking ahead to next week, Kitco News offers the following forecasts via their Wall Street & Main Street surveys:
"This week, 22 Wall Street analysts participated in the Kitco News Gold Survey. Among the participants, nine analysts, or 41%, were bullish on gold in the near term. At the same time, five analysts, or 23%, were bearish for next week and eight analysts, or 36%, saw prices trading sideways.

Meanwhile, 707 votes were cast in an online Main Street poll. Of these, 445 respondents, or 63%, looked for gold to rise next week. Another 169, or 24%, said it would be lower, while 93 voters, or 13%, were neutral in the near term."
Elsewhere, silver for May delivery jumped 77 cents, or 3.6%, to finish at $22.462 an ounce. The settlement was the highest since Feb. 2. Silver prices scored a 9.5% weekly increase after dropping last week by 3.5%. They are 6.6% lower on the year.
In PGM prices on Friday and for the week:
April platinum rose $1.50, or 0.2%, to end at $978.60 an ounce, for a 1.7% weekly gain.

Palladium for June delivery declined $23.20, or 1.7%, to end at $1,386.10 an ounce, trimming its weekly increase to 1.8%.
The pair remain lower on the year so far with losses of 9.6% for platinum and 22.9% for palladium.
US Mint Bullion Sales in 2023
United States Mint bullion sales this week picked up up gold coins. In week-over-week comparisons:
American Gold Eagles: 41,500 ounces against 12,500 ounces,
American Gold Buffalos: 14,500 ounces compared to 4,500 ounces, and
American Silver Eagles: 0 ounces against 450,000.
Below is a sales breakdown of U.S. Mint bullion products with columns listing the number of coins sold during varying periods.
US Mint Bullion Sales (# of coins)
Friday
Last Week
This Week
January Sales
February
March
2023 Sales
$50 American Eagle 1 Oz Gold Coin
0
10,500
39,500
118,000
41,500
50,000
209,500
$25 American Eagle 1/2 Oz Gold Coin
0
1,000
0
37,000
8,000
1,000
46,000
$10 American Eagle 1/4 Oz Gold Coin
0
2,000
8,000
62,000
12,000
10,000
84,000
$5 American Eagle 1/10 Oz Gold Coin
0
10,000
0
115,000
85,000
10,000
210,000
$50 American Buffalo 1 Oz Gold Coin
0
4,500
14,500
59,000
19,500
19,000
97,500
$1 American Eagle 1 Oz Silver Coin
0
450,000
0
3,949,000
900,000
450,000
5,299,000