A unique 1855-S Three Dollar Gold, PR64 Cameo, from the Bender Family Collection, Part III, sold for a record $2.16 million to lead Heritage Auctions' Long Beach Expo US Coins Signature ® Auction to $14,576,527 Feb. 9-12.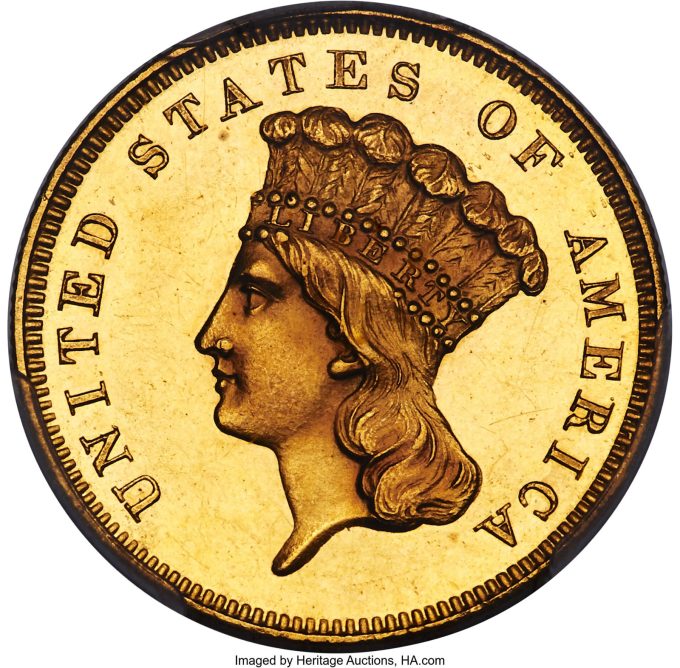 The total for the event's top lot, which drew 47 bids, obliterated the previous auction record of $1,322,500 — a standard that was set in 2011.
"I've been watching collector demand for $3 gold pieces increase over the past few years — especially for those proof issues with very low original mintages," says Todd Imhof, Executive Vice President of Heritage Auctions. "Coincidentally, the Bender and Bass collections have come to market at the same time, providing connoisseurs in this series opportunities that might only come once in their lifetimes.

"This 1855-S was produced to commemorate the first striking of the three dollar denomination at the San Francisco Mint, during a time when virtually all coins from that era were struck in the Philadelphia Mint. Proof coins from any other Mint are prized among collectors, and this one, which was kept for more than a century by a family in California, is a perfect example. I think the strong price ($5.52 million) paid for an equally unique, but better storied, 1870-S from the Bass collection last month helped us deliver a terrific price for the 1855-S from The Bender Family collection."
The event prompted 2,901 bidders to take part in the auction, which generated perfect sell-through rates of 100% by value and by lots sold.
A 1798/7 Eagle, BD-2, AU58, one of just 20-30 known and one of only four (all PCGS coins) in AU58 with a combined PCGS and NGC total of five Mint State coins finer, drew a winning bid of $504,000. This example is tied with one other example for the No. 5 spot in the PCGS CoinFacts Condition Census, and has been off the market for more than seven years.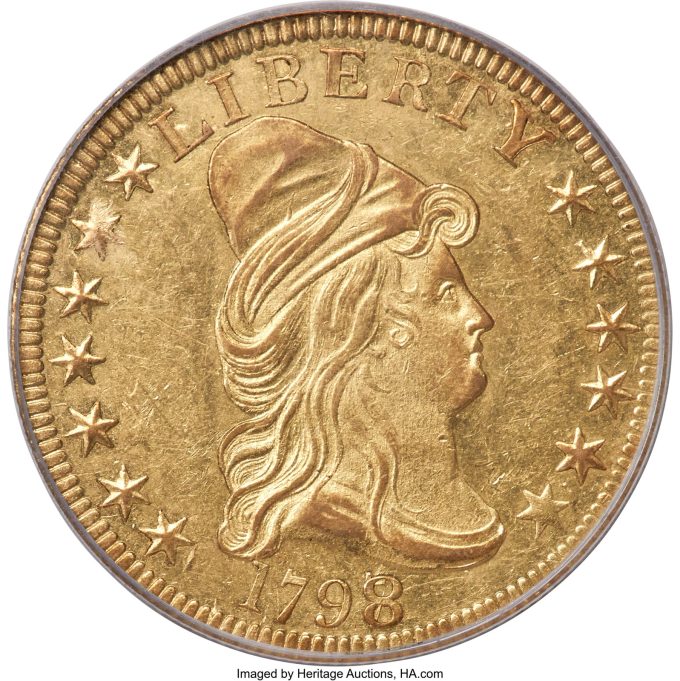 An 1870-CC Liberty Double Eagle, XF40 rode the momentum of 36 bids to $480,000. The key issue of the Carson City Mint, this coin has been off the market for the last 14 years and is worthy of becoming the centerpiece of an exceptional collection of Carson City gold.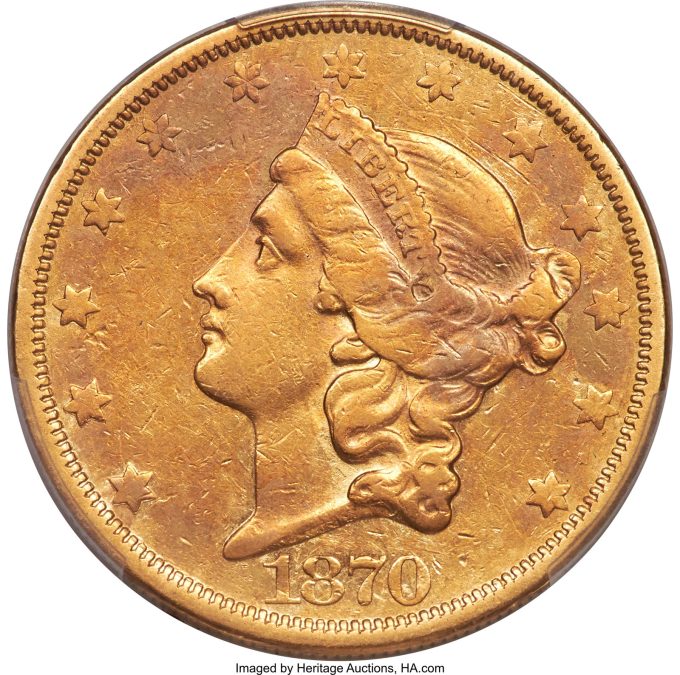 Thirty-four bids poured in for a 1795 Capped Bust Right Eagle, MS63 before it ended at $444,000. A favorite among collectors from the earliest days of the hobby, the 1795 Capped Bust Right eagle includes five known die varieties. This coin is an example of the BD-1 die marriage, one of four pairings for 1795 that fit into the 1795 Stars 10×5, Small Eagle reverse, 13 Leaves category.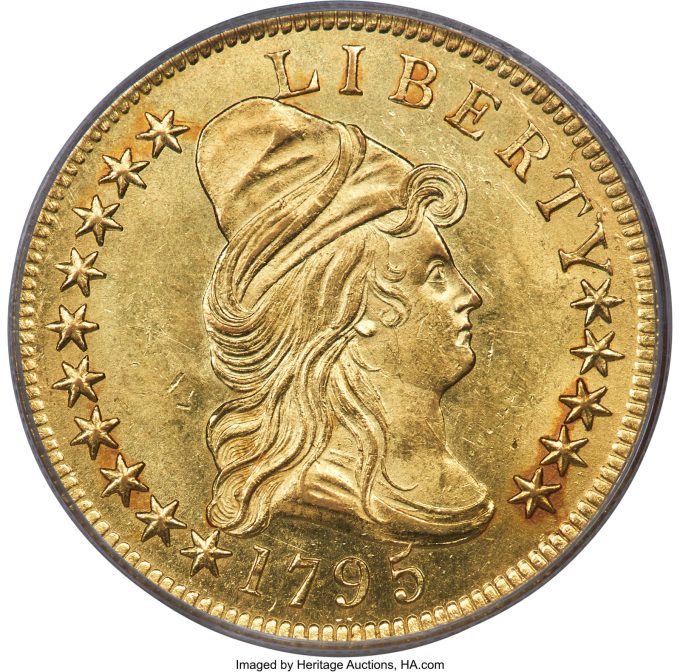 The most sought-after key to circulation strikes, from a mintage of 100,000, an 1893-S Silver Dollar, MS64 ended at $372,000. It is an absolute rarity in Mint State grades: As of December 2022, PCGS had certified just 38 Mint State examples, 10 more than NGC's 28.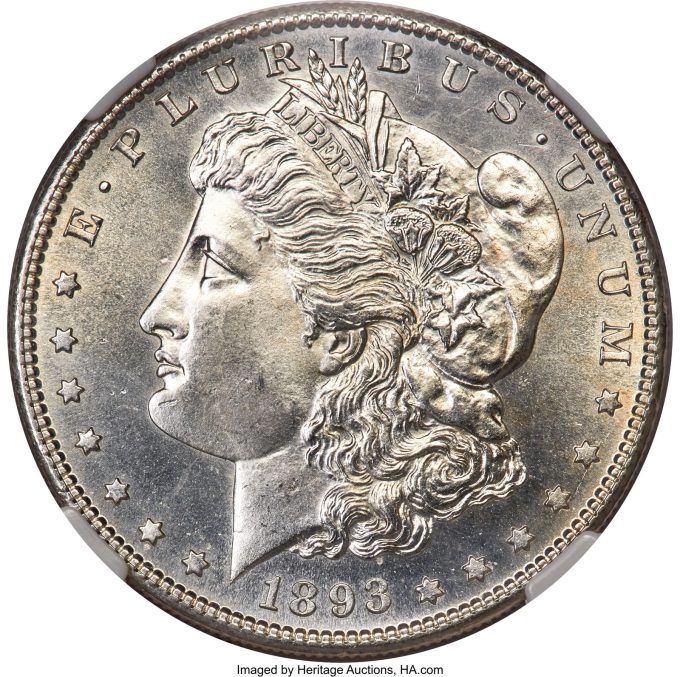 A pair of three dollar gold coins topped $200,000 each: an 1855 Three Dollar, PR64 Cameo, the second-finest of four known, reached $265,000 (the previous auction record, set at Heritage Auctions in 2003, was $75,900), while an 1873 Open 3 Three Dollar, PR65 Deep Cameo ended at $228,000; the previous auction record, set in 2008 at Heritage Auctions, was $212,750.
Other top lots in the auction included but are not limited to:
A 1797 Capped Bust Right Eagle, MS60: $222,000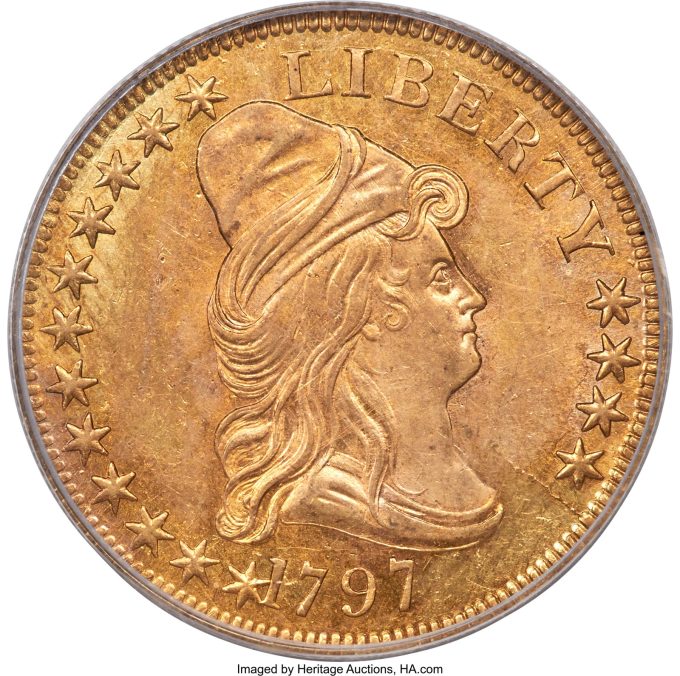 An 1804 Capped Bust Right Eagle, MS61: $216,000
An 1876 Three Dollar Gold, PR66 Deep Cameo: $192,000
An 1826 Capped Head Half Eagle, MS62: $162,000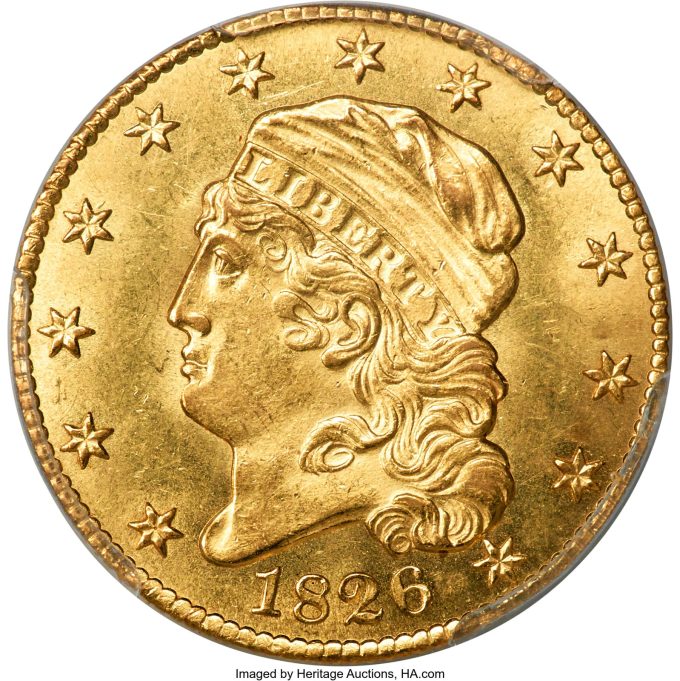 An 1857 Three Dollar, PR64 Deep Cameo: $144,000 (previous auction record: $141,000)
A 1922 High Relief Proof Peace Dollar: $144,000
Complete results can be found at HA.com/1357.
About Heritage Auctions
Heritage Auctions is the largest fine art and collectibles auction house founded in the United States, and the world's largest collectibles auctioneer. Heritage maintains offices in New York, Dallas, Beverly Hills, Chicago, Palm Beach, London, Paris, Geneva, Amsterdam, Brussels and Hong Kong.
Heritage also enjoys the highest Online traffic and dollar volume of any auction house on earth (source: SimilarWeb and Hiscox Report). The Internet's most popular auction-house website, HA.com, has more than 1,500,000 registered bidder-members and searchable free archives of five million past auction records with prices realized, descriptions and enlargeable photos. Reproduction rights routinely granted to media for photo credit.