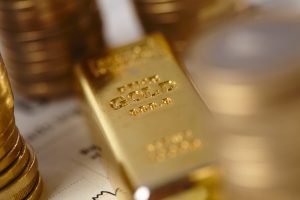 Gold, platinum and palladium declined on Friday while silver rallied to a fresh, seven-month settlement high. All the metals notched exceptional weekly gains.
Slipping from a near four-month high, gold for February delivery shed $5.60, or 0.3%, to close at $1,809.60 an ounce on the Comex division of the New York Mercantile Exchange.
"With the U.S. jobs number coming in much stronger than expected… what we're seeing is the concern that the Fed may need to go further with their expected interest rate hikes," Reuters quoted David Meger, director of metals trading at High Ridge Future.

"You're going to see pressure on most asset classes today, not just the precious metals complex." 
On Friday, the U.S. Labor Department reported employers added 263,000 jobs in November, exceeding economists' expectations of around 200,000 jobs.
Gold prices advanced 3.2% this week after dipping 0.02% last week. They are 1% lower on the year to date. On Thursday, gold marked its best finish since Aug. 12.
In looking ahead to next week, Kitco News offers the following forecasts via their Wall Street & Main Street surveys:
"This week, 18 Wall Street analysts participated in the Kitco News Gold Survey. Among the participants, 12 analysts, or 67%, were bullish on gold in the near term and six analysts, or 33%, were bearish for next week. There were no neutral votes in this week's survey.

Meanwhile, 1,018 votes were cast in an online Main Street poll. Of these, 715 respondents, or 70%, looked for gold to rise next week. Another 188, or 18%, said it would be lower, while 115 voters, or 11%, were neutral in the near term."
Elsewhere, silver for March delivery tacked on 40.9 cents, or 1.8%, to settle at $23.25 an ounce. The settlement was the best since April 27. Silver prices soared 8.5% this week after rising 2.1% last week. They are 0.4% lower on the year.
In PGM prices on Friday and for the week:
January platinum declined $28.30, or 2.7%, to end at $1,026.60 an ounce, but registered a 3.9% weekly increase.

Palladium for March delivery dropped $45.20, or 2.3%, to end at $1,901.10 an ounce, trimming its weekly gain to 4.4%.
The two metals are divided on the year so far with platinum 6.3% higher and palladium 0.6% lower.
US Mint Bullion Sales in 2022
Published United States Mint bullion sales last changed on Nov. 21. Below is a sales breakdown of U.S. Mint bullion products with columns listing the number of coins sold during varying periods.
US Mint Bullion Sales (# of coins)
Friday / This Week / Dec.
July
August
September
October
November / Last Week
2022 Sales
$50 American Eagle 1 Oz Gold Coin
0
59,500
47,500
47,500
59,500
6,000
846,000
$25 American Eagle 1/2 Oz Gold Coin
0
5,000
2,000
0
2,000
0
75,000
$10 American Eagle 1/4 Oz Gold Coin
0
2,000
4,000
4,000
2,000
0
140,000
$5 American Eagle 1/10 Oz Gold Coin
0
20,000
20,000
15,000
15,000
0
575,000
$50 American Buffalo 1 Oz Gold Coin
0
39,500
22,500
44,500
39,500
4,500
410,000
$1 American Eagle 1 Oz Silver Coin
0
850,000
850,000
833,000
1,258,000
1,407,000
15,904,500
$100 American Eagle 1 Oz Platinum Coin
0
15,500
1,000
0
0
0
80,000