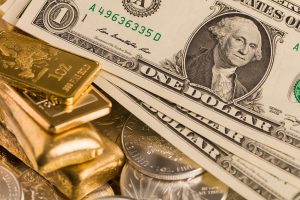 Platinum advanced in starting the new trading week on Tuesday, padding its gain in May. Gold, silver and palladium declined on the day, however, adding to their monthly losses. The monthly drops for gold and silver were their second in a row
Gold for August delivery shed $8.90, or 0.5%, to settle at $1,848.40 an ounce on the Comex division of the New York Mercantile Exchange.
Gold was facing a headwind "from the firmer U.S. dollar and significantly rising bond yields," said Daniel Briesemann, commodity analyst at Commerzbank, in a Tuesday note reported by MarketWatch.
Gold posted a 3.3% monthly decline, trimming its year-to-date increase to 1.1%. The yellow metal declined 2.2% in April.
Silver for July delivery fell 40.8 cents, or 1.9%, to settle at $21.688 an ounce. Silver prices sank 6.1% this month, pulling down their loss on the year to 7.1%. The precious metal gave back 8.2% last month.
In PGM prices on Tuesday and for the month of May:
July platinum jumped $25.30, or 2.7%, to $968.30 an ounce, for a 3.1% monthly gain.

Palladium for September delivery lost $48.50, or 2.4%, to $2,006.30 an ounce, for a 13% monthly tumble.
The two are higher on the year so far with increases of 0.2% for platinum and 4.9% for palladium.
US Mint Bullion Sales in 2022
U.S. Mint bullion sales in May picked up for gold coins and remained the same for silver coins. In headline monthly comparisons:
American Eagle gold coins advanced 147,000 ounces in May, registering gains of 67.1% from 88,000 ounces in April and 617.1% from 20,500 ounces in May 2021. American Gold Eagle sales for the year to date at 661,500 ounces are 40.5% higher than the 471,000 ounces sold in the same period last year.

American Eagle silver coins increased by 850,000 ounces for a second month in a row. Sales of the silver coin were flat in May 2021. 2022 American Silver Eagle sales at 9,281,500 ounces are down 29.2% from the 13,106,500 ounces sold during in the first five months of last year.

American Buffalo gold coins advanced 52,000 ounces in May, marking gains of 89.1% from 27,500 in April and 18.2% from 44,000 ounces in May 2021. American Gold Buffalo sales for the year at 234,000 ounces are 41% higher than the 166,000 ounces sold in the same period last year last year.

The American Eagle platinum coin lacked movement for a second straight month. It rose 14,200 ounces in March and 25,800 ounces in February for a 2022 total so far of 40,000 ounces. Last year's edition logged gains of 35,000 in March and 40,000 ounces in May for a 2021 total of 75,000 ounces.
Below is a sales breakdown of U.S. Mint bullion products with columns listing the number of coins sold during varying periods.
US Mint Bullion Sales (# of coins)
Tuesday / Week
Last Week
March
April
May
2022 Sales
$50 American Eagle 1 Oz Gold Coin
0
44,500
140,500
80,500
137,500
568,000
$25 American Eagle 1/2 Oz Gold Coin
0
3,000
5,000
3,000
5,000
58,000
$10 American Eagle 1/4 Oz Gold Coin
0
0
20,000
14,000
8,000
110,000
$5 American Eagle 1/10 Oz Gold Coin
0
0
75,000
25,000
50,000
370,000
$50 American Buffalo 1 Oz Gold Coin
0
15,500
64,500
27,500
52,000
234,000
$1 American Eagle 1 Oz Silver Coin
0
0
1,080,500
850,000
850,000
9,281,500
$100 American Eagle 1 Oz Platinum Coin
0
0
14,200
0
0
40,000
$25 American Eagle 1 Oz Palladium Coin
0
0
0
0
0
0