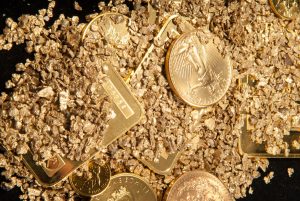 Gold, silver and platinum fell for a fourth straight session on Friday, padding their weekly losses. Palladium, meanwhile, declined for a second straight day but still logged a modestly weekly gain.
On Friday, gold for June delivery shed $13.90, or 0.7%, to settle at $1,934.30 an ounce on the Comex division of the New York Mercantile Exchange. The settlement was the lowest since April 6.
"In the last few days, investor focus has turned to rising interest rates and tightening monetary policy, which could run through to the Fed meeting in early May," Colin Cieszynski, chief market strategist at SIA Wealth Management, told MarketWatch.
Gold futures traded 2.1% lower this week after rising 1.5% last week. They are 5.8% higher on the year to date.
In looking ahead to next week, Kitco News offers the following forecasts via their Wall Street & Main Street surveys:
"This week 18 Wall Street analysts participated in Kitco News' gold survey. Among the participants, seven analysts, or 39%, called for gold prices to rise next week. At the same time, six analysts, or 33%, were bearish on gold in the near term, and five analysts, or 28%, were neutral on prices.

Meanwhile, 647 votes were cast in online Main Street polls. Of these, 363 respondents, or 56%, looked for gold to rise next week. Another 170, or 26%, said lower, while 114 voters, or 18%, were neutral in the near term."
Elsewhere, silver for May delivery fell 36.2 cents, or 1.5%, to close at $24.259 an ounce. The settlement was the lowest since Feb. 25. Silver tumbled 5.6% this week after soaring 3.5% last week. The precious metal is 3.9% higher on the year.
In PGM futures on Friday and for the week:
July platinum sank $40.40, or 4.2%, to end at $927.40 an ounce, for a 6.7% weekly decline.

Palladium for June delivery fell $43.90, or 1.8%, to end at $2,376.30 an ounce, but edged 0.9% higher on the week.
The pair is divided on the year to date with platinum 4% lower and palladium 24.3% higher.
US Mint Bullion Sales in 2022
Published United States Mint bullion sales were muted last week. This week, the U.S. Mint published sales totaling:
42,500 ounces in American Gold Eagles,
10,000 ounces in American Gold Buffalos, and
408,000 ounces in American Silver Eagles.
Below is a sales breakdown of U.S. Mint bullion products with columns listing the number of coins sold during varying periods.
US Mint Bullion Sales (# of coins)
Friday
Last Week
This Week
February
March
April
2022 Sales
$50 American Eagle 1 Oz Gold Coin
0
0
39,500
86,000
140,500
61,000
411,000
$25 American Eagle 1/2 Oz Gold Coin
0
0
2,000
0
5,000
3,000
53,000
$10 American Eagle 1/4 Oz Gold Coin
0
0
8,000
4,000
20,000
14,000
102,000
$5 American Eagle 1/10 Oz Gold Coin
0
0
0
25,000
75,000
25,000
320,000
$50 American Buffalo 1 Oz Gold Coin
0
0
10,000
28,500
64,500
17,000
171,500
$1 American Eagle 1 Oz Silver Coin
0
0
408,000
1,500,000
1,080,500
833,000
8,414,500
$100 American Eagle 1 Oz Platinum Coin
0
0
0
25,800
14,200
0
40,000
$25 American Eagle 1 Oz Palladium Coin
0
0
0
0
0
0
0