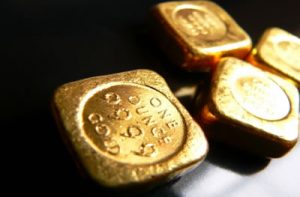 Most precious metals gained on Friday but they all still posted weekly losses. Palladium was alone with its decline on the day and it also was the biggest loser among metals for the week.
Gold for December delivery tacked on $12.90, or 0.7%, to settle at $1,886.20 an ounce on the Comex division of the New York Mercantile Exchange.
"Gold was not exempt from Monday's vaccine announcement and the ensuing market gyrations," with December gold futures contracts falling by about $97 an ounce that day, Ryan Giannotto, director of research at GraniteShares, told MarketWatch. "The more nuanced outlook is that traders overshot the true market impact of the vaccine on Monday," with gold recovering nearly half of that loss by Friday morning.
On Monday, gold closed at $1,854.40 for its lowest settlement since July 21.
Gold futures tumbled 3.4% this week after jumping 3.8% last week. Gold prices are 23.8% higher on the year to date. In looking ahead to next week, Kitco News offers the following forecasts via their Wall Street & Main Street surveys:
"Although sentiment among Wall Street analysts dropped from last week's record high, a clear majority are still higher prices in the near-term. This week 17 analysts participated in the survey. A total of 10 voters each, or 59%, called for gold prices to rise next week; meanwhile, one analyst, or 6%, called for lower prices; six analysts or 35% were neutral on gold.

A total of 1,511 votes were cast this past week in online surveys. Among those, 924 voters, or 61%, said they were bullish on gold next week. Another 281 participants, or 19%, said they were bearish, while 306 voters, or 20%, were neutral on the precious metal."
Elsewhere, silver for December delivery surged 46.9 cents, or 1.9%, to settle at $24.775. Silver futures traded 3.5% lower this week after soaring 8.5% last week. They are 38.3% higher on the year.
In PGM futures on Friday and for the week:
January platinum settled up $12, or 1.4%, to $896 an ounce, by slipped 0.4% on the week.

Palladium for December delivery declined $12.20, or 0.5%, to $2,329.70 an ounce, for a 6.8% weekly loss.
The two are divided on the year so far with platinum 8.4% lower and palladium 22% higher.
London Precious Metals Prices (LBMA)
London precious metals prices mostly ended higher on Friday and they declined for the week. In comparing their levels from Thursday PM to Friday PM:
Gold added $16.05, or 0.9%, to $1,890.90 an ounce.
Silver rose 3 cents, or 0.1%, to $24.245 an ounce.
Platinum gained $22, or 2.5%, to $897 an ounce.
Palladium declined $16, or 0.7%, to $2,332 an ounce.
In LBMA weekly results, prices declined 2.6% for gold, 6% for silver, 1.5% for platinum and 4.8% for palladium.
US Mint Bullion Sales in 2020
United States Mint bullion sales were lower this week than last week — for both gold and silver coins. In week-over-week comparisons:
Sales of American Gold Eagles climbed 9,500 ounces after increasing by 25,000 ounces last week.

Sales of American Silver Eagles advanced 1,048,500 ounces after rising by 1,653,000 ounces last week.

Sales of American Buffalo gold increased 1,500 ounces after they rose by 7,500 ounces last week.
Below is a sales breakdown of U.S. Mint bullion products with columns listing the number of coins sold during varying periods. Products with an asterisk (*) are no longer available.
US Mint Bullion Sales (# of coins)
Friday
Last Week
This Week
September
October
November
2020 Sales
$50 American Eagle 1 Oz Gold Coin
0
22,000
7,000
18,500
64,500
29,000
651,000
$25 American Eagle 1/2 Oz Gold Coin
0
1,000
1,000
3,000
6,000
2,000
66,000
$10 American Eagle 1/4 Oz Gold Coin
0
4,000
4,000
4,000
8,000
8,000
104,000
$5 American Eagle 1/10 Oz Gold Coin
0
15,000
10,000
10,000
25,000
25,000
340,000
$50 American Buffalo 1 Oz Gold Coin
0
7,500
1,500
4,500
19,500
9,000
217,000
$1 American Eagle 1 Oz Silver Coin
0
1,653,000
1,048,500
2,958,500
3,397,000
2,701,500
27,235,000
America Samoa 5 oz Silver Coin*
0
0
0
0
0
0
45,000
Weir Farm 5 oz Silver Coin*
0
0
0
0
0
0
45,000
Salt River Bay 5 oz Silver Coin*
0
0
0
0
0
0
45,000
Marsh Billings 5 oz Silver Coin*
0
0
0
0
0
0
45,000
Tallgrass Prairie 5 oz Silver Coin*
0
0
0
45,000
0
0
45,000
$1 American Eagle 1 Oz Platinum Coin*
0
0
0
0
0
0
56,500