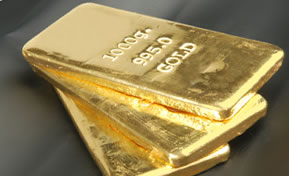 Precious metals declined on Friday, trimming their weekly gains which ranged from 2.2% to 5.9%.
Gold for December delivery declined $8.70, or 0.5%, to settle at $1,907.60 an ounce on the Comex division of the New York Mercantile Exchange.
"Gold picked up a bit overnight on the Trump [positive COVID-19] diagnosis news" but turned back downward "as it has become clear that the news has not sparked a panic rush out of equities into defensive havens like gold," Colin Cieszynski, chief market strategist at SIA Wealth Management, told MarketWatch.
Gold futures traded up 2.2% this week after dropping 4.9% last week. They are 25.2% higher on the year to date.
In looking ahead to next week, Kitco News offers the following forecasts via their Wall Street & Main Street surveys:
"This week 16 analysts participated in the survey. Ten voters, or 63%, called for gold prices to rise; two analysts, or 13%, called for lower prices next week and four analysts, or 25%, said they see prices moving sideways…

A total of 1,194 votes were cast in online Main Street polls. Among those, 749 voters, or 63%, said they were bullish on gold next week. Another 245, or 21%, said they were bearish, while 198 voters, or 17%, were neutral."
Silver for December delivery lost 22.5 cents, or 0.9%, to close at $24.029. Silver futures advanced 4.1% this week after sinking 14.9% last week. They are 34.1% higher on the year.
In PGM futures on Friday and for the week:
January platinum fell $14.60, or 1.6%, to end at $891.40 an ounce, but still posted a 5.9% weekly increase.

Palladium for December delivery lost $2.30, or 0.1%, to finish at $2,325 an ounce, yet scored a 4.6% weekly gain.
The two are divided on the year so far with platinum 13.9% lower and palladium 16.4% higher.
London Precious Metals Prices (LBMA)
London precious metals prices ended divided on Friday and higher on the week. In comparing their levels from Thursday PM to Friday PM:
Gold shed $1.05, or 0.06%, to $1,903.05 an ounce.
Silver added 24.5 cents, or 1%, to $23.865 an ounce.
Platinum declined $7, or 0.8%, to $891 an ounce.
Palladium fell $22, or 0.9%, to $2,312 an ounce.
In LBMA weekly results, the gains reached 2.3% for gold, 5.5% for silver, 5.9% for platinum and 4.9% for palladium.
US Mint Bullion Sales in 2020
United States Mint bullion products logged stronger gains for a second week in a row. In week-over-week comparisons:
Sales of American Gold Eagles advanced 15,000 ounces after increasing by 10,500 ounces last week.

Sales of American Silver Eagles moved ahead 1,070,500 ounces after rising by 517,000 ounces last week.

Sales of American Buffalo gold increased 6,500 ounces after they climbed by 3,000 ounces last week.
Below is a sales breakdown of U.S. Mint bullion products with columns listing the number of coins sold during varying periods. Products with an asterisk (*) are no longer available.
US Mint Bullion Sales (# of coins)
Friday / Oct
Last Week
This Week
July
August
September
2020 Sales
$50 American Eagle 1 Oz Gold Coin
13,500
9,500
13,500
107,500
104,000
18,500
571,000
$25 American Eagle 1/2 Oz Gold Coin
1,000
1,000
1,000
4,000
10,000
3,000
59,000
$10 American Eagle 1/4 Oz Gold Coin
2,000
2,000
2,000
10,000
20,000
4,000
90,000
$5 American Eagle 1/10 Oz Gold Coin
5,000
0
5,000
35,000
70,000
10,000
295,000
$50 American Buffalo 1 Oz Gold Coin
6,500
3,000
6,500
30,000
28,000
4,500
195,000
$1 American Eagle 1 Oz Silver Coin
0
517,000
1,070,500
1,084,500
4,477,000
2,958,500
21,136,500
America Samoa 5 oz Silver Coin*
0
0
0
0
0
0
45,000
Weir Farm 5 oz Silver Coin*
0
0
0
0
0
0
45,000
Salt River Bay 5 oz Silver Coin*
0
0
0
0
0
0
45,000
Marsh Billings 5 oz Silver Coin*
0
0
0
45,000
0
0
45,000
Tallgrass Prairie 5 oz Silver Coin*
0
45,000
0
N/A
N/A
45,000
45,000
$1 American Eagle 1 Oz Platinum Coin*
0
0
0
0
0
0
56,500