Seven products for collectors make their way to availability at noon (EDT) today with the launching of the United States Mint 2020 Basketball Hall of Fame Commemorative Coin Program. These releases include pairings of proof and uncirculated $5 gold coins, silver dollars, and clad half-dollars as well as a special enhanced uncirculated half-dollar that is exclusive to a set for kids.
Every coin is curved and features a design recognizing the 60th Anniversary of the Naismith Memorial Basketball Hall of Fame (www.hoophall.com). This latest coin program marks the third round of dome-shaped coins with concave obverses (heads) and convex reverses (tails). The U.S. Mint in 2014 issued curved Baseball coins and in 2019 the bureau offered curved Apollo 11 coins.
Later this year, the U.S. Mint will tread into new territory with their first-ever colorized coins which happen to also be associated with this program. There will be a proof Basketball 50c coin with a colorized obverse and a proof Basketball silver dollar with a colorized reverse.
Basketball Hall of Fame Coin Designs
The Basketball coins share common obverse and reverse designs.
The concave obverse design was selected from a public competition as directed by Public Law No: 115-343. Created by Justin Kunz and sculpted by Michael Gaudioso, it depicts three players reaching for a basketball, and reflects, as described by the Mint,
"how the sport of basketball has brought together diverse people around the world through a simple, universal, and unifying athletic experience."
Background elements include the rim and net, along with inscriptions of "LIBERTY," "IN GOD WE TRUST," and "2020."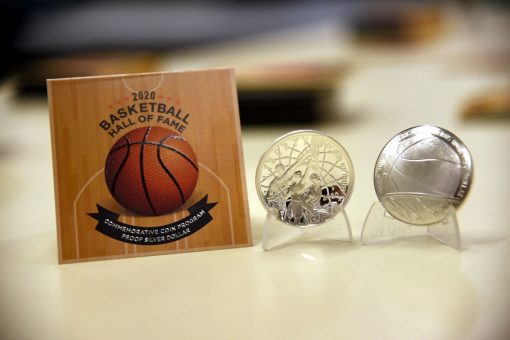 The shared convex reverse design depicts a basketball about to pass through the net. The image was created by Donna Weaver and sculpted by Phebe Hemphill.
Reverse inscriptions include "UNITED STATES OF AMERICA," "E PLURIBUS UNUM" and the coin's face value — "FIVE DOLLARS" for the gold coins, "ONE DOLLAR" for the silver dollars, and "HALF DOLLAR" for the clad fifty-cent pieces.
Mintmarks on the coins indicate that each U.S. Mint production facility has taken a part in the program. The $5 gold coins are produced at the West Point Mint, the silver dollars are made at the Philadelphia Mint, the proof half-dollars are struck at the San Francisco Mint, the uncirculated half-dollars are produced at the Denver Mint, and the enhanced uncirculated half-dollar in the Kids Set is made at the San Francisco Mint.
Coin Specifications
The table below shows the specifications for coins of the Basketball Hall of Fame series:
| | | | |
| --- | --- | --- | --- |
| | $5 Gold Coin | Silver Dollar | 50c Clad |
| Finish | Proof and Uncirculated | Proof and Uncirculated | Proof, Uncirculated and Enhanced Uncirculated |
| Composition | 90% Gold, 6% Silver, Balance Copper | 99.9% Silver | 8.33% Nickel, Balance Copper |
| Weight | 8.359 Grams | 26.73 Grams | 11.34 Grams |
| Diameter | 0.850 Inches | 1.500 Inches | 1.205 Inches |
Basketball Hall of Fame Coin Pricing and Limits
The U.S. Mint will sell their Basketball coins at the following prices with the listed order limits:
Introductory Price*
Regular Price
Mintage Limit
Household Order Limit
Proof $5 Gold Coin**
$644.50
$649.50
50,000
1
Uncirculated $5 Gold Coin**
$634.50
$639.50
1
Proof Silver Dollar Coin
$69
$74
400,000
25
Uncirculated Silver Dollar Coin
$64
$69
25
Proof Clad Half Dollar Coin
$39
$44
750,000
None
Uncirculated Clad Half Dollar Coin
$37
$42
None
Kids Set
N/A
$45
75,000
5
*Introductory prices are in effect until July 6, 2020, at 3 p.m. EDT. Household order limits will apply for the first 24 hours.
**Gold coin pricing may be adjusted weekly. They are priced according to the Mint's table of Pricing of Numismatic Gold, Commemorative Gold, Platinum and Palladium Products.
Surcharges
Based on the authorizing law, prices include surcharges of $35 for each gold coin, $10 for each silver coin, and $5 for each half-dollar coin. Provided the coins turn a profit, proceeds from these surcharges are to be paid to the Naismith Memorial Basketball Hall of Fame, a 501(c)(3) nonprofit organization, to fund an endowment that will enable increased operations and educational programming.
Ordering
The U.S. Mint will accept orders from its online catalog of commemorative coins. Due to the COVID-19 pandemic, telephone orders are currently not being accepted.
Shipment of the Kids Set is delayed until September.