An 1858 Eagle certified by Numismatic Guaranty Corporation® (NGCcoin.com) realized nearly half a million dollars to top Heritage Auctions' high-profile Central States Numismatic Society (CSNS) sales in April 2020. Originally scheduled to be held in conjunction with the CSNS convention in Chicago, the auctions were instead held over the phone and online.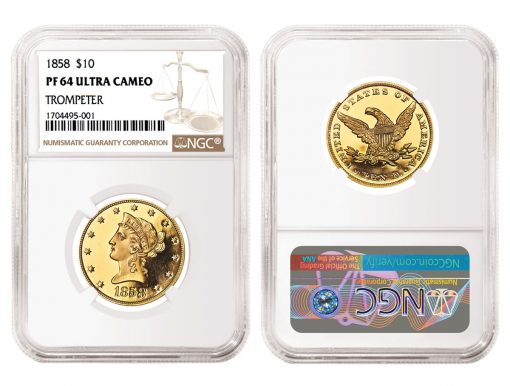 The top four prices realized in the US coins sale were for NGC-certified coins. The 1858 Eagle, which is graded NGC PF 64 Ultra Cameo and pedigreed to the Trompeter Collection, realized $480,000. It is the only known example in private hands and hails from the year the US Mint first announced that it was selling Proof coinage; previously, it had been a poorly kept secret.
A 1933 Eagle graded NGC MS 65 realized $360,000. This is the last year the United States struck gold coins for circulation, and only about two dozen examples of the 1933 Eagle are known to survive.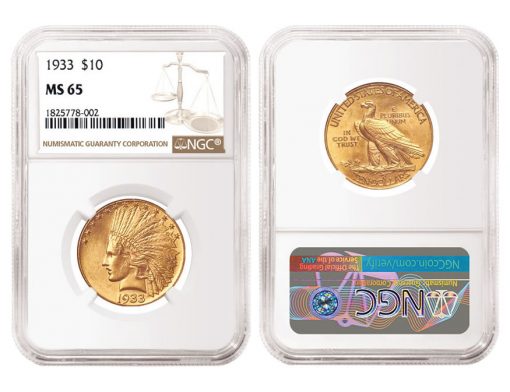 It was closely followed by an 1848 "CAL." Quarter Eagle graded NGC MS 68★ that realized $300,000.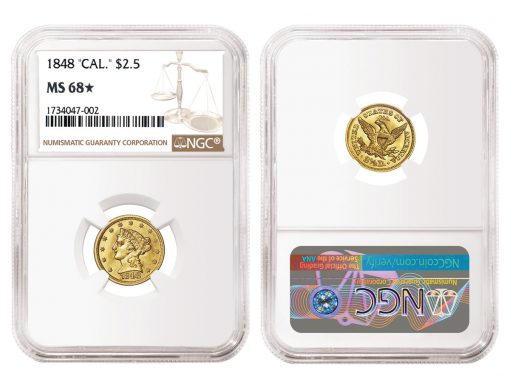 This example is the finest known of this interesting, low-mintage issue, which features the distinguishing "CAL." on the reverse to indicate that they were struck using a shipment of gold bullion from the earliest days of the California Gold Rush.
A fourth coin also realized more than a quarter million dollars, and it was also NGC-certified. An 1855 Gold Dollar graded NGC PF 66 Ultra Cameo, which realized $282,000, is an excellent example from an extremely low number of known survivors.
The top results for a world coin and an ancient coin in the Heritage sales were also achieved by NGC-certified rarities.
The highest price in the world and ancient sale was achieved by a 1644 England Triple Unite graded NGC MS 62+ that sold for $360,000, tripling its pre-auction estimate of $80,000 to $120,000.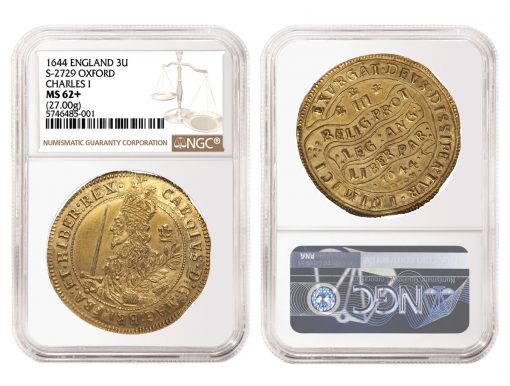 This coin was struck during the English Civil War, a time when King Charles I emphasized elegant coinage. Though the king ultimately lost the war and was executed, his Triple Unite coinage remains one of the most-cherished issues in British history.
Another large gold piece, a Roman Empire (Constantine I) 9 Solidi medal from the early fourth century graded NGC Ancients Ch VF, 5/5 Strike and 2/5 Surface with Fine Style, realized $156,000. It weighs 41.88 grams (nearly 1.5 ounces); medals this size were struck for the emperor to present as gifts.
"We are extremely pleased with the results of the NGC-certified coins in our CSNS sales," said Cris Bierrenbach, Executive Vice President of International Numismatics for Heritage Auctions. "Many collectors were unable to view the coins in person — but they still felt comfortable bidding because of their trust in NGC's certification. The incredible results are a testament to the enduring strength of NGC, Heritage and the collectibles markets."
"The prices realized at these Heritage sales demonstrate the incredible demand for tangible assets such as collectibles in this uncertain time," added Mark Salzberg, NGC Chairman and Grading Finalizer. "NGC certification paired with the robust online capabilities of a firm like Heritage is a powerful combination in this new era."
Other NGC-certified highlights in the US coins sale included:
an 1875 Half Eagle graded NGC AU 50 that realized $132,000

an 1851 "880" No "50" $50 graded NGC AU 58+ that realized $93,000

an 1801 Dime graded NGC MS 65 that realized $81,000

a 1795 Eagle (13 Leaves) graded NGC AU 58+ that realized $69,000

an 1871-CC Double Eagle graded NGC AU 55 that realized $57,600

an 1861-O Double Eagle graded NGC AU 55 that realized $50,413

a 1901-S Half Eagle graded NGC MS 65+ that realized $50,400

a 1776 Continental Dollar in Pewter graded NGC MS 60 that realized $48,000.
Other NGC-certified highlights in the world and ancient coins sale included:
a Great Britain 1716 5 Guineas graded NGC MS 60, that realized $114,000.

an England 1687 Gold 5 Guineas graded NGC MS 60 that realized $102,000.

a Great Britain 1911 5 Sovereign graded NGC PF 67 that realized $99,000.

a Great Britain 1831 Gold 2 Sovereigns graded NGC PF 65+★ that realized $66,000.

a Great Britain 1839 Victoria Silver Crown graded NGC PF 64 Cameo that realized $55,200.

an India 1835(C) Gold Mohur graded NGC MS 63 that realized $50,400.

a Venice, Italy Undated (1709-22) 15 Zecchini graded NGC XF 45 that realized $50,400.

a Kingdom of Macedon (Alexander the Great) Gold Distater (336-323 BC) graded NGC Ancients Ch XF, 5/5 Strike and 4/5 Surface that realized $45,600.
All prices realized include buyer's premium and are expressed in US dollars.
About Numismatic Guaranty Corporation
NGC is the world's largest and most trusted third-party grading service for coins, tokens and medals, with more than 45 million collectibles certified. Founded in 1987, NGC provides an accurate, consistent and impartial assessment of authenticity and grade. Every coin that NGC certifies is backed by the comprehensive NGC Guarantee of authenticity and grade, which gives buyers greater confidence. This results in higher prices realized and greater liquidity for NGC-certified coins. To learn more, visit NGCcoin.com.