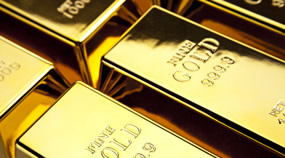 In precious metals futures Friday, all but gold declined. In the longer haul, gold joined the others metals and registered a weekly loss.
Gold for June delivery on Friday rose $8, or 0.5%, to settle at $1,645.70 an ounce on the Comex division of the New York Mercantile Exchange. The settlement was the highest since last Friday.
"Investors are moving from worry over the damage the coronavirus might cause to the reality reflected in the [economic] numbers," Michael Kosares, founder of USAGOLD, told MarketWatch. "Investors are taking refuge in cash and gold — not much of a surprise either under the circumstances."
In comparing the most-active June contract, gold shed 0.5% on the week. Last week, the April contract for gold was most active and it scored a weekly increase of 9.5%. Gold prices are 8.1% higher on the year to date.
In looking ahead to next week, Kitco News offers the following forecasts via their Wall Street & Main Street surveys:
"Twelve market professionals took part in the Wall Street survey. Eleven participants, or 92%, called for higher prices next week. The other respondent (8%) said he expects sideways prices.

Meanwhile, 1,245 votes were cast in an online Main Street poll. A total of 834 voters, or 67%, looked for gold to rise in the next week. Another 235, or 19%, said lower, while 176, or 14%, were neutral."
Elsewhere, silver for March delivery lost 16 cents, or 1.1%, to settle at $14.494 an ounce. Silver prices edged 0.3% lower this week after soaring 17.4% last week. They are 19.1% lower on the year.
In PGM futures on Friday and for the week:
July platinum fell $11.90, or 1.6%, to $718.10 an ounce, for a 3% weekly loss.

Palladium for June delivery declined $15.70, or 0.7%, to $2,106 an ounce, for a 4.1% drop on the week.
The dual are split on the year so far with platinum off 26.6% and palladium up 10.3%.
London Precious Metals Prices (LBMA)
London precious metals prices divided on Friday and mostly fell on the week. In comparing their levels from Thursday PM to Friday PM:
Gold declined $3.70, or 0.2%, to $1,613.10 an ounce.
Silver rose 21.5 cents, or 1.5%, to $14.39 an ounce.
Platinum fell $13, or 1.8%, to $714 an ounce.
Palladium gained $17, or 0.8%, to $2,140 an ounce.
In LBMA weekly results, silver edged up 0.5%, gold shed 0.3%; platinum declined 3.8% and palladium dropped 5%.
US Mint Bullion Sales in 2020
Demand this week for United States Mint bullion products picked up for American Platinum Eagles but slowed for American Eagle gold and silver coins. In week-over-week comparisons:
Sales of American Platinum Eagles moved up by 25,000 coins this week after registering flat last week.

Combined sales of American Gold Eagles rose by 43,000 ounces this week after rising by 58,500 ounces last week.

Sales of American Silver Eagles moved up by 650,000 coins this week after increasing by 1,650,000 coins last week.
Below is a sales breakdown of U.S. Mint bullion products with columns listing the number of coins sold during varying periods.
US Mint Bullion Sales (# of coins)
Friday
Last Week
This Week
January
February
March
April
2020 Sales
$50 American Eagle 1 Oz Gold Coin
9,000
50,000
43,000
38,000
3,500
133,000
33,500
208,000
$25 American Eagle 1/2 Oz Gold Coin
0
5,000
0
23,000
2,000
8,000
0
33,000
$10 American Eagle 1/4 Oz Gold Coin
0
14,000
0
18,000
2,000
20,000
0
40,000
$5 American Eagle 1/10 Oz Gold Coin
0
25,000
0
60,000
20,000
95,000
0
175,000
$50 American Buffalo 1 Oz Gold Coin
0
2,000
0
21,000
1,000
47,500
0
69,500
$1 American Eagle 1 Oz Silver Coin
0
1,650,000
650,000
3,846,000
650,000
5,482,500
0
9,978,500
$1 American Eagle 1 Oz Platinum Coin
0
0
25,000
14,500
9,300
31,200
0
55,000