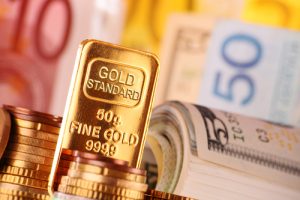 In precious metals futures Tuesday, gold declined while silver, platinum and palladium climbed. Gains in silver and platinum were modest at less than 1%. Palladium, however, soared nearly 5%. Metal prices mostly declined in March and they logged divided performances for the first quarter of 2020.
Gold for June delivery on Tuesday dropped $46.60, or 2.8%, to settle at $1,596.60 an ounce on the Comex division of the New York Mercantile Exchange. The settlement was the lowest since a week ago Monday, March 23.
"Technically, June gold futures bulls still have the overall near-term technical advantage but are fading this week and need to show fresh power soon. Gold bulls' next upside near-term price breakout objective is to produce a close above solid technical resistance at $1,650.00," Jim Wyckoff, a senior analyst at Kitco Metals Inc., said in a daily research note. "Bears' next near-term downside price breakout objective is pushing prices below solid technical support at $1,600.00."
Gold futures ranged from a low of $1,594 to a high of $1,645.60. Gold advanced 1.9% in March, boosting its first quarterly gain to 4.8%.
Silver for March delivery rose 2.4 cents, or 0.2%, to settle at $14.156 an ounce. Silver futures traded between $14.05 and $14.50. Silver dropped 14% in March, deepening its quarterly loss to 21%
Gold fell 1.3% in March but it moved exactly opposite in the first quarter, rising 1.3%.
In other precious metals futures prices on Tuesday and for the month:
July platinum added $6.10, or 0.8%, to $729.90 an ounce, but declined 15.6% in March.

Palladium for June delivery tacked on $107.20, or 4.9%, to $2,304.80 an ounce, but posted a monthly loss of 7.5%.
The pair split in the first quarter with platinum falling 25.4% and palladium rising 20.7%.
London Precious Metals Prices (LBMA)
London precious metals prices ended divided on Tuesday, lower for the month, and divided in the first quarter. In comparing their levels from Thursday PM to Friday PM:
Gold declined $9.35, or 0.6%, to $1,608.95 an ounce.
Silver fell 12.5 cents, or 0.9%, to $13.93 an ounce.
Platinum rose $1, or 0.1%, to $727 an ounce.
Palladium jumped $65, or 2.9%, to $2,307 an ounce.
In LBMA results for March, losses totaled 0.06% for gold, 18.9% for silver, 16.5% for platinum, and 15.2% for palladium.
In LBMA results for the first quarter 2020, gold gained 5.6%, palladium soared 20.2%, silver fell 22.8% and platinum lost 25.1%.
US Mint Bullion Sales in 2020
Demand for United States Mint bullion coins soared in March. The U.S. Mint's core bullion products logged milestone monthly highs with: sales of American Gold Eagles the best since November 2016, sales of American Silver Eagles the strongest since January 2017, and sales of American Gold Buffalos the highest since January 2013. In headline comparisons:
American Eagle gold coins reached 142,000 ounces in March, posting increases of 1,928.6% from the 7,000 ounces sold in February and 1,134.8% from the 11,500 ounces sold in March 2019. In the first quarter, American Gold Eagle sales at 209,000 ounces are 14.7% higher than the 90,000 ounces delivered during the first three months of last year.

American Eagle silver coins rose by 4,832,500 ounces in March, marking gains of 643.5% from February's total of 650,000 ounces and 468.5% from the 850,000 ounces moved in March of last year. American Silver Eagle sales for the year so far at 9,328,500 coins are 34.7% higher than the 6,925,000 coins sold through the same time in 2020. (Note: Silver Eagle sales in February 2019 were stunted when the coins temporarily sold out. However, the coins also temporarily sold out earlier this month and were subsequently rationed.)

American Buffalo gold coins surged by 47,500 ounces in March, lifting their year-to-date total of 69,500 ounces. In 2019, March sales of the coins totaled 5,500 ounces and their starting three-month level reached 35,000 ounces.

American Platinum Eagles advanced in March by 6,200 coins for a first quarter total of 30,000 coins. Last year's edition garnered March sales of 4,000 coins for a starting three-month total of 33,500 coins.
Below is a sales breakdown of U.S. Mint bullion products with columns listing the number of coins sold during varying periods.
US Mint Bullion Sales (# of coins)
Tuesday / This Week
Last Week
January
February
March
2020 Sales
$50 American Eagle 1 Oz Gold Coin
0
50,000
38,000
3,500
123,500
165,000
$25 American Eagle 1/2 Oz Gold Coin
0
5,000
23,000
2,000
8,000
33,000
$10 American Eagle 1/4 Oz Gold Coin
0
14,000
18,000
2,000
20,000
40,000
$5 American Eagle 1/10 Oz Gold Coin
0
25,000
60,000
20,000
95,000
175,000
$50 American Buffalo 1 Oz Gold Coin
0
2,000
21,000
1,000
47,500
69,500
$1 American Eagle 1 Oz Silver Coin
0
1,650,000
3,846,000
650,000
4,832,500
9,328,500
$1 American Eagle 1 Oz Platinum Coin
0
0
14,500
9,300
6,200
30,000