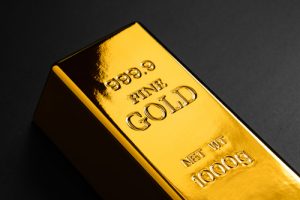 Precious metals scored exceptional weekly increases even as most of them declined on Friday. Gold's gain on the week was the best since 2008 and it came on the heels of two straight weekly losses.
Gold for April delivery on Friday declined $26.20, or 1.6%, to settle at $1,625 an ounce on the Comex division of the New York Mercantile Exchange.
"The market is looking to assess the impact of numerous lockdowns and business closures on the economy," Standard Chartered Bank analyst Suki Cooper said in a note reported by Reuters. "Gold prices have gained further ground in anticipation of further stimulus and weaker data to come."

"Price risks remain to the upside barring profit-taking and (we) expect prices to average $1,725 per ounce in Q2-2020," Cooper added.
Gold futures surged 9.5% this week — the most for a week since September 2008 — after sliding 2.1% last week and falling 9.3% in the week ended March 13. The yellow metal is 6.7% higher on the year to date.
In looking ahead to next week, Kitco News offers the following forecasts via their Wall Street & Main Street surveys:
"Fourteen market professionals took part in the Wall Street survey. There were 10 votes, or 71%, for higher prices next week. One respondent, or 7%, was bearish, while three, or 21%, were neutral or called for sideways prices.

Meanwhile, 1,595 votes were cast in an online Main Street poll. A total of 1,138 voters, or 71%, looked for gold to rise in the next week. Another 244, or 15%, said lower, while 213, or 13%, were neutral."
Elsewhere, silver for March delivery declined 14.2 cents, or 1%, to close at $14.534 an ounce. Silver futures traded 17.4% higher this week following losses of 14.6% last week and 16% in the week ending March 14. They are down on the year by 18.9%.
In PGM futures on Friday and for the week:
April platinum rose $3.20, or 0.4%, to $740.30 an ounce, for a 18.9% weekly gain.

Palladium for June delivery declined $29.30, or 1.3%, to $2,196.80 an ounce, but rallied 42.6% on the week.
The two are divided on the year so far with platinum down 24.3% and palladium up 15.1%.
London Precious Metals Prices (LBMA)
Most London precious metals prices also declined on Friday but surged on the week. In comparing their levels from Thursday PM to Friday PM:
Gold lost $16.70, or 1%, to $1,617.30 an ounce.
Silver fell 10 cents, or 0.7%, to $14.315 an ounce.
Platinum was unchanged at $742 an ounce.
Palladium fell $14, or 0.6%, to $2,253 an ounce.
In LBMA weekly results, advances totaled 8.2% for gold, 13.3% for silver, 20.8% for platinum, and 37.8% for palladium.
US Mint Bullion Sales in 2020
Demand for United States Mint bullion products remained high this week with sales of 58,500 ounces in American Gold Eagles; 2,000 ounces in American Gold Buffalos; and 1,650,000 ounces in American Silver Eagles.
The Mint last week sold 77,000 ounces in American Gold Eagles; 40,500 ounces in American Gold Buffalos; and 862,500 ounces in American Silver Eagles.
Below is a sales breakdown of U.S. Mint bullion products with columns listing the number of coins sold during varying periods.
US Mint Bullion Sales (# of coins)
Friday
Last Week
This Week
January
February
March
2020 Sales
$50 American Eagle 1 Oz Gold Coin
0
68,500
50,000
38,000
3,500
123,500
165,000
$25 American Eagle 1/2 Oz Gold Coin
0
3,000
5,000
23,000
2,000
8,000
33,000
$10 American Eagle 1/4 Oz Gold Coin
0
6,000
14,000
18,000
2,000
20,000
40,000
$5 American Eagle 1/10 Oz Gold Coin
0
55,000
25,000
60,000
20,000
95,000
175,000
$50 American Buffalo 1 Oz Gold Coin
0
40,500
2,000
21,000
1,000
47,500
69,500
$1 American Eagle 1 Oz Silver Coin
0
862,500
1,650,000
3,846,000
650,000
4,832,500
9,328,500
$1 American Eagle 1 Oz Platinum Coin
0
0
0
14,500
9,300
6,200
30,000