In association with the United States Mint, the Bureau of Engraving and Printing (BEP) offers its first numismatic release of the year with its 2020 Happy Birthday Currency Note for $5.95.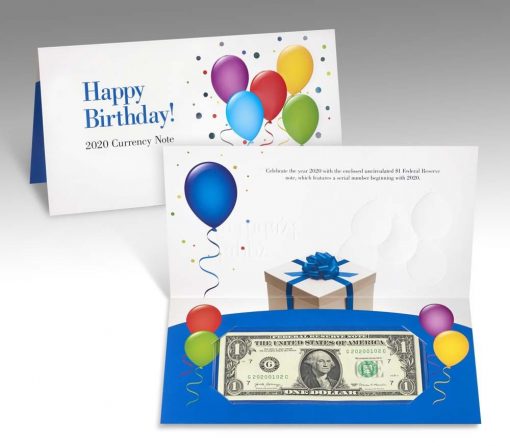 Found within the celebratory product is an uncirculated $1 Federal Reserve note with a serial number beginning with "2020." This note is protected in a clear, acid-free polymer sleeve.
Included reserve notes may be from one of the following Federal Reserve Banks:
New York (B)
Chicago (G)
San Francisco (L)
As shown in the image above, the presentation folder is illustrated with balloons along with a printed "Happy Birthday!" message that appears above "2020 Currency Note".
Ordering & Volume Pricing
The BEP has collaborated with the U.S. Mint to sell numismatic products such as this 2020 Happy Birthday Currency Note. This issue may be purchased from the Mint's website page dedicated to Premium Products.
As an alternative, buyers may call the U.S. Mint at 1-800-USA-MINT (872-6468). Hearing and speech-impaired customers with TTY equipment may order at 1-888-321-MINT.
A volume discount is available for quantities over 50 bringing the total down to $4.50 per issue from $5.95.
About the BEP
The Bureau of Engraving and Printing is responsible for printing the currency of the United States. Each year, the BEP produces billions of dollars, referred to as Federal Reserve notes, and delivers them to the Federal Reserve System for eventual circulation in the United States and throughout the world.