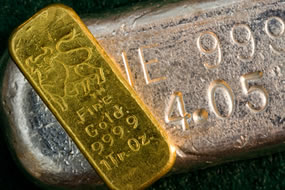 Gold and silver futures declined in normal trading hours Wednesday, pairing some of their July gains, and then moved down further in after-hour dealings following the release of the Fed's latest monetary policy statement. Gold's monthly advance was its third straight.
Gold for December delivery — the new, most active contract — declined $4, or 0.3%, to settle at $1,437.80 an ounce on the Comex division of the New York Mercantile Exchange. In electronic trading after the Fed news, gold prices moved toward $1,420 an ounce.
"The immediate mark-down in gold reflected a view [that the rate cut] would lead to profit-taking," MarketWatch quoted Alasdair Macleod, head of research at Goldmoney Inc. "However, the early ending of normalizing the Fed's balance sheet suggests that the Fed is concerned that the global trade slump may impact the U.S. economy.

"Importantly, the gold price has held up well during the run-off of the Comex August contract, suggesting gold is firmly underwritten at these prices," he said.
Gold futures advanced 1.7% in July after increases of 1% in June and 2% in May. The precious metal is 12.2% higher on the year to date. On Tuesday, gold logged its highest settlement since May 9, 2013.
Elsewhere, silver for September delivery fell 15.3 cents, or 0.9%, to settle at $16.405 an ounce. Silver was last near $16.19 an ounce in after-hours trading.
Silver futures surged 6.9% this month after jumping in June by 5.3%. They had declined in each of the four months before then. Silver prices are 5.6% higher on the year. Last Wednesday, July 24, they ended at $16.626 an ounce for their best close since June 14, 2018.
In PGM futures on Wednesday and for the month:
October platinum added $6.30, or 0.7%, to $878.90 an ounce, for a 4.5% monthly increase.

Palladium for September rose $15.30, or 1%, to $1,524.40 an ounce, but registered a loss in July of 0.9%.
Both are sharply higher on the year so far with gains of 9.8% for platinum and 27.3% for palladium.
London Precious Metals Prices
London precious metals prices ended mostly higher on Wednesday and higher for the month. In comparing their levels from Tuesday PM to Wednesday PM:
Gold rose $1.65, or 0.1%, to $1,427.55 an ounce.
Silver added 2 cents, or 0.1%, to $16.475 an ounce.
Platinum declined $4, or 0.5%, at $873 an ounce.
Palladium rose $21, or 1.4%, to $1,547 an ounce.
In LBMA results for July, gains totaled 1.3% for gold, 8.2% for silver, 6.7% for platinum, and 1.5% for palladium.
US Mint 2019 Bullion Sales
United States Mint bullion sales of American Eagle coins strengthened in July from June — sharply for silver coins and modestly for gold coins. In headline comparisons:
American Eagle gold coins combined to 5,500 ounces in July, rising 10% from the 5,000 ounces sold in June but dropping 84.3% from the 35,000 ounces sold in July of last year. 2019 American Gold Eagle sales at 114,500 ounces are 26.4% lower than the 155,500 ounces delivered during the first seven months of 2018.

American Eagle silver coins moved up by 1,224,000 ounces, marking gains of 18.3% from June's 1,035,000 ounces and 38.3% from July 2018 sales of 885,000 ounces. 2019 American Silver Eagle sales at 11,246,000 ounces are 45.9% higher than the 7,707,500 ounces sold through the same period last year.

American Buffalo gold coins reached 500 ounces, posting losses of 83.3% from the 3,000 ounces sold in June and 98% from sales of 24,500 ounces in July 2018. Year-to-date sales at 48,000 ounces are 37.7% lower than the 77,000 ounces sold during the first seven months of 2018.

The final allotment of 2019 American Platinum Eagles sold in April with their total for the year ending at 40,000 coins. Last year's edition topped out at 30,000 coins.

America the Beautiful Five Ounce Silver Bullion Coins rose by 57,000 units with all sales credited to this week's release depicting War in the Pacific National Historical Park in Guam. Three of the five 2019-dated coins have now been issued and they have combined sales of 215,000 units or 1,075,000 ounces. Last year's first three 5-ounce bullion coins registered combined sales through July of 90,000 units or 450,000 ounces.
Below is a sales breakdown of U.S. Mint bullion products with columns listing the number of coins sold during varying periods. Products with an asterisk (*) are no longer available.
US Mint Bullion Sales (# of coins)
Wednesday
Last Week
This Week
June
July
2019 Sales
$50 American Eagle 1 Oz Gold Coin
0
500
1,000
4,500
2,000
80,500
$25 American Eagle 1/2 Oz Gold Coin
0
0
0
0
2,000
21,000
$10 American Eagle 1/4 Oz Gold Coin
0
0
0
0
2,000
28,000
$5 American Eagle 1/10 Oz Gold Coin
0
5,000
0
5,000
15,000
160,000
$50 American Buffalo 1 Oz Gold Coin
0
0
0
3,000
500
48,000
$1 American Eagle 1 Oz Silver Coin
0
147,000
740,000
1,035,000
1,224,000
11,246,000
War in the Pacific 5 Oz Silver Coin
0
N/A
57,000
N/A
57,000
57,000
American Memorial Park 5 Oz Silver Coin
0
0
0
0
0
78,000
Lowell 5 Oz Silver Coin*
N/A
80,000
$100 American Eagle 1 Oz Platinum Coin*
N/A
40,000