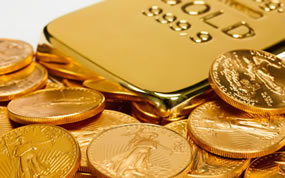 Most precious metals rose modestly Friday but only gold and palladium logged gains on the week. Gold extended its streak of weekly wins to four in a row. Palladium, meanwhile, scored its sixth straight record settlement.
Gold for February delivery added $2.10, or 0.2%, to settle at $1,289.50 an ounce on the Comex division of the New York Mercantile Exchange.
"We expect the safe-haven bid, and to a lesser extent, gold's inflation hedge properties, to remain key drivers of the metal's price in 2019, complemented by a resurgence of physical demand," Bloomberg News quoted Cantor Fitzgerald analysts led by Mike Kozak. Gold and silver are "looking good in 2019," underlining a potentially positive indicators that "should drive a bullish case" for both metals "and as a result, the related equities as well."
Gold futures moved up 0.3% this week. The yellow metal has advanced a combined 3.9% since Dec. 14 when it last registered a weekly decline. Gold is 0.6% higher on the year to date.
In looking ahead to next week, Kitco News offers the following forecasts via their Wall Street & Main Street surveys:
"Fifteen market professionals took part in the Wall Street survey. There were 11 votes, or 73%, calling for gold prices to rise. There were two votes each, or 13%, for both lower and sideways gold prices.

Meanwhile, 404 respondents took part in an online Main Street poll. A total of 230 voters, or 57%, called for gold to rise. Another 99, or 25%, predicted gold would fall. The remaining 75 voters, or 19%, see a sideways market."
Elsewhere, silver for March delivery inched up 1.3 cents, or less than 0.1%, to settle at $15.656 an ounce. Silver futures shed 0.8% this week following three straight weekly gains in which the metal jumped by a combined 7.9%. Silver is 0.8% higher on the year so far.
In PGM futures on Friday and for the week:
April platinum fell $8.10, or 1%, to finish at $818 an ounce, for a 1.1% weekly loss.

Palladium for March delivery added $5.50, or 0.4%, to end at $1,278.70 an ounce — another record settlement. Palladium prices posted a 3.6% weekly increase.
"Supply shortages continue to support palladium's performance, with strong multi-year growth in palladium demand now straining a fixed supply," MarketWatch quoted John Ciampaglia, chief executive officer of Sprott Asset Management. "Palladium is especially scarce and its supply is inelastic since it is usually a by-product of ores that are being mined for other metals, like platinum and rhodium."
The two are higher on the year with gains of 2.2% for platinum and 6.8% for palladium.
London Precious Metals Prices
London precious metals prices moved mostly lower on Friday but still finished mostly higher on the week. In comparing their levels from Thursday PM to Friday PM:
Gold declined $2.95, or 0.2%, to $1,288.95 an ounce.
Silver fell 2.5 cents, or 0.2%, to $15.68 an ounce.
Platinum rose $1, or 0.1%, to $822 an ounce.
Palladium dipped $1, or 0.1%, to $1,327 an ounce.
In LBMA weekly results, prices for silver edged down 0.2% while the others advanced — 0.7% for gold, 2.8% for platinum, and 4.6% for palladium.
US Mint 2019 Bullion Sales
On Monday, Jan. 7, the United States Mint released its 2019-dated American Eagle and Buffalo bullion coins. All four series posted sales this week that are already higher than most of their monthly totals in 2018. Three of the series performed better than they did during their first weekly debut last year. Here is a summary:
American Silver Eagles reached 2,846,000 coins this week compared to 2,520,000 coins in the first week of sales for last year's release. The weekly haul is higher than all but two of the monthly totals in 2018.

A combined 48,500 ounces in American Gold Eagles sold this week versus the 45,000 ounces moved during the first week of sales for last year's issues. The weekly total is higher than all but one of the monthly totals in 2018.

American Buffalo gold coins hit 18,500 ounces this week, matching last year's 2018-dated coin during its first week of sales. The weekly amount is higher than all but three of the monthly totals in 2018.

American Platinum Eagles reached 22,800 coins. The 2018-dated edition launched Feb. 12, 2018 and garnered first-week sales of 20,000 coins.
Below is a sales breakdown of U.S. Mint bullion products with columns listing the number of coins sold during varying periods.
US Mint Bullion Sales (# of coins)
Friday
Last Week
December
2018 Sales
This Week / 2019 Sales
$100 American Eagle 1 Oz Platinum Coin
1,800
0
0
30,000
22,800
$50 American Eagle 1 Oz Gold Coin
1,000
0
3,000
191,000
32,000
$25 American Eagle 1/2 Oz Gold Coin
0
0
0
32,000
13,000
$10 American Eagle 1/4 Oz Gold Coin
0
0
0
62,000
16,000
$5 American Eagle 1/10 Oz Gold Coin
13,500
0
0
230,000
60,000
$50 American Buffalo 1 Oz Gold Coin
500
0
1,500
121,500
18,500
$1 American Eagle 1 Oz Silver Coin
50,000
100,000
490,000
15,700,000
2,846,000