An upcoming United States Mint and Royal Australian Mint product brings together a U.S. Apollo 11 half-dollar and an Australian Moon Landing $5 silver coin in celebration of the 50th anniversary of the July 20, 1969 first manned landing on the Moon.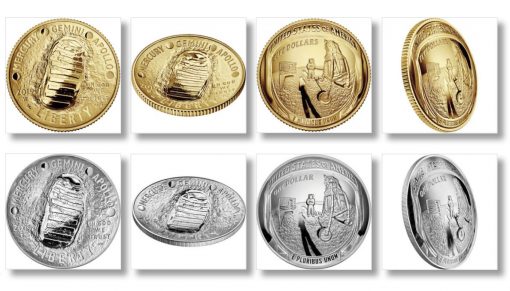 The pair of dome-shaped coins will be released in a limited-edition set that is sold and distributed by the Royal Australian Mint. Its price and limits have not yet been announced.
"This jointly–issued coin set magnificently symbolizes our long standing alliance and friendship with Australia," U.S. Mint Director David Ryder said Thursday, Jan. 10.

"Many Americans will remember listening for the critical reports from the tracking stations in Australia at Carnarvon, Honeysuckle Creek, Tidbinbilla and Parkes, as the Apollo 11 spacecraft traveled to, orbited and landed on the Moon."
The U.S. Mint will release its Apollo 11 Commemorative Coins on Jan. 24, 2019. Options will include proof and uncirculated editions of $5 gold coins, silver dollars, clad half-dollars, and 5-ounce $1 silver coins that bear common obverse (heads) and reverse (tails) designs. (See images of the 2019 Apollo 11 50th Anniversary coins.)
U.S. Mint Apollo 11 50th Anniversary Commemorative Coins
| | | | | |
| --- | --- | --- | --- | --- |
| | $5 Gold | Silver Dollar | 50c | $1 Silver |
| Finish | Proof and Uncirculated | Proof and Uncirculated | Proof and Uncirculated | Proof |
| Mintage Maximums | 50,000 | 400,000 | 750,000 | 100,000 |
| Composition | Not Less Than 90% Gold | Not Less Than 90% Silver | 8.33% Nickel, Balance Copper | 0.999 Fine Silver, Balance Copper |
| Weight | 8.359 Grams | 26.73 Grams | 11.34 Grams | 5 Ounces |
| Diameter | 0.850 Inches | 1.500 Inches | 1.205 Inches | 3 Inches |
One of the half-dollars will be a part of the jointly-issued set.
"We are very pleased that the Royal Australian Mint is entering into a product partnership with the United States Mint to bring customers a unique collectible that marks one of mankind's most remarkable achievements," said Senator the Hon. Zed Seselja, the Australian Assistant Minister for Treasury and Finance.

"The collaboration highlights the unique part Australia had to play in sending a man to the Moon."
The U.S. Mint and the Royal Australian Mint will announce the release date for the set as soon as it has been determined. The U.S. Mint will market the set on its website and provide a link to the Royal Australian Mint's website for U.S. customers wanting to buy the product.