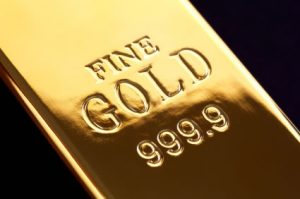 Precious metals futures ended mixed on Friday. Gold dropped rather sharply from a more than three-week high but managed to eke out a weekly win. Silver, platinum and palladium scored from solid to exceptional weekly gains.
Gold for December delivery fell $10, or 0.8%, to settle at $1,201.30 an ounce on the Comex division of the New York Mercantile Exchange.
"A big selloff in the pound and euro sent the dollar sharply higher. And gold, being dollar-denominated, fell as a result of that," Reuters quoted FOREX.com analyst Fawad Razaqzada.
Gold futures inched up 20 cents this week after edging up 70 cents last week. They had declined 0.5% in each of the two weeks before then. On Thursday, the yellow metal ended at its best level since Aug. 28. Gold prices are 8.3% lower on the year to date.
In looking ahead to next week, Kitco News offers the following forecasts via their Wall Street & Main Street surveys:
"Eighteen market professionals took part in the Wall Street survey. Thirteen respondents, or 72%, predicted higher prices. There were two votes, or 11%, calling for lower prices, while three respondents, or 17%, were neutral or looked for a sideways market.

Meanwhile, 374 people responded to an online poll. A total of 215 respondents, or 57%, called for gold to rise. Another 105, or 28%, predicted gold would fall. The remaining 54, or 14%, see a sideways market."
Silver for December delivery added 5.4 cents, or 0.4%, to end at $14.359 an ounce. The finish is the strongest since Aug. 31.
Silver futures advanced 1.5% this week after three straight weekly declines. Last Friday, Sept. 14, they finished at their lowest point since Jan. 22, 2016. Silver prices are 16.3% lower on the year so far.
In PGM futures on Friday and for the week:
October platinum declined $4.60, or 0.6%, to $829.60 an ounce, paring its gain on the week to 3.9%.

Palladium for December delivery added 70 cents, or less than 0.1%, to $1,044.90 an ounce — its best close since Feb. 26. They jumped 7.7% on the week.
Both remained lower on the year so far with losses of 11.6% for platinum and 1.5% for palladium.
London Precious Metals Prices
London precious metals prices ended mixed on Friday and for the week. In comparing their levels from Thursday PM to Friday PM:
Gold declined $9.65, or 0.8%, to 1,198.70 an ounce.
Silver rose 10 cents, 0.7%, to $14.33 an ounce.
Platinum added $3, or 0.4%, to $829 an ounce.
Palladium fell $5, or 0.5%, to $1,045 an ounce.
In LBMA weekly results, prices for gold dipped 0.3% while those for others logged gains of 0.8% for silver, 3% for platinum, and 5.9% for palladium.
US Mint Bullion Sales in 2018
Demand for United States Mint bullion products was mixed this week with sales higher for silver coins and lower for gold coins. In headline week-over-week comparisons:
Gold bullion coins rose by 1,500 ounces after increasing by 4,500 ounces last week. For a second week in a row, American Gold Eagles accounted for all the gains.

Silver bullion coins moved up by 932,500 ounces this week after climbing by 255,000 ounces previously. The week's splits included 925,000 ounces in American Silver Eagles and 7,500 ounces in Cumberland Island 5-ounce coins. Sales last week came only from the Cumberland Island piece as the American Silver Eagle had temporarily sold out.
Below is a sales breakdown of U.S. Mint bullion products with columns listing the number of coins sold during varying periods.
US Mint Bullion Sales (# of coins)
Friday
Last Week
This Week
August
September
2018 Sales
$100 American Eagle 1 Oz Platinum Coin
0
0
0
0
0
30,000
$50 American Eagle 1 Oz Gold Coin
0
2,000
1,500
17,500
11,000
147,500
$25 American Eagle 1/2 Oz Gold Coin
0
0
0
4,000
1,000
23,000
$10 American Eagle 1/4 Oz Gold Coin
0
2,000
0
4,000
4,000
58,000
$5 American Eagle 1/10 Oz Gold Coin
0
20,000
0
10,000
40,000
200,000
$50 American Buffalo 1 Oz Gold Coin
0
0
0
20,000
6,500
104,500
$1 American Eagle 1 Oz Silver Coin
0
0
925,000
1,530,000
1,962,500
11,200,000
Pictured Rocks 5 Oz Silver Coin
0
0
0
0
0
30,000
Apostle Islands 5 Oz Silver Coin
0
0
0
0
0
30,000
Voyageurs 5 Oz Silver Coin
0
0
0
0
0
30,000
Cumberland Island 5 Oz Silver Coin
0
51,000
1,500
N/A
52,500
52,500