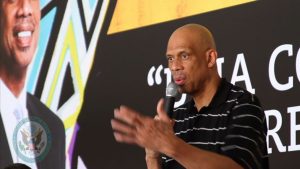 Kareem Abdul-Jabbar will step down from the Citizens Coinage Advisory Committee (CCAC).
The CCAC is responsible for advising the Secretary of the Treasury on themes and designs pertaining to all United States coins and medals. The CCAC is an 11-member panel. Members serve four-year terms with each position dedicated to certain qualifications.
Mr. Abdul-Jabbar informed the Acting Deputy Director of the United States Mint, David Croft, of his intentions to step down from the committee due to increasing personal obligations.
"It has been an honor to have Mr. Abdul-Jabbar on the CCAC this past year, and we appreciate his work in reviewing the projects that went before the committee during his tenure," Croft said.
Representing the interests of the general public, Kareem Abdul-Jabbar was appointed to the CCAC in January 2017.
Abdul-Jabbar, a renowned former professional basketball player who is an avid coin collector, became interested in numismatics based on his love of history and his study of Alexander Hamilton. He has agreed to remain on the CCAC until a successor is appointed, and remains committed to advancing numismatics, especially among minorities.