Anniversary celebrations continue at the United States Mint with its newest release, the 2017 American Liberty Silver Four-Medal Set. The collectible is the Mint's final product marking its 225th anniversary.
Available beginning today, Oct. 19, at noon ET, the set features four medals each with a unique finish and mint mark.
The four medals of the American Liberty 225th Anniversary Set include:
2017-P reverse proof silver medal from the Philadelphia Mint
2017-S standard proof silver medal from the San Francisco Mint
2017-D uncirculated silver medal from the Denver Mint
2017-W enhanced uncirculated silver medal from the West Point Mint
They are struck from the same planchets as American Silver Eagles and share their specifications, including a composition of 99.9% silver, a diameter of 1.598 inches (40.60 mm) and a weight of 1.000 troy oz (31.103 g). Unlike the coins, however, the medals have a plain edge.
Their designs match the earlier issued 2017-W Proof American Liberty Gold Coin and the 2017-P Proof American Liberty Silver Medal. The gold piece has current sales of 25,037 while the silver medal has sales of 46,962.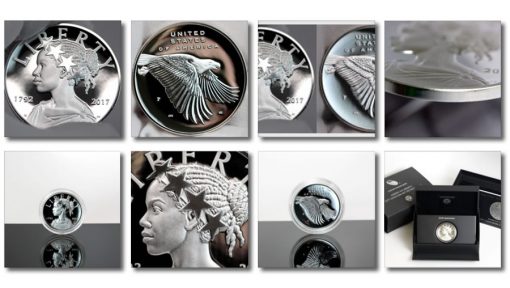 Designed by Justin Kunz, obverses depict Liberty rendered as an African-American woman wearing a crown of five-pointed stars along with the inscriptions LIBERTY, 1792, and 2017.
| | |
| --- | --- |
| U.S. Mint image of the medal obverses | U.S. Mint image of the medal reverses |
Their reverse, designed by Chris Costello, showcases a powerful eagle in flight along with inscriptions of UNITED STATES OF AMERICA and a mintmark of 'P' for Philadelphia, 'S' for San Francisco, 'D' for Denver or 'W' for West Point.
Mintage and Ordering
A maximum of 50,000 sets will be issued. Pricing is $199.95 per set and there is an initial household order limit of two sets.
Beginning at noon, the American Liberty 225th Anniversary Silver Four-Medal Set may be ordered directly from the U.S. Mint via this link. Orders are also accepted by calling 1-800-USA-MINT (872-6468).