Numismatic Guaranty Corporation has authenticated and graded a number of experimental cents and tokens made in glass, the company announced in a news release on Monday, July 24.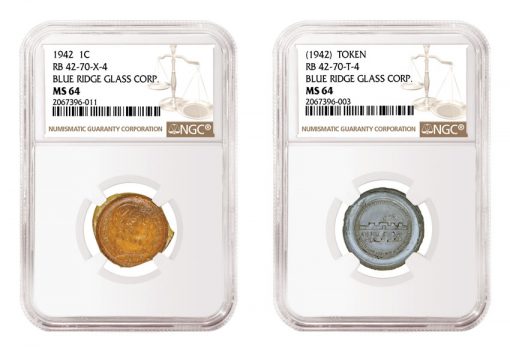 In 1942, the United States Mint researched and experimented with alternative materials to make cents because of wartime copper shortages. The agency also invited private companies to test various types of materials.
Blue Ridge Glass Corporation of Kingsport, Tennessee, struck glass patterns (test cents) using blanks supplied by Corning Glass Works and dies prepared by the U.S. Mint.
NGC certified 17 experimental pieces by Blue Ridge, including 9 pattern cents struck on amber-colored glass blanks and 8 glass tokens. Seven of the glass cents are intact, and were graded from NGC MS 62 to NGC MS 64. Two are fragments NGC attributed but did not grade.
Numismatists were previously aware of just two Blue Ridge glass pattern cents, one of which was a fragment. The unbroken example recently sold at auction for $70,500.
Of the glass tokens, three were struck with a die depicting the factory with the text of BLUE RIDGE GLASS CORP. The others show more modest design elements. The tokens graded from MS 64 to MS 66, excluding two that are fragmented.
Heritage Auctions will offer the 17 experimental glass cents and tokens on Aug. 4, 2017, at the ANA World's Fair of Money in Denver, Colorado. View these lots at HA.com/1258.
"Following the success of Heritage's $70,500 sale of a rare glass cent in January of this year, we were delighted to be presented with several high-grade examples," said Mark Borckardt, Senior Cataloger and Numismatist at Heritage Auctions.
Images of the pieces are also available at NGCcoin.com/GlassCents.
Roger W. Burdette, author of the book United States Pattern and Experimental Pieces of World War II, noted that Blue Ridge Glass had some employees carry glass blanks in their pockets, but those blanks chipped, creating sharp edges.
These experimental glass pieces have been cataloged by Burdette and will appear in the next edition of his book. NGC used Burdette's catalog numbers on its certification labels.
The fragmented pieces highlight the impractical use of glass for coins — they break too easily. The U.S. Mint eventually turned to zinc-coated steel as their composition solution for cents in 1943.