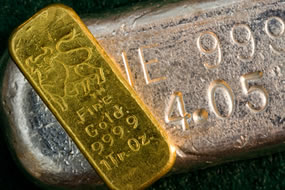 Most precious metals logged losses in June and the second quarter, but they all advanced through the first half of this year.
Gold for August delivery on Friday shed $3.50, or 0.3%, to settle at $1,242.30 an ounce on the Comex division of the New York Mercantile Exchange. The settlement is the lowest since May 16.
"We still have two rate hikes factored in for the Fed in the second half of the year, and we expect some reduction of the balance sheet," Reuters quoted Capital Economics analyst Simona Gambarini. "At the same time, in the UK and Europe, although policy will remain loose for some time, it will start to turn the other way," she added. "So all in all, it doesn't bode so well for gold prices."
Gold futures posted weekly, June and quarterly losses of 1.1%; 2.6%; and 0.7%. However, the yellow metal still advanced 7.9% through the first half of 2017.
In looking ahead to next week, Kitco News offers the following forecasts via their Wall Street vs. Main Street survey:
"A total of 1,816 voters, or 68%, of online Main Street voters called for gold to fall some more over the next week. This was the most bearish that Main Street has been since July 2015, when 75% of respondents were bearish. Another 680 online voters, or 26%, say that gold will rise, while 170, or 6%, are neutral.

Meanwhile, 18 traders and analysts took part in a Kitco News Wall Street survey. Eleven voters, or 61%, see gold prices falling by the end of next week. Four voters, or 22%, were bullish, while the remaining three voters, or 17%, looked for prices to be sideways."
Silver for September delivery lost 2.7 cents, or 0.2%, to settle at $16.627 an ounce. Silver futures also traded lower for the week, month and second quarter — registering declines of 0.1%, 4.5% and 8.9%. The losses pared the metal's year-to-date gain to 4%.
In PGM futures on Friday, for the week, and month:
October platinum rose $3.30, or 0.4%, to $926.40 an ounce, but dipped 0.3% this week and lost 2.5% in June.

Palladium for September delivery fell $9.45, or 1.1%, to $836.65 an ounce, for a 2.3% weekly decline that trimmed its monthly advance to 2.5%.
The two metals divided in the second quarter with palladium falling 2.7% and palladium soaring 4.8%. Both are higher so far this year with platinum up 2.3% and palladium up 22.5%.
London Precious Metals Prices
London precious metals prices ended mixed on Friday and lower on the week. In comparing their levels from Thursday PM to Friday PM:
Gold fell $1.25, or 0.1%, to $1,242.50 an ounce.
Silver declined 36 cents, or 2.1%, to $16.47 an ounce.
Platinum added $12, or 1.3%, to $922 an ounce.
Palladium fell $10, or 1.2%, to $841 an ounce.
For the week, losses totaled 1.1% for gold, 1.4% for silver, 0.5% for platinum and 5.1% for palladium.
In June, palladium rose 3.3% while the other LBMA prices registered losses of 1.9% for gold, 4.9% for silver, and 2.6% for platinum.
As for the second quarter, palladium jumped 5.4% while the others fell by 0.2% for gold, 8.8% for silver and 1.9% for platinum.
They marked year-to-date gains of 7.2% for gold, 1.4% for silver, 1.7% for platinum and 24.4% for palladium.
US Mint Bullion Sales in 2017
The United States Mint sold far fewer American Eagle and Buffalo bullion coins in June than in May and a year earlier. The Mint's bullion sales through the first half of this year are also sharply down from the same period last year. In headline comparisons:
American Eagle gold coins tallied to 6,000 ounces in June, registering declines of 58.6% from 14,500 ounces in May and 91.8% from 73,500 ounces in June 2016. Year to date sales at 192,500 ounces are 61.6% lower than the 501,000 ounces delivered during the first half of 2016.

American Eagle silver coins reached 986,000 ounces for the month, logging declines of 59.8% from 2,455,000 ounces in May and 65.3% from 2,837,500 ounces in June of last year. 2017 Silver Eagle sales at 12,233,500 are down more than half, 53.4%, from the 26,250,000 sold through the first six months of last year.

American Buffalo gold coins climbed to 2,000 ounces in June, posting declines of 42.9% from 5,000 ounces in May and 86.2% from 14,500 ounces in June 2016. Year to date sales at 66,000 ounces are 41.3% lower than the 112,500 ounces moved during the first half of 2016.

America the Beautiful Five Ounce Silver Bullion Coins advanced by 144,000 ounces in June, up 260% from the previous month's total of 40,000 ounces but off 15.8% from the June 2016 total of 171,000 ounces. Sales for the year so far at 375,000 ounces are 65% lower than the 1,071,000 ounces sold through the same six months in 2016.
Below is a sales breakdown of U.S. bullion products with columns listing the number of coins sold during varying periods. Products with an asterisk (*) are no longer available.
US Mint Bullion Sales (# of coins)
Friday
Last Week
This Week
May
June
YTD
$100 American Eagle 1 Oz Platinum Coin
0
0
0
0
0
20,000
$50 American Eagle 1 Oz Gold Coin
500
2,000
1,000
10,000
4,000
141,000
$25 American Eagle 1/2 Oz Gold Coin
0
0
0
2,000
0
27,000
$10 American Eagle 1/4 Oz Gold Coin
0
0
0
2,000
0
48,000
$5 American Eagle 1/10 Oz Gold Coin
0
0
10,000
30,000
20,000
260,000
$50 American Buffalo 1 Oz Gold Coin
500
0
1,000
5,000
2,000
66,000
$1 American Eagle 1 Oz Silver Coin
75,000
272,000
280,000
2,455,000
986,000
12,233,500
2017 Effigy Mounds 5 Oz Silver Coin
0
6,300
0
5,600
8,800
35,000
2017 Frederick Douglass 5 Oz Silver Coin
0
0
0
2,400
0
20,000
2017 Ozark Riverways 5 Oz Silver Coin
0
0
0
N/A/
20,000
20,000