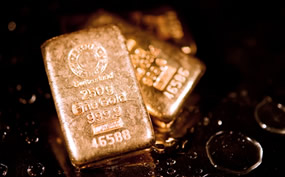 Gold futures advanced for a third straight session Friday, but their combined gains fell a little shy from bringing the yellow metal into positive territory for the week.
Gold for August delivery on Friday added $7, or 0.6%, to settle at $1,256.40 an ounce on the Comex division of the New York Mercantile Exchange.
"Gold is consolidating from the recent drawback, but is still in a correction mode, to be clear," MarketWatch quoted Nico Pantelis, head of research at Secular Investor." We should be nearing the bottom of the current correction in the next week or two, from where a bigger climb should start. We think August could be an ideal month to kick-start this new uptrend in gold, which could last till the end of the fall."
Gold futures shed a dime this week, or 0.01%, after two previous weekly losses of 2.1% and 0.7%. Before then, the precious metal scored four straight weekly wins that added 4.3% to prices. Gold has climbed 9.1% so far this year.
In looking ahead to next week, Kitco News offers the following forecasts via their Wall Street vs. Main Street survey:
"Seventeen traders and analysts took part in a Kitco News Wall Street survey. Nine voters, or 53%, see gold prices rising by the end of next week. There were four votes each, or 24%, for lower and sideways.

Meanwhile, 1,138 readers submitted votes in an online Main Street poll. A total of 566 voters, or 50%, are bullish. Another 326, or 29%, say that gold will fall, while 246, or 22%, are neutral."
Elsewhere, silver for July delivery tacked on 13.8 cents, or 0.8%, to settle at $16.647 an ounce. Silver futures this week slipped less than 0.1% after two previous weekly losses of 3.3% and 1.7%. They jumped 6.9% in the three weeks before the declines started. The three most recent weeks of losses have trimmed silver's year-to-date gain to 4.1%.
In PGM futures on Friday and for the week:
July platinum rose $3.80, or 0.4%, to $929.40 an ounce, for a 0.3% weekly gain.

Palladium for September delivery dropped $23.85, or 2.7%, to $856.65 an ounce, registering a 1% decline from a week ago.
For the year to date, platinum is up 2.6% and palladium is up 25.4%.
London Precious Metals Prices
London precious metals prices ended higher on Friday and mostly higher on the week. In comparing their levels from Thursday PM to Friday PM:
Gold added $4.90, or 0.4%, to $1,255.70 an ounce.
Silver rose 13 cents, or 0.8%, to $16.71 an ounce.
Platinum added $4, or 0.4%, to $927 an ounce.
Palladium rose $17, or 2%, to $896 an ounce.
For the week in LBMA prices, silver dipped 0.3% while the other metal posted gains of 0.02% for gold, 0.4% for platinum and 2% for palladium.
US Mint Bullion Sales in 2017
U.S. Mint bullion sales this week picked up for silver coins and moved at the same pace for gold coins. In week-over-week headline comparisons:
Gold coins moved up by 2,000 ounces. This week's gains came entirely from American Gold Eagles. Splits last week included 1,500 ounces in American Gold Eagles and 500 ounces in American Gold Buffalos.

Silver coins advanced 303,500 ounces compared to 221,500 ounces previously. Splits include 272,000 ounces in American Silver Eagles versus 205,000 ounces previously and 31,500 ounces in ATB 5-ounce silver bullion coins compared to 16,500 ounces previously.
Below is a sales breakdown of U.S. bullion products with columns listing the number of coins sold during varying periods. Products with an asterisk (*) are no longer available.
US Mint Bullion Sales (# of coins)
Friday
Last Week
This Week
May
June
YTD
$100 American Eagle 1 Oz Platinum Coin
0
0
0
0
0
20,000
$50 American Eagle 1 Oz Gold Coin
0
1,000
2,000
10,000
3,000
140,000
$25 American Eagle 1/2 Oz Gold Coin
0
0
0
2,000
0
27,000
$10 American Eagle 1/4 Oz Gold Coin
0
0
0
2,000
0
48,000
$5 American Eagle 1/10 Oz Gold Coin
0
5,000
0
30,000
10,000
250,000
$50 American Buffalo 1 Oz Gold Coin
0
500
0
5,000
1,000
65,000
$1 American Eagle 1 Oz Silver Coin
0
205,000
272,000
2,455,000
706,000
11,953,500
2017 Effigy Mounds 5 Oz Silver Coin
0
500
6,300
5,600
8,800
35,000
2017 Frederick Douglass 5 Oz Silver Coin
0
0
0
2,400
0
20,000
2017 Ozark Riverways 5 Oz Silver Coin
0
2,800
0
N/A/
20,000
20,000