On Tuesday, June 6, the Perth Mint of Australia launched its latest suite of collector products. Coins depicting koalas and kangaroos lead the line-up, including pieces in gold and silver as well as high relief.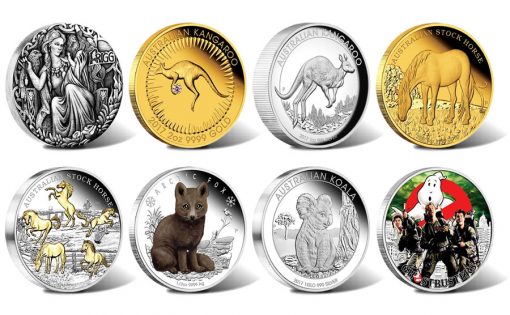 Joining the staple subjects is a Norse Goddesses coin in antiqued finish. Also debuting is a Polar Babies release, two Stock Horse coins, and a Ghostbusters™ coin.
Images and summary information for the June collector coins is available below.
Kangaroo Silver Proof High Relief Coin
Always popular with collectors is the annually issued Australian Kangaroo 1oz Silver Proof High Relief Coin. Shown on the reverse (tails side) of this year's release is a single kangaroo bounding across the outback.
The design in high relief, created by Mint artist Jennifer McKenna, is surrounded by inscriptions of AUSTRALIAN KANGAROO and 2017 1oz 999 SILVER. Issue limit for the single coin is 19,000 with another 1,000 reserved for inclusion in other products.
Kangaroo Gold Proof Pink Diamond Coin
Available in very limited mintage is the 2017 Australian Kangaroo 2oz Gold Proof Pink Diamond Edition. Each coin is composed from 99.99% pure gold and features a single pink diamond to embellish its reverse design.
The diamond is placed as if being held in the paws of the bounding red kangaroo. No more than 300 of the coins will be sold.
Koala 5 oz Silver Proof High Relief Coin
Along with kangaroo coins, the Perth Mint is known throughout the world for its koala coins. This includes the new 5oz edition in high relief.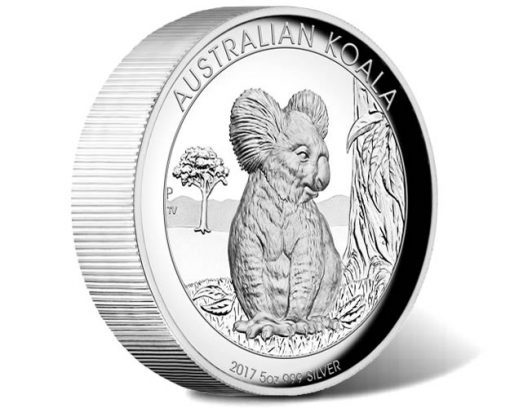 Seen on the reverse is an adult koala sitting by a eucalyptus tree, surrounded by inscriptions of AUSTRALIAN KOALA and 2017 5 oz 999 SILVER. Its mintage is only 1,000.
Koala Kilo Silver Proof Coin
This coin includes the same basic koala design as on the 5oz coin, but not in high relief. It has, however, the attraction of an even larger size with a composition of one kilo silver (minimum gross weight of 1001.002 grams) to a purity of 99.9%.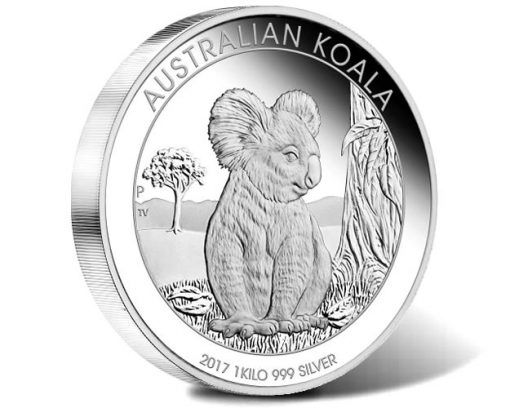 Diameter for the massive issue is approximately 100.60 mm. Mintage for the coin is just 300.
Norse Goddesses Frigg Silver Antiqued High Relief Coin
Struck in high relief with an antiqued finish is the newest coin from the Perth Mint's Norse Goddesses series. This particular issue features Frigg, the goddess of love, marriage, destiny, sky and weaving.
This rimless, 99.99% pure 2oz silver coin is struck as a Tuvalu legal tender piece with a face value of 2 dollars. Its maximum mintage is 2,000.
Arctic Fox 1/2 oz Silver Coin
Offered as the third coin in the Polar Babies series is a strike depicting a colored Arctic fox. The fox pup is shown on the reverse against a backdrop of its native flora.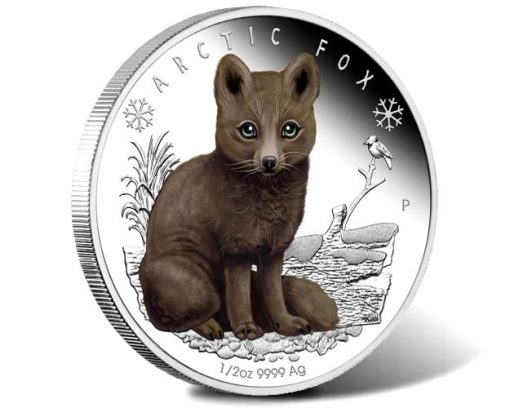 This collectible is also Tuvalu legal tender. Each is featured in 1/2 ounce of 99.99% silver. Mintage for the coin is capped at 5,000.
Stock Horse 5 oz Gold Proof Coin
Signifying the Australian love of horses, the Perth Mint has issued this Stock Horse coin in five ounces of 99.99% pure gold. The reverse shows an Australian stock horse grazing amid a rural landscape.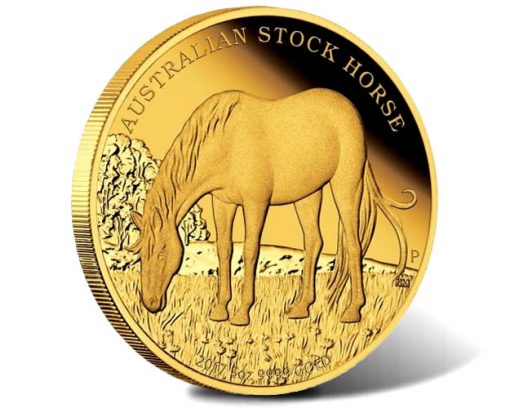 Struck to collector proof quality, its mintage is limited to only 99 pieces.
Stock Horse 5 oz Silver Gilded Coin
Along with the above Stock Horse coin, the Perth Mint also offers a gilded edition in five ounces of 99.99% pure silver.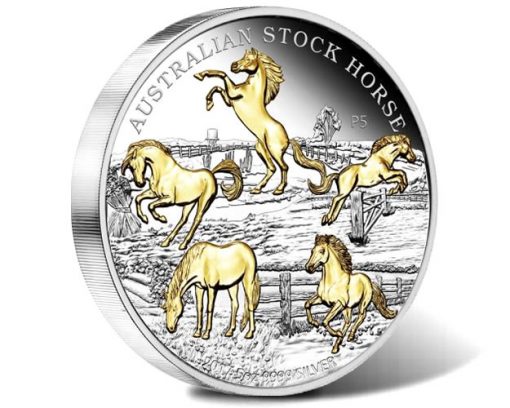 For this collectible, the reverse features a montage of Australian stock horses gilded in 24 carat gold performing a variety of actions set against distinctive outback scenes. Its mintage is 500 pieces.
Ghostbusters Crew Silver Coin
Last, and as another Tuvalu legal tender issue, the Perth offers a 1oz silver Ghostbusters coin. The reverse depicts the three crew members Dr Spengler, Dr Stantz, and Dr Venkman as they appeared in Ghostbusters™, against a backdrop of New York City and a green coloured sky.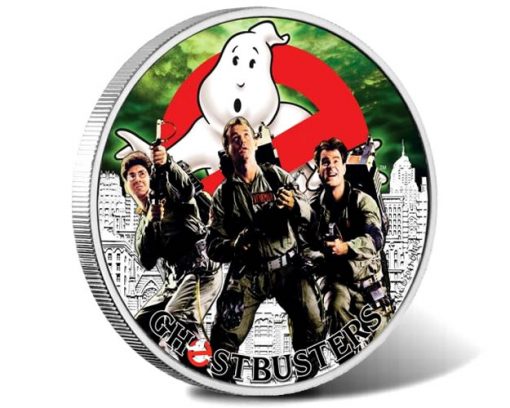 Struck to proof quality, its mintage is 5,000.
Ordering
Additional information, ordering options and current pricing on the coins are available on the Perth Mint's website at www.perthmint.com.au. You may also follow this affiliate link to the Mint's newest coins.