Perth Mint debuting coins for the month of April cover a wide-range of subject matters including dragons, eagles, horses and kookaburras.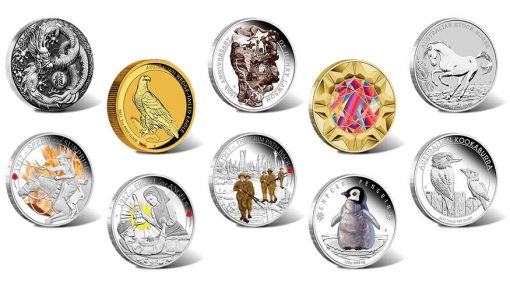 Also newly released are coins celebrating the 150th anniversary of Henry Lawson and a three-coin ANZAC spirit set.
Summary information for the collector coins is available below.
Wedge-Tailed Eagle 2 oz Gold High Relief Coin
Commissioned by the Perth Mint, American sculptor and engraver John M. Mercanti created the likeness of the wedge-tailed eagle that is seen on the reverse (tails side) of this 2oz ounce, gold high relief coin. Most may recognize Mercanti as the 12th chief engraver of the United States Mint.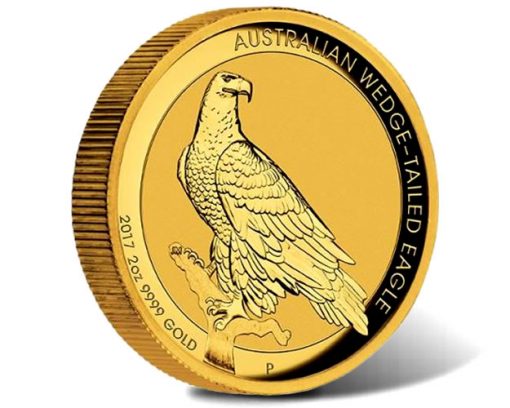 The mintage limit for the 99.99% pure $200 gold coin is capped at 150 pieces. It comes in a wooden display case with a themed illustrated shipper, and is accompanied by a numbered Certificate of Authenticity.
2017 Stock Horse Coin and Card
Horses have played an integral part in the history of Australia. That fact is celebrated on this new collector $1 silver coin which showcases the likeness of an Australian stock horse. The animal appears in a paddock rearing up on its hind legs, with a sheath of hay in the background. Inscriptions include AUSTRALIAN STOCK HORSE, 2017, Mint's 'P' mintmark, and 1oz 9999 silver.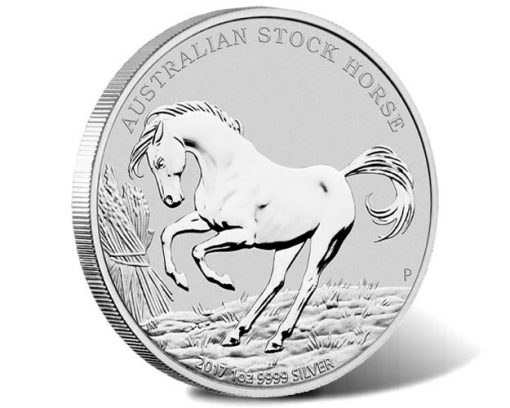 Limited to 10,000 pieces, the coin is attached to an illustrated card portraying a rural property at sunset.
ANZAC Spirit 100th Anniversary Three-Coin Set
Commemorating the 100th anniversary of ANZAC, the Perth is offering this special three-coin proof set of 1/2 oz silver coins. Each Australian legal tender coin, struck in 99.99% fine silver, depicts a different historic First World War design — The Grim Path Back, Speed and Surprise, and Front Line Angels.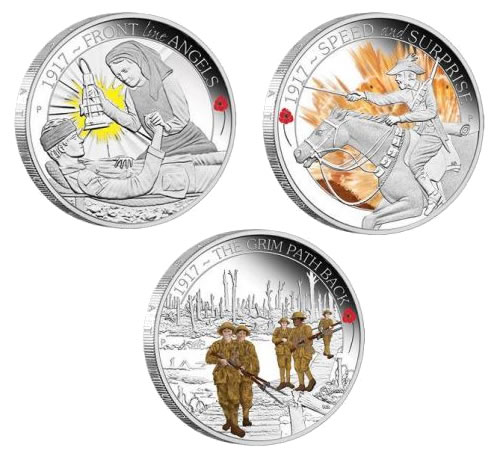 The set is presented in a round tray, which fits inside an illustrated shipper featuring First World War photography, and is accompanied by a booklet with information and imagery from the Great War. The booklet contains a numbered Certificate of Authenticity. Mintage limit is 5,000.
Kookaburra 1 Kilo Silver Proof Coin
Kookaburra coins are a staple of the Perth Mint line-up with this newest release presenting two of the birds sitting on a fence. This $30 coin is produced to proof quality from 1 kilogram of 99.9% pure silver.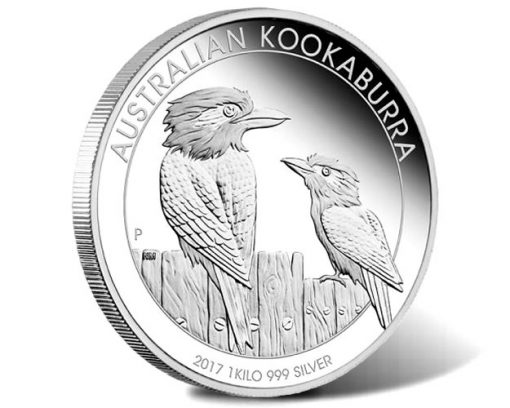 No more than 300 of these will be issued. The coin is housed in a display case within a themed shipper, and is accompanied by a numbered Certificate of Authenticity.
Henry Lawson 150th Anniversary Silver Proof Coin
One of Australia's most celebrated writers is honored on the reverse of this 5 oz silver proof coin. It features a profile of Henry Lawson's face composed of a number of characters and settings from his poems and short stories. The design celebrates the writer and poet's 150th anniversary, and includes inscriptions of 150th ANNIVERSARY OF HENRY LAWSON, the Mint's 'P' mintmark and designer Natasha Muhl's initials 'NM'.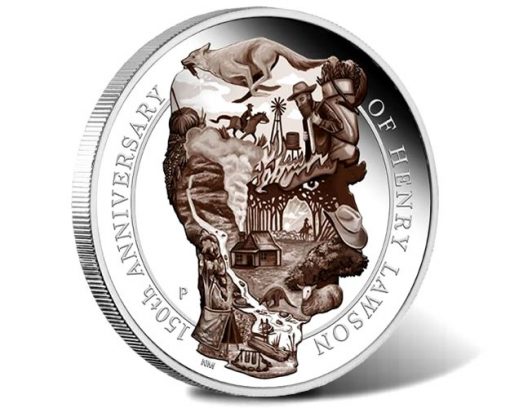 Only 250 are available. Struck to 99.99% silver purity, the $8 coin ships in a Perth Mint display case with an illustrated shipper and is accompanied by a numbered Certificate of Authenticity.
Dragon 2017 2 oz Silver Antiqued Coin
The Perth Mint has seen strong demand for its series of 2oz silver antiqued coins and the newest release will continue that trend. Featured on the $2 coin is a mythical dragon chasing a flaming pearl inscribed with the Chinese character for 'dragon'.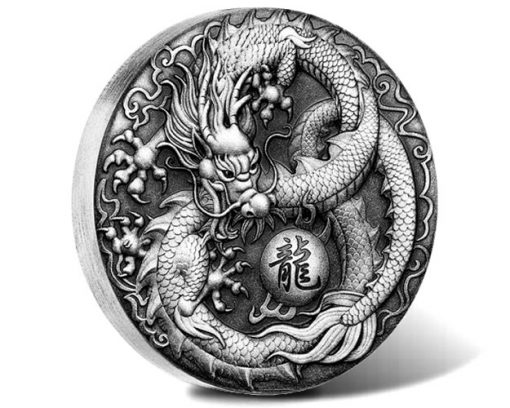 This is a Tuvalu legal tender piece, struck in 99.99% silver. The coin arrives housed in a case and is accompanied by a numbered Certificate of Authenticity.
Rare Beauties Stamp and Coin Cover
This $1 aluminum bronze coin's reverse features a representation of a rhodonite gem. The only inscriptions around the design are the Perth Mint's 'P' mintmark and the artist's (Natasha Muhl) initials 'NM'.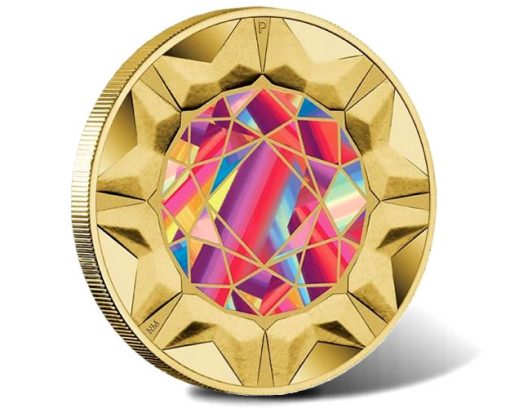 Also a Tuvalu legal tender issue, the coin is presented in a colorful card. Affixed to the envelope is an official Australia Post $1 Rhodonite stamp. The stamp is postmarked for the first day of issue and the envelope includes Australia Post's Seal of Authenticity. Issue limit of the cover is 7,500.
Emperor Penguin Silver Proof Coin
The 50-cent Polar Babies series continues with this second release depicting an emperor penguin chick resting on ice.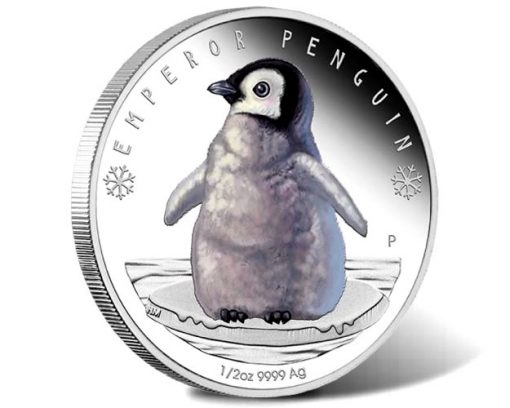 This is a Tuvalu legal tender proof coin struck in 1/2oz of 99.99% silver. Its mintage limit is 5,000.
Ordering
Additional information, ordering options and current pricing on the coins are available on the Perth Mint's website at www.perthmint.com.au. Here is
an affiliate link to the Mint's newest coins.