On Wednesday, March 29, the U.S. Mint started selling its latest product for coin collectors, the 2017 United States Mint Proof Set®. This set includes ten different coins each featuring frosted foregrounds and mirror-like backgrounds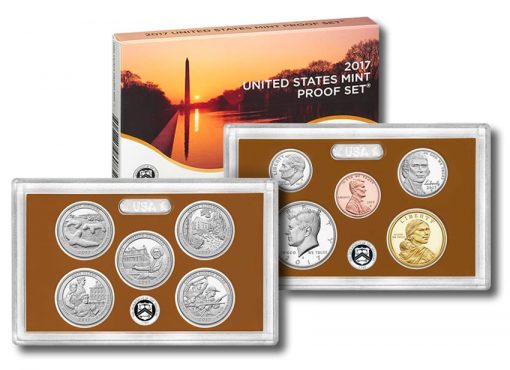 The 2017 Proof Set will rank among the Mint's most popular items this year with sales expected to top 600,000.
2017 Proof Set Contents
Regular coins for circulation are made at the Philadelphia and Denver Mints. Coins in this set are produced with extra care at the U.S. Mint's facility in San Francisco. Each is struck multiple times to produce a higher level of detail. Their popular proof finish is created by using polished dies and hand-polished blanks. The set includes:
2017-S Effigy Mounds National Monument Quarter (Iowa)
2017-S Frederick Douglass National Historic Site Quarter (Washington, DC)
2017-S Ozark National Scenic Riverways Quarter (Missouri)
2017-S Ellis Island (Statue of Liberty National Monument) Quarter (New Jersey)
2017-S George Rogers Clark National Historical Park Quarter (Indiana)
2017-S Native American $1 Coin
2017-S Kennedy half-dollar
2017-S Roosevelt dime
2017-S Jefferson nickel
2017-S Lincoln cent
The quarters are issued as part of the U.S. Mint's ongoing America the Beautiful Quarters® Program which features five new releases annually with each honoring a different site of national interest. The 2017 Native America $1 Coin offers a reverse depiction of Sequoyah writing "Sequoyah from Cherokee Nation" in syllabary (Cherokee writing system) along the border. These six coins bear designs issued only for this year.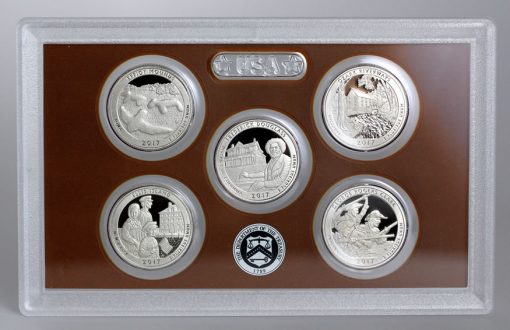 Also of note, the 2017 Proof Set has fewer coins than other recent annual issues due to the Presidential $1 Coin Program ending. That series ran from 2007 through 2016, with each year's dollars included in annual sets.
Ordering Information
2017 Proof Sets may be ordered directly from the U.S. Mint via its online store, located here, or by calling toll-free at 1-800-USA-MINT (872-6468).
Pricing is $26.95 per set — a reduction from last year's $31.95 price point owing mostly to the smaller number of coins.