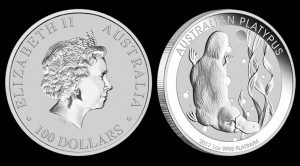 On Wednesday, Feb. 1, the Perth Mint released its 2017 $100 Australian Platypus Platinum Bullion Coin.
Native only to eastern Australia, the platypus is often called the duck-billed platypus because of its duck-like beak and webbed feet. Its unique appearance also shares characteristics of other animals, like the beaver for its tail and the otter for its shape and fur. The carnivore has the added distinction of being one of only two mammals that lay eggs.
Struck in an ounce of .9995 fine platinum, the Platypus bullion coin has been annually issued since its introduction in 2011. Its reverse image has remained the same over the years, depicting a diving platypus in an underwater environment. Above the aquatic scene is AUSTRALIAN PLATYPUS, while below are 2017 and 1oz 9995 PLATINUM. Additionally, the Perth Mint's 'P' mint mark appears to the left of the mammal.
As a legal tender coin, obverses offer the Ian Rank-Broadley FRBS effigy of Her Majesty Queen Elizabeth II with surrounding inscriptions of ELIZABETH II, AUSTRALIA and 100 DOLLARS.
Mintages have varied, with stated maximums of 30,000 coins in the first two years to unlimited in the remaining. Published sales are dated since the most recent are as of Dec. 31, 2015. They include:
2011 – 30,000 (sold out)
2012 – 26,580 coins
2013 – 2,000
2014 – 1,616
2015 – 12,420
2016 – 717
Each bullion piece weighs 31.12 grams, is minted to a diameter of 32.60 millimeters, has a thickness of 2.70 millimeters, and features a high quality reverse proof finish.
Bullion coin and precious metals dealers are now selling the platinum coin for about $100 over spot with discounts offered at larger quantities.