Rolls, bags and boxes of the only golden-colored $1 coin from the United States Mint this year are now available with today's release of the 2017 Native American dollar.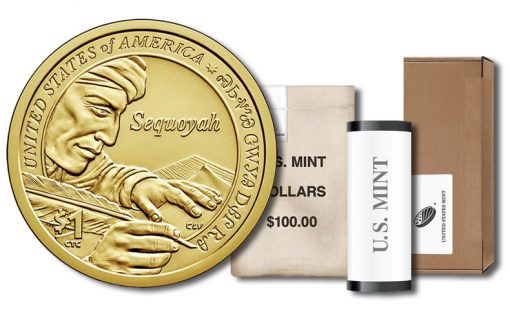 Offered as the ninth strike in a series that features annually changing reverses, the new coin showcases a design commemorating Sequoyah, a silversmith and creator of the Cherokee language.
Product options include circulating quality dollars in U.S. Mint-branded 25-coin rolls, 100-coin bags, and 250-coin boxes from production facilities in Philadelphia and Denver.
Since the similar Presidential dollar program ended last year, the Native American $1 Coin is the only non-precious metal dollar produced by the U.S. Mint in 2017. In addition, this coin is not released into circulation. It is only available in numismatic products like these rolls, bags and boxes.
2017 Native American Dollar Coin Designs
Public Law 110-82 calls for dollar designs that celebrate contributions to the history and development of the United States by Indian tribes or individuals. This year's design commemorates Cherokee silversmith and inventor Sequoyah. It depicts him with a quill in hand writing "Sequoyah from Cherokee Nation" in syllabary near the coin's rim. The design was unveiled in December, winning from among 13 candidates.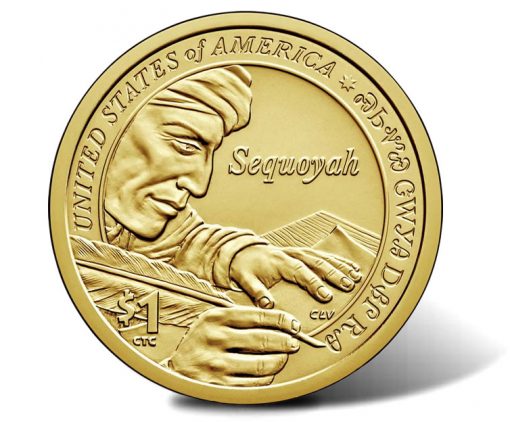 It was created by U.S. Mint Artistic Infusion Program Designer Chris Costello and sculpted by Mint Sculptor-Engraver Charles L. Vickers. Reverse inscriptions read "UNITED STATES OF AMERICA," "$1," and "Sequoyah."
Glenna Goodacre's "Sacagawea" design continues to grace the obverse (heads side) of each coin, as it has done since the series was introduced in 2009 and on Sacagawea dollars from 2000-2008. "LIBERTY" and "IN GOD WE TRUST" complete the design.
| | |
| --- | --- |
| Native American $1 Coin – Obverse | Edges of $1 Coins |
Incused around the edge of each coin is the year, mint mark, and "E PLURIBUS UNUM."
25-Coin Rolls, 100-coin Bags and 250-Coin Boxes Pricing
Pricing for dollar products have been the same for about a half-dozen years. Here is a table listing all the product options and their prices:
| | |
| --- | --- |
| PRODUCT OPTION | PRICE |
| 25-Coin Roll – P | $32.95 |
| 25-Coin Roll – D | $32.95 |
| 100-Coin Bag – P | $111.95 |
| 100-Coin Bag – D | $111.95 |
| 250-Coin Box – P | $275.95 |
| 250-Coin Box – D | $275.95 |
These coins are produced using the same procedures as general circulation issues, but have not actually been released into circulation. Product packaging indicates the facility of production, the face value of the contents and U.S. Mint branding.
Ordering
Rolls, bags or boxes of 2017 Native American $1 Coins can be ordered directly from the U.S. Mint using this online page. Place phone orders using 1-800-USA-MINT (872-6468). There are no ordering limits.
Mintage Information
The United States Mint has not yet published coin production figures for 2017 coins. Here are mintages of Native American dollars since the series started:
Mintages of 2009 – 2016 Native American $1 Coins
| | | | |
| --- | --- | --- | --- |
| | Denver Mint | Philadelphia Mint | Total Mintages |
| 2009 | 33.88 M | 37.88 M | 71.26 M |
| 2010 | 48.72 M | 32.06 M | 80.78 M |
| 2011 | 48.16 M | 29.40 M | 77.56 M |
| 2012 | 3.08 M | 2.80 M | 5.88 M |
| 2013 | 1.82 M | 1.82 M | 3.64 M |
| 2014 | 2.80 M | 3.08 M | 5.88 M |
| 2015 | 2.24 M | 2.80 M | 5.04 M |
| 2016 | 2.10 M | 2.80 M | 4.09 M |
Past Designs
Previous program coins showcased these themes:
2009 – Three Sisters Agriculture
2010 – Great Tree of Peace and the Iroquois Confederacy
2011 – Great Wampanoag Nation
2012 – Trade Routes
2013 – Treaty with the Delawares
2014 – Native Hospitality Ensured the Success of the Lewis and Clark Expedition
2015 – Contributions of the Kahnawake Mohawk and Mohawk Akwesasne communities to "high iron" construction work
2016 – Contributions of the Native American Code Talkers in World War I and World War II
Here are images of those issues:
| | |
| --- | --- |
| The design theme for the 2016 Native American dollar design commemorates Code Talkers | The theme for the 2015 Native American dollar design commemorates Mohawk ironworkers |
| The theme for the 2014 Native American dollar design commemorates native hospitality | The theme for the 2013 Native American dollar commemorates the Delaware Treaty of 1778 |
| The theme for the 2012 Native American dollar design features 'Trade Routes in the 17th Century' | The theme for 2011 Native American dollar design depicts 'Diplomacy - Treaties with Tribal Nations' |
| The theme for the 2010 Native American dollar design symbolizes 'Government -- The Great Tree of Peace' | The theme for the 2009 Native American dollar design depicts the 'Spread of Three Sisters Agriculture' |