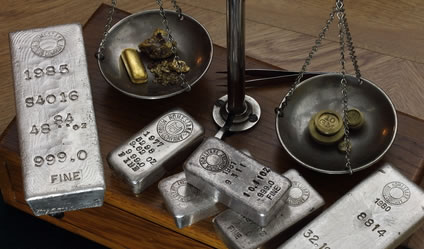 Gold futures bounced from a 10-1/2 month low on Friday but still logged their sixth straight week of losses.
Gold for February delivery on Friday rose $7.60, or 0.7%, to settle at $1,137.40 an ounce on the Comex division of the New York Mercantile Exchange. Gold futures fell this week by 2.1%, trimming their year-to-date increase to 7.3%. On Thursday, they settled at their lowest level since Feb. 2.
"The Fed rate hike was the last straw to break the camel's back, as traders are projecting a more Goldilocks outlook for the economy," MarketWatch quoted Nico Pantelis, head of research at Secular Investor. Also, various leading indicators are "confirming the more rosy prospect for the U.S. economy, which is bullish for risk-on assets like stocks, and bearish for risk-off assets like gold."
After its two-day meeting ended Wednesday, the Fed raised interest rates by a quarter point and signaled quicker increases next year.
In looking ahead to next week, Kitco News offers the following forecasts via their Wall Street vs. Main Street survey:
"Sixteen analysts took part in a Wall Street survey. The biggest camp — seven voters, or 44% — see gold prices rising. Six, or 38%, expect the slide to continue, while three, or 19%, look for a sideways market.

Meanwhile, 627 participants took part in the Main Street survey. A total of 204, or 33%, called for gold to bounce, while 349, or 56%, see lower prices. The remaining 74, or 12%, were neutral."
Elsewhere, silver for March delivery tacked on 25.7 cents, or 1.6%, to settle at $16.215 an ounce. Silver futures declined 4.4% this week after rising 0.8% last week. On Thursday, they closed at their weakest point since June 1. The precious metal is 17.5% higher so far this year.
In PGM futures on Friday and for the week:
January platinum jumped $40.50, or 4.5%, to $934.10 an ounce, for a 2.1% weekly gain.

Palladium for March delivery fell $8.40, or 1.2%, to $697.25 an ounce, and dropped 5.1% on the week.
London Precious Metals Prices
London precious metals prices were mixed Friday and lower on the week. In comparing their levels from Thursday PM to Friday PM:
Gold added $4.65, or 0.4%, to $1,131.60 an ounce.
Silver fell 9 cents, or 0.6%, to $16.05 an ounce.
Platinum declined $10, or 1.1%, to $904 an ounce.
Palladium fell $39, or 5.4%, to $688 an ounce.
Their weekly declines totaled 2.8% for gold, 5.3% for silver, 2.3% for platinum and 7.5% for palladium.
US Mint Bullion Coin Sales in 2016
With the U.S. Mint's most popular 2016-dated bullion coins sold out, their weekly sales were modest at 500 ounces in American Eagle 1/2 oz. gold coins and 4,500 ounces in American Buffalo 1 oz. gold coins. New 2017-dated coins launch on Jan. 9.
Below is a sales breakdown of U.S. Mint bullion products with columns listing the number of coins sold during varying periods. Products with an asterisk (*) are no longer available.
US Mint Bullion Sales (# of coins)
Friday Sales
Last Week
This Week
Nov Sales
Dec Sales
2016 Sales
$100 American Eagle 1 Oz Platinum Coins*
–
20,000
$50 American Eagle 1 Oz Gold Coins*
–
23,000
–
129,000
23,000
817,500
$25 American Eagle 1/2 Oz Gold Coins
0
2,000
1,000
7,000
3,000
74,000
$10 American Eagle 1/4 Oz Gold Coins*
–
2,000
–
18,000
2,000
152,000
$5 American Eagle 1/10 Oz Gold Coins*
–
40,000
–
105,000
40,000
925,000
$50 American Buffalo 1 Oz Gold Coins
2,000
5,500
4,500
29,500
10,000
217,000
$1 American Eagle 1 Oz Silver Coins*
–
240,000
–
3,061,000
240,000
37,701,500
2016 Shawnee 5 Oz Silver Coins*
–
105,000
2016 Cumberland Gap 5 Oz Silver Coins*
–
75,000
2016 Harpers Ferry 5 Oz Silver Coins
0
100
0
1,500
100
38,100
2016 Theodore Roosevelt 5 Oz Silver Coins*
–
800
–
6,600
800
40,000
2016 Fort Moultrie 5 Oz Silver Coins
0
0
0
27,800
0
27,800