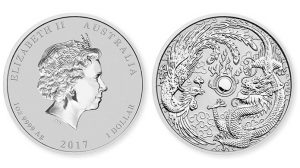 The Perth Mint on Tuesday, Nov. 1, introduced a new Australian bullion coin that depicts a dragon and phoenix.
Struck in 1oz of 99.99% pure silver with polished designs and frosted backgrounds, the bullion piece has an exceptionally low mintage maximum of 50,000 coins.
Reverses feature a dragon and phoenix against a background of stylized clouds. The pair are positioned around a flaming pearl, which represents the spiritual energy of wisdom, prosperity, power and immortality.
"The dragon has supreme status in Chinese mythology as the greatest divine force on Earth. The Phoenix is regarded as an immortal bird whose rare appearance foreshadows harmony at the ascent to the throne of a new emperor," the Perth Mint describes. "In Feng Shui, the dragon and phoenix are perfect matches for one another … Their portrayal together is a widely recognized symbol of everlasting love."
The reverses only inscription is the Perth Mint's 'P' mintmark.
Obverses bear the Ian Rank-Broadley effigy of Her Majesty Queen Elizabeth II and carry inscriptions of ELIZABETH II, AUSTRALIA, and 1 DOLLAR, 2017 and 1OZ 0000 Ag.
Perth Mint-provided specifications include:
Mintage: 50,000
Face value: 1 dollar
Precious Metal Content (troy oz): 1.000
Fineness: 99.99% purity
Weight (g): 31.135
Diameter (mm): 40.600
Thickness (mm): 4.000
Edge: serrated
The Perth Mint is accepting orders for the coin at perthmintbullion.com.