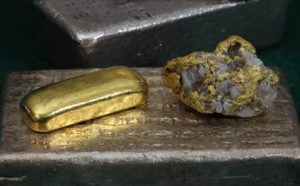 Gold and silver futures edged lower on Friday but still posted weekly gains, their first in three weeks.
On Friday, gold for December delivery slipped $2.10, or 0.2%, to settle at $1,255.50 an ounce on the Comex division of the New York Mercantile Exchange. For the most part, day-to-day settlements have changed little for more than a week.
"There's uncertainty on the part of investors who don't really know what the Fed is going to do in terms of hiking rates in December," Bloomberg News quoted Mike Dragosits, a senior commodity strategist at TD Securities in Toronto. "But the more data that comes in a bit more mixed or on the slightly weaker side, the more investors struggle with the idea the Fed hikes in December, and that shifts gold around."
Gold futures turned up 0.3% this week after logging two weekly losses of 5% and 1.8%. The yellow metal is now 18.4% higher than its final settlement in 2015 at $1,060.20 an ounce.
In looking ahead to next week, Kitco News offers the following forecasts via their Wall Street vs. Main Street survey:
"Seventeen analysts and traders took part this week's Wall Street poll. Nine participants, or 53%, called for gold to rise next week. The other eight votes were evenly split between sideways and lower, with four, or 24%, for each camp.

Meanwhile, 853 Main Street participants submitted votes in an online survey. A total of 464 respondents, or 54%, said they were bullish for the week ahead, while 239, or 28%, were bearish. The neutral votes totaled 150, or 18%."
Lower for a fourth straight day on Friday, silver for December shed 1.7 cents, or 0.1%, to settle at $17.441 an ounce.
Buoyed by gains on Monday, silver futures still managed a 0.4% climb this week after sinking 9.6% last week and 3% the week before then. They are 26.4% higher than their ending 2015 settlement of $13.803 an ounce.
In PGM futures on Friday and for the week:
January platinum added $6.60, or 0.7%, to $939.50 an ounce, but declined 2.4% this week.

Palladium for December delivery rose $11.45, or 1.8%, to $648.30 an ounce, but registered a 2.9% weekly loss.
Their weekly declines trimmed their year to date gains to 5.2% for platinum and 15.4% for palladium.
London Precious Metals Prices
London precious metals prices were mostly lower on Friday and on the week. In comparing their levels from Friday PM to Monday PM:
Gold fell $9.30, or 0.7%, to $1,251.75 an ounce.
Silver lost 12 cents, or 0.7%, to $17.47 an ounce.
Platinum fell $2, or 0.2%, to $933 an ounce.
Palladium added $2, or 0.3%, to $642 an ounce.
London silver prices gained 0.8% this week while the other metal prices logged declines totaling 0.6% for gold, 4.3% for platinum and 4.7% for palladium.
US Mint Bullion Coin Sales in 2016
U.S. Mint authorized purchasers ordered fewer gold and silver coins compared to a week earlier when they bought the most since January when the newly dated 2016-editions launched. In week-over-week comparisons:
Gold coins advanced 24,000 ounces after surging 53,500 ounces previously. This week's splits include 20,000 ounces in American Gold Eagles compared to 45,500 ounces previously and 4,000 ounces in American Gold Buffalo compared to 8,000 ounces previously.

Silver coin sales advanced 699,000 ounces after jumping 1.41 million ounces previously. The weekly splits include 695,000 ounces in American Silver Eagles compared to 1,405,000 ounces previously and 4,000 ounces in America the Beautiful Five Ounce Silver Uncirculated Coins compared to 5,000 ounces previously.
Below is a sales breakdown of U.S. Mint bullion products with columns listing the number of bullion coins sold during varying periods Products with an asterisk (*) are no longer available.
US Mint Bullion Sales (# of coins)
Friday Sales
Last Week
This Week
Sept Sales
Oct Sales
2016 Sales
$100 American Eagle 1 Oz Platinum Coins*
–
20,000
$50 American Eagle 1 Oz Gold Coins
4,500
42,000
15,500
79,000
57,500
622,500
$25 American Eagle 1/2 Oz Gold Coins
1,000
1,000
3,000
5,000
4,000
60,000
$10 American Eagle 1/4 Oz Gold Coins
0
6,000
2,000
16,000
8,000
124,000
$5 American Eagle 1/10 Oz Gold Coins
10,000
15,000
25,000
85,000
40,000
740,000
$50 American Buffalo 1 Oz Gold Coins
1,000
8,000
4,000
17,500
12,000
161,000
$1 American Eagle 1 Oz Silver Coins
150,000
1,405,000
695,000
1,675,000
2,100,000
32,675,500
2016 Shawnee 5 Oz Silver Coins*
–
105,000
2016 Cumberland Gap 5 Oz Silver Coins*
–
75,000
2016 Harpers Ferry 5 Oz Silver Coins
0
0
0
200
0
36,300
2016 Theodore Roosevelt 5 Oz Silver Coins
0
1,000
800
2,000
1,800
31,300