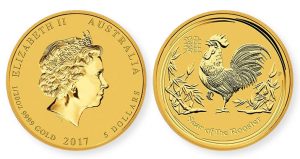 Demand surged for new Australian bullion coins and bars following two months of softened sales, according to Perth Mint figures for September.
The Mint's silver coins rallied above the million ounce milestone for the sixth time this year and its gold sales rebounded from an at least 3 1/2-year low.
Gains happened alongside rising precious metals with LBMA prices in September posting increases of 1% for gold and 3.3% for silver. They were also supported by the release of some new 2017-dated bullion coins.
"At a time when quieter market conditions are prevailing in the international bullion coin market, we experienced significant demand for our Australian Lunar Gold and Silver Coin Series II – 2017 Year of the Rooster," the Perth Mint said. "Strong wholesale orders, which were opened in early September, reflect the popularity of the Series throughout the Mint's key markets from China to North America."
United States Mint bullion sales strengthened last month as well. However, totals for both the U.S. and Perth Mints ended well lower than those from the same time last year.
Bullion Sales in September 2016
The Perth Mint sold 58,811 ounces in gold coins and gold bars last month, up 300.5% from the 14,684 ounces delivered in August, the lowest monthly amount since CoinNews started tracking the Mint's data in February 2013. Orders slipped 7.8% from the 63,791 ounces sold in September 2014.
For the January to September period, gold sales at 323,080 ounces are 1.9% higher than last year's first nine-month total of 316,919 ounces.
September sales of silver bullion coins advanced 1,031,858 ounces, marking a 174.1% increase over the 376,461 ounces sold in August, the weakest monthly total since May 2015. The Perth Mint posted sales above 1 million ounces in every month this year but May, July, and August. Last month's sales did slide 69.2% from the 3,349,557 ounces delivered in September 2015, which is the highest month on record since CoinNews started tracking.
Year to date silver sales at 9,737,922 ounces are 27.9% higher than the 7,614,907 ounces sold during the same period year.
Perth Mint Gold and Silver Sales by Month
Below is a monthly summary of Perth Mint bullion sales from September 2015 to September 2016. The figures show monthly ounces of gold and silver shipped by the Minted Products division of The Perth Mint to wholesale and retail customers worldwide. It excludes sales of cast bars and other Group activities including sales of allocated/unallocated precious metal for storage by the Depository.
Perth Mint Bullion Sales (in troy ounces)
September 2016
1,031,858
58,811
August 2016
376,461
14,684
July 2016
693,447
16,870
June 2016
1,220,817
31,368
May 2016
974,865
21,035
April 2016
1,161,766
47,542
March 2016
1,756,238
47,948
February 2016
1,049,062
37,063
January 2016
1,473,408
47,759
December 2015
1,083,460
40,096
November 2015
1,145,239
31,664
October 2015
1,751,898
66,951
September 2015
3,349,557
63,791