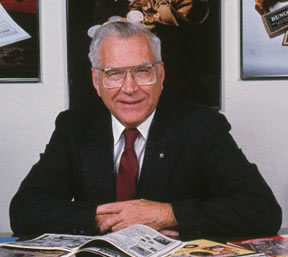 Chester L. "Chet" Krause, one of the most influential individuals in the field of numismatics, passed away June 25 at the age of 92.
His name will long be remembered for his contributions to the hobby including, but not limited to, the founding of Numismatic News in October 1952. The flagship publication had humble beginnings, much like its founder, starting out as a one-page newspaper.
Chet was born on Dec. 16, 1923, east of Iola, Wisconsin, which he still called home at the time of his death. He graduated from Iola High School in 1941 and was drafted into the U.S. Army in February 1943, serving as an auto mechanic in the 565th Anti-Aircraft Artillery Battalion. After the war, Chet returned to Iola and began a career as a builder.
That chosen occupation would slowly take a back seat to coins after the founding of Numismatic News. By 1957, Krause turned his attention full-time to publishing. Additional publications created under his guidance included Coins and Coin Prices, with other collecting fields such as cars, sports cards, comic books, firearms, antiques and paper money also represented.
In 1972, Krause released the Standard Catalog of World Coins along with co-author, Clifford Mishler. The Krause-Mishler catalog numbers utilized in the series became the basis of the world coin identification system.
Krause Publications was sold to F+W Media in Cincinnati in 2002, but Chet still remained active in the hobby. He ran for the American Numismatic Association board of governors in 2007 at the age of 83 and served until 2010.
Services for Chet will be held at the Iola-Scandinavia High School Gymnasium at 540 S. Jackson Street in Iola, on Friday, July 1, 2016, at 2 p.m. Central Time. Visitation will precede the funeral at the same location from 11:30 a.m. until 2.
Memorials may be given in memory of Chester Krause to Children's Hospital of Wisconsin, 9000 W. Wisconsin Ave., Milwaukee, WI 53226, or to the Rawhide Boys Ranch, E7475 Rawhide Road, New London, WI 54961.