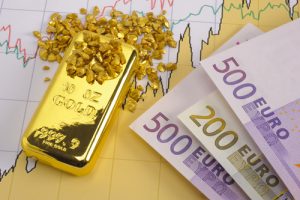 Gold futures rallied to a two-year high, snapped a five-session losing streak, and advanced for their fourth straight weekly increase as investors ran to safe-havens the day after the UK voted to leave the European Union (Brexit).
Gold for August delivery tacked on $59.30, or 4.7%, to settle at $1,322.40 an ounce on the Comex division of the New York Mercantile Exchange. The settlement is the highest since July 11, 2014 when the yellow metal ended at $1,337.40 an ounce.
"(Brexit) benefits gold because in a general risk-off mode, it's a natural safe haven for everybody," Reuters quoted Marie Owens Thomsen, chief economist at Indosuez Wealth Management. "Now that the UK has voted to leave, we think there's a higher probability that the $1,350-1,360 per ounce level can be breached, and we're therefore looking for an extended target in the $1,400s."
Gold futures gained 2.1% this week after rising 1.5% last week; 2.7% the week before then; and 2.2% for the week ended June 3. They are $262.20, or 24.7%, higher than their ending settlement in 2015 at $1,060.20 an ounce. In looking ahead to next week, Kitco News offers the following forecasts via their Wall Street vs. Main Street survey:
"Twenty-two analysts and traders took part in a survey of market professionals. Sixteen, or 73%, said they were bullish. The lower and neutral camps each drew three votes, or 14%.

Meanwhile, this week's Kitco's online survey received 470 votes. A total of 290 respondents, or 62%, said they were bullish for the week ahead, while 126, or 27%, were bearish. The neutral votes totaled 54, or 11%."
Extending its winning streak to four sessions in a row, silver for July delivery surged 43.6 cents, or 2.5%, to settle at $17.789 an ounce. The close is the highest since April 29 when prices ended at $17.819 an ounce.
Silver futures also advanced their weekly gains to four straight, climbing 2.2% this week after edging up 0.5% last week; 5.9% the week before then; and 0.6% for the week ended June 3. For the year to date, the precious metal is higher by $3.99 or 28.9%.
In PGM futures on Friday and for the week:
July platinum added $20.80, or 2.2%, to $987.10 an ounce, rising 2.2% from last week.

Palladium for September delivery fell $19.45, or 3.4%, to $546.45 an ounce, trimming its weekly gain to 3.2%.
Year to date, platinum is 10.5% higher while palladium is 2.8% lower.
London Precious Metals Prices
London precious metals prices were also mixed on Friday and higher on the week. In comparing their levels from Thursday PM to Friday PM:
Gold jumped $53.35, or 4.2%, to $1,315.50 an ounce.
Silver surged 75 cents, or 4.3%, to $18.04 an ounce.
Platinum added $24, or 2.5%, to $987 an ounce.
Palladium declined $12, or 2.1%, to $548 an ounce.
Their weekly advances tallied to 1.9% for gold, 3.9% for silver, 2% for platinum and 3.2% for palladium.
US Mint Bullion Coin Sales in 2016
United States Mint bullion sales posted stronger weekly increases. In the latest week-over-week comparisons:
Gold coin sales advanced 21,000 ounces after rising by 19,500 ounces last week. The weekly splits include 18,000 ounces in American Gold Eagles compared to 16,500 ounces previously, and 3,000 ounces in American Gold Buffalos to match the prior week.

Silver coin sales advanced 517,000 ounces this week after climbing by 474,000 ounces previously. This week, all sales came from American Silver Eagles. Last week, sales splits included 468,000 ounces in American Silver Eagles and 6,000 ounces in Harpers Ferry Five Ounce Silver Coins.
The U.S. Mint set this week's allocation of American Silver Eagle at 2,204,500 coins. Bullion distributors ordered 23.5% of them. Despite a couple of lagging weeks — the latest weekly sales total is the second lowest of the year while last week's total ranks at the bottom, 2016 American Silver Eagles are running at a record pace with sales of 25,312,500 coins. The level is 25.2% higher than those sold through same time in record-breaking year 2015.
Below is a sales breakdown of U.S. Mint bullion products with columns listing the number of bullion coins sold during varying periods of time.
US Mint Bullion Sales (# of coins)
Friday
Last Week
This Week
Apr Sales
May Sale
June Sales
2016 Sales
$50 American Eagle 1 Oz Gold Coins
5,000
14,000
13,500
93,500
64,500
49,500
393,000
$25 American Eagle 1/2 Oz Gold Coins
1,000
1,000
2,000
6,000
7,000
3,000
46,000
$10 American Eagle 1/4 Oz Gold Coins
0
2,000
6,000
14,000
10,000
10,000
86,000
$5 American Eagle 1/10 Oz Gold Coins
5,000
15,000
20,000
55,000
60,000
55,000
490,000
$50 American Buffalo 1 Oz Gold Coins
1,000
3,000
3,000
19,500
18,500
12,000
110,000
$1 American Eagle 1 Oz Silver Coins
60,000
468,000
517,000
4,072,000
4,498,500
1,899,500
25,312,500
2016 Shawnee 5 Oz Silver Coins
0
0
0
0
0
0
105,000
2016 Cumberland Gap 5 Oz Silver Coins
0
0
0
64,000
11,000
0
75,000
2016 Harpers Ferry 5 Oz Silver Coins
0
1,200
0
64,000
11,000
34,200
34,200