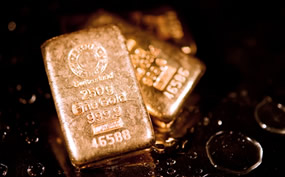 Precious metals soared on Friday as the U.S. dollar slumped to its weakest level in about 11 months. Gold and silver futures scored 15-month highs, advanced their winning streaks to five straight sessions, and surged for respective monthly gains of 4.4% and 15.2%. Silver's double-digit increase was its biggest for a month since August 2013.
On Friday, gold for June delivery rallied $24.10, or 1.9%, to end at $1,290.50 an ounce on the Comex division of the New York Mercantile Exchange. The settlement was the highest since Jan. 27, 2015 when the yellow metal ended at $1,291.70 an ounce.
"Everybody loves a winner," Bloomberg News quoted Tai Wong, the director of commodity products trading at BMO Capital Markets in New York. "There haven't been many great trades recently. The weak GDP yesterday, weak dollar overnight helped propel what was already a very bullish silver and gold market."
Gold futures jumped 4.9% on the week and padded their year-to-date gain to 21.7%. In looking ahead to next week, Kitco News offers the following forecasts via their Wall Street vs. Main Street survey:
"This week 827 people participated in Kitco's online gold survey. Of those, 604 voters, or 73%, said they expect to see higher prices next week; at the same time, 130 people, or 16%, said they expect to see lower prices next week; and 93 people, or 11%, are neutral on the market…

Out of 36 market experts contacted, 21 responded, of which 15 professionals, or 71%, said they are bullish on gold; at the same time five professionals, or 29%, said they are bearish. No analyst was neutral on the market. Market participants include bullion dealers, investment banks, futures traders and technical-chart analysts."
Elsewhere, silver for May delivery tacked on 23.1 cents, or 1.3%, to close at $17.819 an ounce. The settlement was the highest since Jan. 28, 2015, when prices ended at $18.09 an ounce. Silver futures gained 5.4% on the week and they are 29.1% higher so far this year.
In PGM futures on Friday and for the week:
July platinum advanced $27.70, or 2.6%, to $1,078.40 an ounce, and logged a 6.7% weekly increase.

Palladium for June delivery added $3.30, or 0.5%, to $627.65 an ounce, and climbed 3.5% on the week.
In April, the two metals registered increases of 10.3% and 11.3%. For the year, platinum is 20.7% higher and palladium is up 11.7%.
London Precious Metals Prices
London precious metals also rose on Friday, for the week and in April. In comparing their levels from Thursday PM to Friday PM:
Gold added $29.65, or 2.4%, to $1,285.65 an ounce.
Silver added 50 cents, or 2.9%, to $17.85 an ounce.
Platinum added $25, or 2.4%, to $1,065 an ounce.
Palladium added $11, or 1.8%, to $628 an ounce.
For the week, gains included 3.4% for gold, 3.8% for silver, 3.6% for platinum and 2.8% for palladium. April advances tallied to 3.9% for gold, 16.1% for silver, 9.1% for platinum and 10.4% for palladium.
US Mint Bullion Coin Sales in 2016
Combined, sales of U.S. Mint gold and silver bullion coins strengthened in April — slightly for silver coins and sharply for gold coins. In headline comparisons:
American Eagle gold coins hit 105,500 ounces, surging 177.6% from the March total of 38,000 ounces and jumping 257.6% from the 29,500 ounces delivered in April of last year. Year to date, sales total 351,000 ounces to double exactly the 175,500 ounces sold during the first four months of last year.

American Buffalo gold coins moved up by 19,500 ounces in April, surging 178.6% from March sales of 7,000 ounces and rising 95% from the 10,000 delivered in April 2015. Year to date, sales at 79,500 ounces are 20.5% higher than the 66,000 ounces sold during the January to April period in 2015.

The U.S. Mint is rationing weekly sales of American Eagle silver coins because of silver planchet shortages. Their sales still advanced 4,072,000 for the month, down 0.8% from the prior month's 4,106,000 coins but 42.8% higher than April 2015 when they reached 2,851,500 coins. 2016 Silver Eagles are at 18,914,500 for the year to date, which is 26.8% more than the 14,922,500 coins sold through the same time in record year 2015.

America the Beautiful Five Ounce Silver Bullion Coins climbed in April by 64,000 coins or 320,000 ounces. They were muted in March. All sales for the month are from the new Cumberland Gap Natural Historical Park silver coin. It launched on April 18 as the second 5-ounce release of this year.
Below is a sales breakdown of United States Mint bullion products with columns listing the number of bullion coins sold during varying periods.
US Mint Bullion Sales (# of coins)
Friday Sales
Last Week
This Week
Mar Sales
Apr Sales
2016 Sales
$50 American Eagle 1 Oz Gold Coins
0
30,000
15,500
29,000
93,500
279,000
$25 American Eagle 1/2 Oz Gold Coins
0
2,000
1,000
1,000
6,000
36,000
$10 American Eagle 1/4 Oz Gold Coins
0
4,000
2,000
4,000
14,000
66,000
$5 American Eagle 1/10 Oz Gold Coins
0
10,000
15,000
75,000
55,000
375,000
$50 American Buffalo 1 Oz Gold Coins
0
4,000
3,500
7,000
19,500
79,500
$1 American Eagle 1 Oz Silver Coins
0
912,500
1,002,000
4,106,000
4,072,000
18,914,500
2016 Shawnee 5 Oz Silver Coins
0
0
0
0
0
105,000
2016 Cumberland Gap 5 Oz Silver Coins
0
64,000
0
0
64,000
64,000