Celebrating the 90th birthday of Queen Elizabeth II, the Royal Canadian Mint is selling a unique silver coin depicting two Queen Elizabeth roses that are selectively plated in rose gold.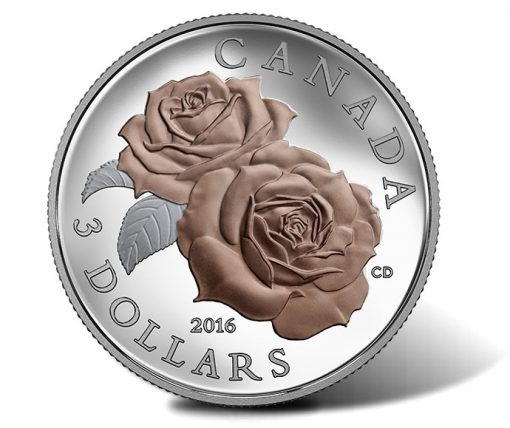 Introduced in 1954, the Queen Elizabeth rose is a cross between the Charlotte Armstrong hybrid tea rose and the Floradora rose. The variety is known for both its beauty and hardiness. The roses look exceptionally appealing on the coin's silver surface.
"The use of rose gold plating technology on the two blooms further adds to the artistry by representing the Queen Elizabeth rose's distinctive pink color, allowing this majestic floral beauty to stand out against the silver background," the Royal Canadian Mint describes.
The image was designed by Canadian artist Claudio D'Angelo. Inscriptions encircling the rose include CANADA, 2016, 3 DOLLARS, and the artist's initials, CD.
As traditional, the coin's obverse or heads side features Susanna Blunt's portrait of the Queen with surrounding inscriptions ELIZABETH II and D G REGINA.
Specifications for the collector coin include:
Mintage: 10,000
Composition: 99.99% pure silver
Finish: proof
Weight (g): 7.96
Diameter (mm): 27
Edge: serrated
Certificate: serialized
Face value: 3 dollars
Reverse Artist: Claudio D'Angelo
Obverse Artist: Susanna Blunt
Ordering
Order the 2016 $3 Queen Elizabeth Rose Silver Coin from the Royal Canadian Mint's website at www.mint.ca. An affiliate link to the coin's product page is right here
. Pricing is CAD $44.95, which is about US $35.80.
Each coin is encapsulated and ships within a clamshell-style case. The Mint indicates shipping begins on June 17, 2016.