Today, April 7, the United States Mint released its latest annually issued product, the 2016-W $50 Uncirculated American Gold Eagle.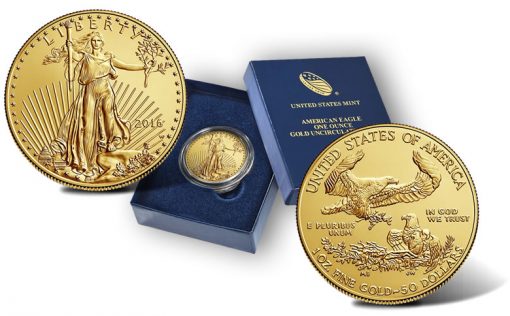 Initial pricing for the 1-ounce gold piece is $1,525.00, representing an increase of $50 from last year's starting price.
The uncirculated coin is a collector edition of the U.S. Mint's most popular gold products, the investment-targeted bullion American Gold Eagles. The uncirculated and bullion coins are most similar in appearance. The uncirculated coin has the telltale "W" mintmark. Bullion coins do not have mintmarks. The Mint's other version is the proof American Gold Eagle, which is also struck for collectors. Available in four sizes, the 2106s debuted last month and logged 4-day sales of 45,673, making them the fastest selling within their series since 2010.
Coin Designs and Specifications
Gold Eagles have shared the same obverse (heads side) and reverse (tails side) imagery since the very first issues in 1986.
Obverses offer Augustus Saint-Gaudens' Liberty design which first appeared on 1907 to 1933 $20 gold coins. Inscribed above the allegorical figure is LIBERTY and the year. Collector editions also have a 'W' mintmark indicating their production at the U.S. Mint facility in West Point, New York.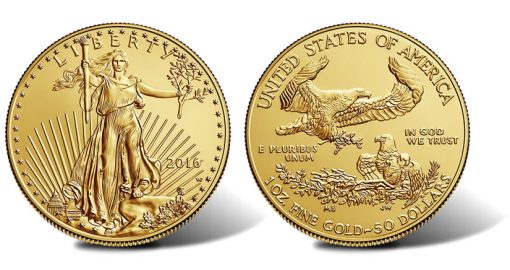 Reverses bear Miley Busiek's image of a family eagles. It shows a male eagle carrying an live branch flying above a nest with a female eagle and her hatchlings. Inscriptions around the scene include UNITED STATES OF AMERICA, E PLURIBUS UNUM, IN GOD WE TRUST, the composition of 1 OZ. FINE GOLD and the face value of 50 DOLLARS.
Specifications of the coin are as follows:
Specifications
| | |
| --- | --- |
| Denomination: | $50 |
| Composition: | 91.67% Gold, 3.0% Silver, Balance Copper |
| Weight: | 1.0909 troy oz. (33.931 grams) |
| Diameter: | 1.287 inches (32.70 mm) |
| Thickness | 0.113 inch (2.87 mm) |
| Edge: | Reeded |
| Mint Mark: | West Point – W |
Ordering
2016-W $50 Uncirculated American Gold Eagles are available directly from the United States Mint's online product page for gold coins, located here, or by calling 1-800-USA-MINT (872-6468).
The coin's price may fluctuate weekly based on the U.S. Mint's precious metal coin matrix which links pricing of gold and platinum coins to market changes. Sales of last year's release ended at 6,533 coins.