Seasonal spring blooms adorn a newly released Royal Canadian Mint coin that appears poised for a quick sellout. Its maximum mintage is 6,500 and 82% have already sold.
Priced at CAD $64.95, or about US $48.50, each coin is composed of 99.99% pure silver and features a colorful design of a blooming Kwanzan cherry tree.
"Delicate shades of pink fill this pure silver coin to breathtaking effect," describes the coin's product page on the Royal Canadian Mint's website. "The springtime blossom of the cherry tree is an ancient symbol in Japanese culture that has long been celebrated in poetry and art — and continues to inspire cross-cultural festivals to this day."
Many Canadians adore this colorful sign of spring with Vancouver's famous Cherry Blossom Festival (www.vcbf.ca) celebrating its 10th anniversary this year. Toronto's High Park also hosts a stand of the trees which serves as a reminder of the ongoing friendship of those in Canada and Japan.
Cherry Blossom Silver Coin Designs and Specifications
Canadian artist Jan Poynter designed the cherry blossom image which adorns the reverse (tails side) of this silver proof coin. Detailed engraving enhances the delicate blossoms, with pink coloring added for effect. Inscriptions of CANADA, 2016 and the legal tender face value of 15 DOLLARS are also featured. Finally, JP is inscribed to the left for the designer.
Shown on the obverse (heads side) is the Susanna Blunt effigy of Queen Elizabeth II. Inscribed around her likeness is ELIZABETH II and D G REGINA.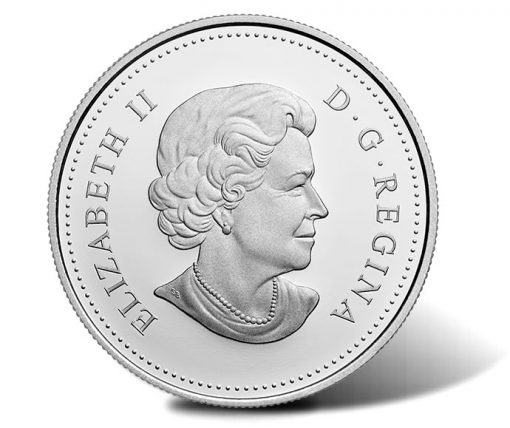 Specifications, as provided by the Royal Canadian Mint, include:
Royal Canadian Mint Product No.: 150432
Mintage: 6500
Composition: 99.99% pure silver
Finish: proof
Weight (g): 23.17
Diameter (mm): 36.07
Edge: serrated
Certificate: serialized
Face value:15 dollars
Reverse Artist: Jan Poynter
Obverse Artist: Susanna Blunt
Ordering
The 2016 Cherry Blossoms Silver Coin is available at mint.ca. The following affiliate link goes to the Mint's product page for the coin.
Each is encapsulated and presented in a Royal Canadian Mint-branded maroon clamshell with beauty box.