The Royal Canadian Mint opened subscription ordering on two series for 2016 that should prove exceedingly popular because each features 99.99% pure silver coins that are sold at their legal tender face values.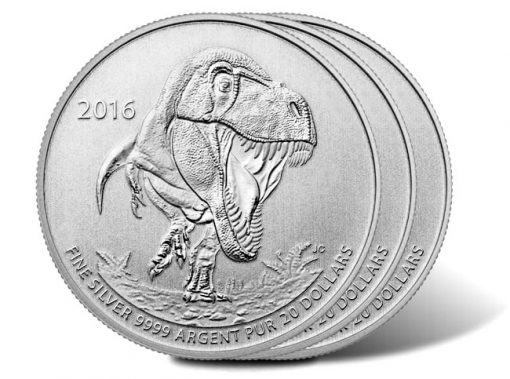 Included in the subscriptions are three unique $20 for $20 silver coins and two different $25 for $25 silver coins. All the coins will launch separately. The value to subscribers is the Mint's guarantee of product availability and, it notes, price protection that includes no tax for Canadians and free ground shipping in Canada and the United States.
In the past, both sets of coins have been warmly welcomed due to their innovative and varying designs and because of their affordability.
According to the RCM, the $20 for $20 program will debut in January with a T-Rex silver coin. It will be followed in February by a Batman v Superman™ coin and then in May with a final coin whose design has yet to be announced. Designs for the two $25 coins are also yet to be unveiled but their releases will happen in June and October. Mintages for four of the five coins are unknown at this writing. The 2016 $20 T-Rex Silver Coins is limited to 300,000.
While they have different denominations, both series share major coin specifications that include per coin diameters of 27 mm, weights of 7.96 grams, specimen finishes, and serrated edges.
Ordering
Ordering information and additional details for both series are available on the Royal Canadian Mint website (mint.ca). An affiliate link to the Mint's page of silver coins is found here
. For subscribers, credit cards get billed only when each coin is shipped.