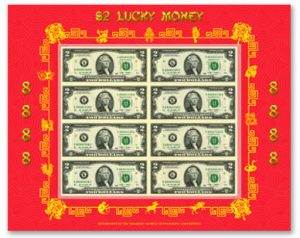 In celebration of the upcoming Chinese Lunar New Year, the Bureau of Engraving (BEP) last month unveiled its latest Lucky Money products featuring uniquely serialized Federal Reserve notes.
Still available are uncut currency sheets of $2 notes with starting serial numbers beginning with "8888." In Asian cultures, the number "8" is traditionally associated with success, wealth and prosperity.
One sheet includes 8 uncirculated Series 2009 $2 Federal Reserve notes.
"Each sheet is displayed in a decorative holder, capturing the significance of numerology and Chinese symbolism, and is protected by an acid-free, clear, polymer sleeve," the BEP describes.
Priced at $58.88 per sheet and limited to 16,888, money collectors can buy the "Lucky Money" directly from the Bureau of Engraving and Printing website at:
http://www.moneyfactorystore.gov/luckymoneycollection.aspx.
Discounts are available when ordering in higher quantities. Five to 99 sheets are $5 less at $53.88 each. The price drops another $5 to $48.88 each for orders of 100 or more. There are no household ordering restrictions.
About the Bureau of Engraving and Printing
The BEP is the largest producer of security documents in the United States. It prints billions of Federal Reserve Notes each year for delivery to the Federal Reserve System. It also produces products for collectors to include intaglio prints, vignettes, and presidential portraits.