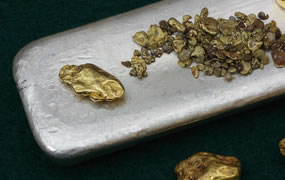 Gold futures closed to an almost 6-year low on Friday, tagging their sixth straight weekly decline as a stronger U.S. dollar pressured commodities.
Gold for December delivery declined $13.80, or 1.3%, to settle at $1,056.20 an ounce on the Comex division of the New York Mercantile Exchange. The settlement price was the weakest since Feb. 5, 2010 when the yellow metal ended at $1,052.80 an ounce.
"Gold remains dictated by U.S. interest rate expectations and further dollar appreciation may act as a catalyst which should provide the momentum needed for prices to decline towards $1050 and possibly lower," MarketWatch quoted Lukman Otunuga, research analyst at FXTM.
Gold prices dropped 1.9% on the week and are 10.8% lower on the year. In looking ahead to next week, Kitco News offers the following forecasts via their Wall Street vs. Main Street survey:
"This week, 859 retail investors participated in Kitco's online survey, and the sentiment turned predominantly positive for gold in the short term. The majority expect gold prices to move higher next week with 670 voters, or 78%, making bullish calls on the metal. The remaining 139 participants, or 16%, see lower prices, while 50 voters, or 6%, are neutral on prices for the week ahead.

Market professionals' sentiment mirrored that of retails investors as they expect gold prices to move higher on continued weakness. Of the 37 participants contacted, 14 responded, of which 8, or 57%, say prices should move up. The remaining 4, or 29%, are bearish while 2 participants, 14%, are neutral."
Elsewhere, silver for March delivery shed 13 cents, or 0.9%, to settle at $14.05 an ounce. The precious metal ended just 2 cents higher than on Monday when prices closed at their lowest level since Aug. 21, 2009. Silver declined 0.3% on the week, and like gold, posted its sixth straight weekly loss. As for the year, prices are 9.9% lower than their final 2014 settlement at $15.60 an ounce.
In PGM futures on Friday and for the week:
January platinum fell $8.10, or 1%, to $835.80 an ounce, dropping 2.4% from a week ago.

Palladium for March delivery lost $1.35, or 0.2%, to $550.65 an ounce, falling 1.5% on the week.
For the year, platinum has declined 30.9% and palladium has fallen 31%.
London Precious Metals Prices
London precious metals also fell on Friday and most moved lower on the week. In comparing London bullion prices from Thursday PM to Friday PM:
Gold fell $13.60, or 1.3%, to $1,057.40 an ounce.
Silver lost 18 cents, or 1.3%, to $14.11 an ounce.
Platinum declined $23, or 2.7%, to $827 an ounce.
Palladium lost $7, or 1.3%, to $551 an ounce.
Compared to a week ago, palladium was unchanged while the other metal prices logged declines totaling 2.3% for gold, 1.3% for silver and 3.6% for platinum.
US Mint Bullion Coin Sales
United States Mint bullion sales have been strong but impeded with the rationing of American Silver Eagles and sell outs of the most popular American Gold Eagles.
U.S. Mint gold sales advanced this week by 34,000 ounces compared to last week's 56,500 ounces. Sales splits included 16,000 ounces in American Gold Eagles compared to 47,500 ounces previously and 18,000 ounces in American Gold Buffalo coins compared to 9,000 ounces previously.
All but the one-half ounce Gold Eagle has sold out. On Wednesday, the Mint said it would begin selling 2016-dated Gold Eagles on Jan. 11.
Weekly sales of bullion American Silver Eagles moved up by 1 million ounces after climbing by 900,000 ounces last week. For a third straight week, the Mint's entire weekly allotment was taken. Silver Eagle sales at 43,929,500 coins for the year are 76,501 coins shy from topping last year's annual record of 44,006,000 coins.
In related news, the U.S. Mint announced that it will produce 2015-dated Silver Eagles through the week of Dec. 7 and start selling 2016-dated Silver Eagles on Jan. 11.
Below is a listing of U.S. Mint bullion products with the number of coins sold during varying periods. Products with an asterisk (*) are no longer available.
US Mint Bullion Sales (# of coins)
Friday Sales
Last Week
This Week
Oct Sales
Nov Sales
YTD Sales
$50 American Eagle 1 Oz Gold Coins*
N/A
39,000
16,000
26,000
80,500
626,500
$25 American Eagle 1/2 Oz Gold Coins
0
6,000
0
4,000
7,000
74,000
$10 American Eagle 1/4 Oz Gold Coins*
N/A
N/A
N/A
4,000
12,000
158,000
$5 American Eagle 1/10 Oz Gold Coins*
N/A
55,000
N/A
50,000
100,000
980,000
$50 American Buffalo 1 Oz Gold Coins*
6,000
9,000
18,000
10,500
35,000
216,000
$1 American Eagle 1 Oz Silver Coins
78,000
900,000
1,000,000
3,788,000
4,087,000
43,929,500
2015 Homestead 5 Oz Silver Coins*
N/A
35,000
2015 Kisatchie 5 Oz Silver Coins*
42,000
2015 Blue Ridge Parkway 5 Oz Silver Coins*
45,000
2015 Bombay Hook 5 Oz Silver Coins*
45,000