A new maple leaf-inspired coin, struck in 2 ounces of 99.99% pure gold to proof quality, features a colorful design of a large maple tree in autumn. The issue marks the first maple canopy gold coin from the Royal Canadian Mint. Silver editions launched in the past, and all of them have sold out.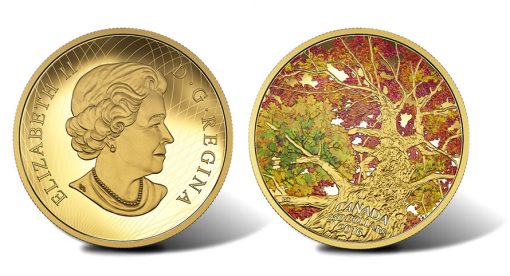 The coin's distinct imagery and extremely limited mintage of 150 make it very attractive for collectors, although its price is not for the faint hearted.
Designed by Emily Damstra, the reverse shows the trunk and branches of a maple tree from the viewpoint of someone looking up.
"There's a towering sense of height as the viewer's gaze sweeps along the trunk of the mighty maple tree, moving upward from the base over the intricately engraved fissures and ridges, to the branches that seem to spread out overhead and across the sky," the Royal Canadian Mint describes.

"There, a lush canopy of fall foliage blazes brightly with rich hues of red, orange and yellow that have been painstakingly applied over the engraving to recreate nature's autumnal palette."
Inscriptions on the trunk of the gold coin read CANADA, 250 DOLLARS, and the year 2016.
The obverse offers Susan Blunt's effigy of the Queen with surrounding inscriptions of ELIZABETH II and D G REGINA.
Each coin has the following Mint-provided specifications:
Mintage: 150
Composition: 99.99% pure gold
Finish: proof
Weight (g): 62.34
Diameter (mm): 42
Edge: serrated
Certificate: serialized
Face value: 250 dollars
Ordering
Priced at CAD $4,899.95, or about US $3,730, order the 2016 Maple of Canopy Kaleidoscope of Color Gold Proof Coin by visiting the Royal Canadian Mint's website at www.mint.ca or by following the affiliate link located here
.