A unique 50-cent coin from the Royal Canadian Mint showcases two different Christmas-themed images as its tilted from side to side. Appearing as the ninth release from the Mint's annual series of holiday lenticular coins is the 2015 50c Holiday Toy Box Coin. Previous coins in the series sold out.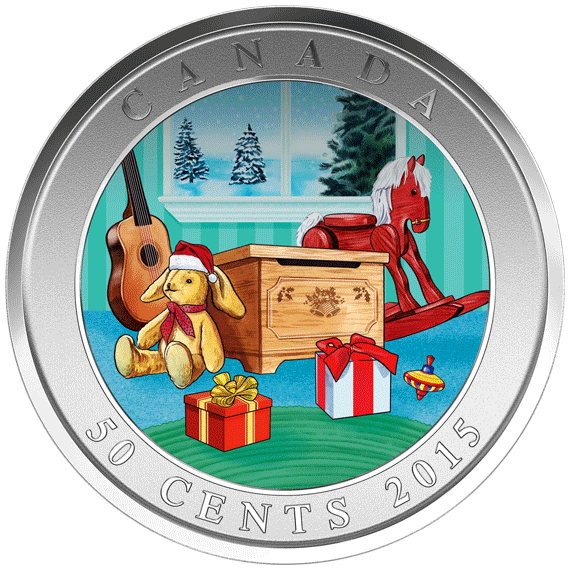 Designed by Canadian artist Joel Kimmel, the coin's first image is of toys, a closed toy box and wrapped presents as they would appear on Christmas Eve.
Tilt the coin to its side and a second image emerges that shows the box overflowing with new toys that were unwrapped on Christmas morning. Newly opened presents around the toy box include a model airplane, a world globe, a tin robot, blocks, and an antique style metal toy car.
Inscriptions around the designs are CANADA, 50 CENTS, and the year 2015.
The obverse or heads side presents a standard Susanna Blunt's effigy of the Queen with surrounding inscriptions of ELIZABETH II and D G REGINA.
Each coin has the following Mint-provided specifications:
Mintage: 30,000
Composition: cupronickel
Finish: specimen
Weight (g): 13.7
Diameter (mm): 35
Edge: plain
Certificate: serialized
Face value: 50 cents
Ordering
To order the 2015 50c Holiday Toy Box Coin, visit the Royal Canadian Mint's website at www.mint.ca or follow the affiliate link located here
. Pricing is CAD 29.95 or about US $23.
Each coin ships encapsulated and within a maroon display case.