Catalogs have been mailed and online bidding has started for Stack's Bowers Galleries' next U.S. currency auction, held in conjunction with the Whitman Coin & Collectibles Winter Expo at the Baltimore Convention Center from Nov. 5 to 8, 2015.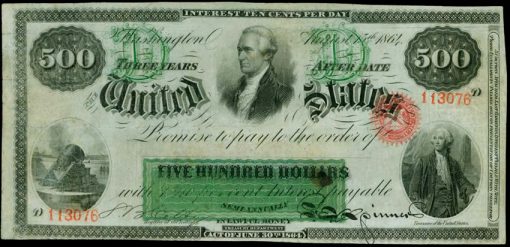 More than 830 lots across multiple categories of currency will cross the block at Baltimore, the company said Monday, with rarities ranging from Confederate Treasury Notes to Silver Certificates to National Currency Notes.
Headlining the sale is a unique Fr.212b 1864 $500 Interest-Bearing Note, lot #30256, which has been off the market since 1971. Graded PMG Very Fine 25 Net, the Friedberg plate note is one of only two known examples of the design type. It has a pre-sale estimate of $300,000 to $500,000.
"The very existence of this note is impressive, as the only other known type for this series, a Fr. 212f that last sold in an auction in 2005, was heavily punch hole canceled and redeemed," describes Stack's Bowers Galleries. "That note must have escaped mutilation from inside the Treasury, leaving this presently example the only unredeemed/uncancelled example known to the collecting community, with none others known in private hands or institutional collections."
Confederate collectors will be enthusiastic about a newly discovered Raphael Thian "The Currency of the Confederate States" Master Album. The album was discovered earlier this year after more than 50 years of storage.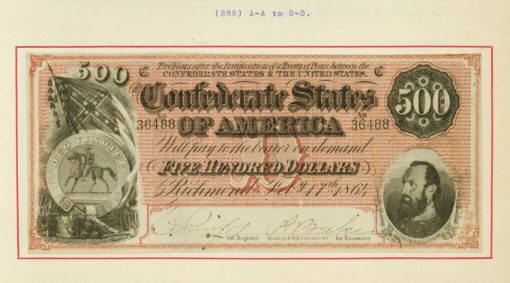 It contains over 400 pages with 287 pieces, including 275 Confederate Treasury Notes. This example is one of only around a half dozen known, with half of those impounded in government or institutional collections. The album, offered as lot #30174, is estimated at $60,000 to $80,000.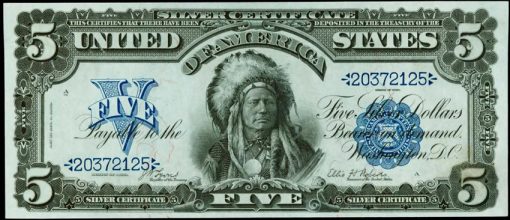 A Fr.271 1899 $5 Silver Certificate, graded PCGS Superb Gem New 68 PPQ and offered in lot #30310, is one of just four examples of the design type to achieve that grade from PCGS. It has a pre-sale of $30,000 to $40,000.
"The centering is beyond anything you could expect from a note of the era; essentially dead even with broad margins all around," Stack's Bowers Galleries describes. "The overprint is deeply embossed into the fresh white paper with the serial numbers clearly legible from the back of the note."
Other Stack's Bowers Galleries November Baltimore currency auction highlights include, but are not limited to:
A wonderful Fr.263 1886 $5 "Silver Dollar Back" Silver Certificate graded Gem New 66 PPQ by PCGS is found in lot #30301. This popular Silver Certificate carries an estimate of $30,000 to $40,000.

The finest graded Fr.63b 1863 $5 Legal Tender Note, graded Superb Gem New 67 PPQ, is offered in lot #30222. This excellently centered and boldly printed note is estimated to bring $25,000 to $35,000.

A Fr.1800-1 1929 $5 National from the First National Bank of Katchikan, Alaska, Charter #12578. This example, lot #30469, is graded Very Good 10 by PCGS and is estimated at $12,500 to $17,500.
Bidding for the currency auction is open online at www.StacksBowers.com. The live session of the auction will be held Thursday, November 5 at 6 PM EST. The Internet-only session will be held Monday, November 9 at 1:00 PM EST.